The following is a team-by-team breakdown of how the Dalhousie Agricultural Campus Rams fared in each of their sports throughout the 2015-16 season:
Men's Basketball
It was a tough season for the Rams men's basketball squad.
The team went winless to finish last among eight teams on the Atlantic Collegiate Athletic Association (ACAA) circuit. However, there were bright spots for the Rams.
Guard Brian Sawler, who was named the Rams' Rookie of the Year at the school's recent Athletic Awards Banquet, led the conference in free throws, making 94 of his 130 attempts. Guard Neel Amin, who picked up the Rams' MVP honour, was fourth in scoring with 336 points, 100 behind conference leader Whyley Roosevelt of Holland College. Amin was also third in the ACAA in shooting from three-point range, making 48 of 168 shots.
Badminton
It was a middle of the road season for the Rams badminton team.
The Rams placed fourth in the team points standings at the conference championships at Kings College. However, Dalhousie got runner-up finishes from the men's and women's doubles pairings of Luke MacKinnon and Ryland Murphy and Caitlyn McCavour and Kelsey Henneberry.
Alastair Ling was fourth in men's singles while Lucy Nguyen finished in the same spot in women's singles.
The mixed doubles team of Andrew Sytsma and Jordan Bujold was also fourth.
Cross Country
It was yet another banner season for the Rams cross-country running squad under the tutelage of coach Joy Galloway-Jones.
Hannah Arseneault led the charge by winning all five ACAA events she entered, including the conference championship, hosted by Holland College at Brookvale Ski Park in Crapaud, P.E.I.. Arseneault's results leave her undefeated in two seasons of competition.
The ACAA female runner of the year went on to finish 22nd in a field of 107 runners at the national championships in Brockville, Ont.
Arseneault, a CCAA All-Canadian, posted a season-best 19:44 in the 5k event in the third race of the season, hosted by the Mount Allison Mounties on Oct. 3.
The Rams ladies finished second in the conference team standings.
Golf
The Rams women's golf team had a solid campaign on the ACAA circuit.
Team MVP Brette Holland and Lindsay Cameron helped the Rams to a second-place finish in the 36-hole conference championship in early October at Fox Meadow Golf Club in Stratford, P.E.I.
The pair also kept the Rams in contention in the team category in the other three tournaments throughout the season, including a runner-up finish at Kingswood Golf Club in Fredericton.
Women's Rugby
The Rams women's rugby team didn't have the season it was hoping for.
The Rams missed a berth in the conference final after posting a 2-5-1 (W-L-T) record in the regular season to finish fourth on the five-team circuit. The top two teams from the regular season move straight to the conference final.
However, DAL AC could place itself back in the hunt next season thanks to a solid foundation eligible to return which includes ACAA All-Conference member and team MVP Katie McQueen and fullback Kathleen Sterritt.
Men's Soccer
The men's soccer Rams took a small step forward, earning three wins on the ACAA circuit.
The victories, which improved the Rams to 3-8-1 (W-L-T), slotted the group sixth in the seven-team conference.
Fifth-year striker and team MVP Craig MacEachern had a standout season for DAL AC. The Valley resident was second in the conference with 20 points. He also ranked second with 10 goals – including three multi-goal games – and shots on target with 39.
Keeper Jan Meijer was tops in the ACAA with 77 saves while fellow stopper Sjim Krop kept 50 shots from the goal.
Coach Shawn George has 14 players eligible to return next season.
Women's Soccer
The Rams also finished with a 3-8-1 record on the women's side of the ball and were also sixth among seven teams.
Sian Rankin topped the Rams and was second in the conference in goals (12) and points (24) and her 41 shots on target led the league.
Keeper Summer Nasr was slotted third in the conference with 50 saves.
Second-year defender Emily Merks was also a standout on the back end and was named DAL AC's female Athlete of the Year. She also nabbed academic all-Canadian honours.
Women's Volleyball
It was a tough season on the court for the women's volleyball squad.
The team finished seventh in the eight-team ACAA with a 3-18 record, three wins behind the sixth-place Kings Blue Devils.
However, team MVP Thea McLachlin racked up 201 kills for second in the conference and was tops in the kills per set rankings at 2.79. The third-year left side from Red Deer, Alta., was also second in the conference in points with 252.5, first in points per set (3.5) and was named to the ACAA's all-star lineup.
Libero Kayla Wolfe was second in the conference in digs with 285 and digs per set (3.96) while McLachlin was fourth in digs with 260 and third in digs per set (3.61).
Woodsmen
The DAL AC Woodsmen earned CILA championships in both the men's and women's competitions.
The men finished the season with 4,072.10 points, well ahead of the Maritime College of Forest Technology (2,951.44).
The women's race was much tighter. The Rams collected 4,088.16 points over the season's four competitions to nip McGill University's MacDonald Campus by just 169.89 points.
Both teams also won their home events in February at MacMillan Show Centre.
Thomas Henderson, a third-year plant science student from River John, had an excellent season and was named team MVP and DAL AC's male Athlete of the Year.
Equestrian
The Rams equestrian team was a threat to win every time it entered competition this season.
The Rams claimed team titles in five of the calendar's five events.
Several riders also nabbed individual class wins throughout the year including Katelyn Jackson, Angelique DeWaard, Becca McSwain, Lindsay Scott, Emily Reade, Kayla Watton and Andrea Hamilton.
Following is a list of award winners from the recent 52nd annual athletic awards banquet:
COACH's Award
Basketball (m) Sho Tamura
Badminton Ryland Murphy
Rugby (w) Jill Bent     
Soccer (m) Richard MacNevin
Soccer (w)Janelle MacKeil                                                                                 
Volleyball (w) Kayla Wolfe
Woodsmen (m) Murry Clements   
Woodsmen (w) Sarah Mossman
Equestrian Lindsay Scott
Cross Country Emily Sutherland            
MIP Award
Basketball (m) Cole Yuill
Badminton Kelsey Henneberry
Rugby (w) Melanie Wood      
Soccer (m) Jonathan Bent     
Soccer (w) Brette Holland
Volleyball (w) Chelsea Carree
Woodsmen (m) Brendan Shaw
Woodsmen (w) Eilish Conors
Equestrian Angelique Dewaard
Cross Country Nicolas Wentzell   
ROOKIE Award
Basketball (m) Brian Sawler
Badminton Caiti McCavour    
Rugby (w) Shannon Spencer
Soccer (m) Jan Meijer  
Soccer (w) Sian Rankin
Volleyball (w) Breanna Balcom  
Woodsmen (m) Kyle Corsten      
Woodsmen (w) Emily Langille
Equestrian Katelyn Jackson  
Cross Country Hannah Mawhinney
ACAA All-Conference 2015-16
Soccer
Craig MacEachern (1st team)
Richard MacNevin (2nd team)
Emily Merks (2nd team)
Sian Rankin (1st team)
Gerry LeBlanc Award:  Cora Sharp
Rugby
Jill Bent
Katie McQueen

Volleyball
Thea McLachlin (1st team)
Cross Country
Hannah Arseneault All Conference and ACAA Runner of the Year
Golf
ECHO Challenge Winner and CILA (Canadian Intercollegiate Lumberjacking Assoc)  MVP  Thomas Henderson

CCAA  Academic All Canadians
SIRC (Sport Information Resource Centre) and the Canadian Collegiate Athletic Association (CCAA) are proud to announce the 2015-16 SIRC-CCAA Academic All Canadian Award recipients.
The SIRC-CCAA Academic All Canadian Award is the CCAA's most prestigious student-athlete award, epitomizing their mandate of recognizing excellence in academics and athletics. To achieve this honour, a student-athlete must be named to his/her respective Conference All-Star teams (1st and 2nd) in a CCAA Sport, and must achieve a GPA standing of 3.7 or higher (Honors average - 1st semester).
Hannah Arseneault  - St. Martin's, NB  (Cross Country)
Emily Merks  - Grand Pre, NS  (Soccer)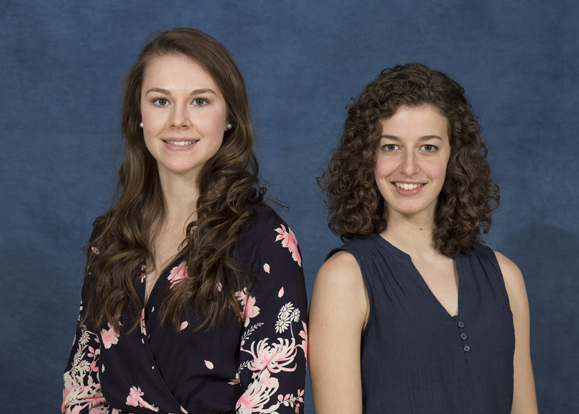 Emily Merks and Hannah Arseneault

Fourth Year Varsity Athletes
Kamryn Findlay (Woodsmen)
Jessie Swinamer (Woodsmen)
Kaylee Little (Rugby)
Whitney Shaver (Rugby)
Josh Hamlin (soccer)
Chris Marash (soccer)
Janelle MacKeil (soccer)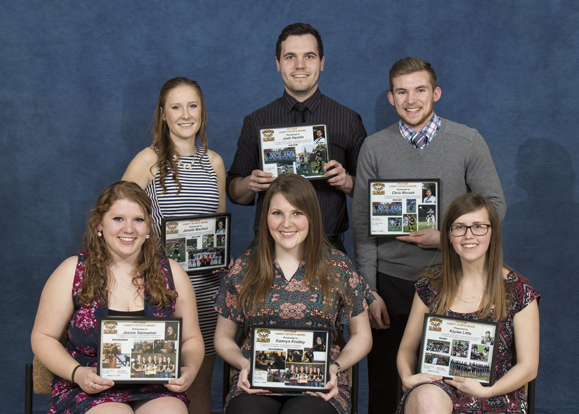 Front - Jessie Swinamer, Kamryn Findlay, Kaylee Little Back - Janelle MacKeil, Josh Hamlin, Chris Morash 
Fifth Year Varsity Athletes
Craig MacEachern (soccer)
Kayla Graham (woodsmen)
Brittany Green (soccer)
MVP Varsity
Badminton  Luke MacKinnon Grande River, PEI
Basketball (m) Neel Amin Vaughan, Ontario
Rugby (w) Katie McQueen Burlington, Ontario
Soccer (m)Craig MacEachern Valley, NS
Soccer (w)Emily MerksGrand Pre, NS
Volleyball (w) Thea McLachlin  Red Deer, Alberta
Woodsmen (m) Thomas HendersonRiver John, NS
Woodsmen (w)  Jessie Swinamer Windsor, NS
Equestrian Rebecca MacSwain Morell, PEI
Cross Country Hannah Arseneault St. Martin's NB
Golf  Brett Holland Shortt's Lake, NS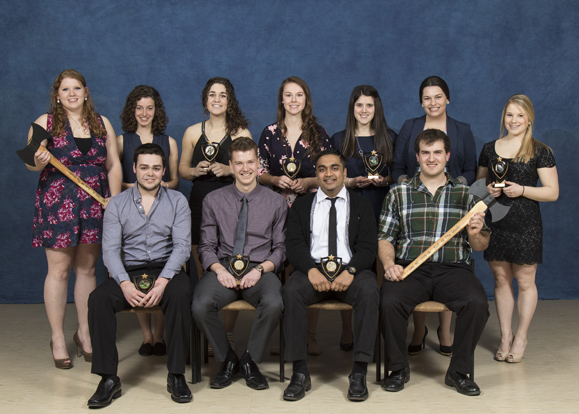 Front (l-r)  Luke MacKinnon, Craig MacEachern, Neel Amin, Thom Henderson.  Back Jessie Swinamer, Hannah Arseneault, Thea McLachlin, Emily Merks, Brette Holland, Becca MacSwain, Katie McQueen
Contribution Award
Mason MacDonald
Outstanding Athlete Awards
KS Marchant Award – presented to the student athlete with highest GPA in Degree and Technology carrying a minimum of 4 courses, 1st semester.
Degree  (with 4.30 GPA)
Hannah Arseneault – Cross Country  St. Martin's, NB
Jordan Bujold – Badminton  Dalhousie, NB
Lucy Nguyen – Badminton Ho Chi Minh City, Vietnam
Connor Morse – Woodsmen  Kingston, NS
Technical (with 4.10 GPA)
Chelsea Carree – Volleyball Berwick, NS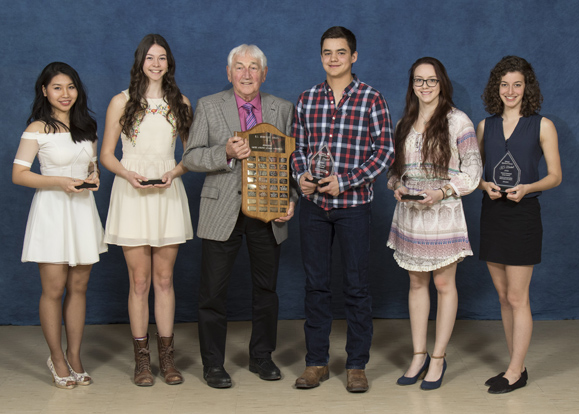 (l-r) Lucy Nguyen, Chelsea Carree, Ken Marchant, Connor Morse,  Jordan Bujold, Hannah Arseneault
ATHLETES OF THE YEAR
Female:  Emily Merks Grand Pre, NS
Male: Thomas Henderson River John, NS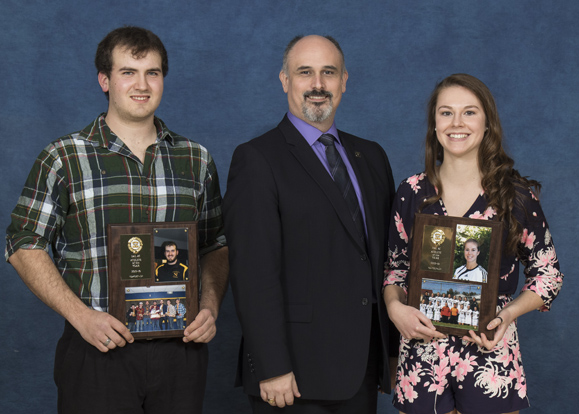 Thomas Henderson, Dr.David Gray, Campus Principal and Faculty Dean, Emily Merks
DAL AC All Academic Athletes                               
Athletes who have demonstrated excellence in academics and athletics, achieving GPA of 3.7 or above for "Honors" (with a minimum of 4 courses taken), and a position on a varsity team (1st semester).
Badminton
Ryland Murphy
Jordan Bujold
Lucy Nguyen
Cati McCavour
Rugby
Jillian Bent
Arin Douglas
Sarah Levesque
Melissa Mammoliti
Kaylee Little
Katie McQueen
Shannon Spencer
Jocelyn Manley
Soccer
Rachel Hirtle
Emily Merks
Laura Groves
Jonathan Bent
Patrick Belliveau
Alexis Barrister
Todd Myette
Volleyball
Breanna Balcom
Chelsea Carree
Woodsmen
Kyle Corsten
Thomas Henderson
Devin Holmes
Riley Kilfoil
Daniel McCallum
Connor Morse
Melissa Baxter
Melanie Bos
Kamryn Findlay
Emily Langille
Mandy Smith
Jaylene Woodworth
Cross Country
Hannah Arseneault
Equestrian
Lindsay Scott
Kayla Watton
Haley Greenbank
Reina Fennell
Golf
Lindsay Cameron
Equestrian
The final competition of the 2015-16 year was held this past weekend at Owl's Ridge. The DAL AC team once again took home the Champion Ribbon to complete an undefeated season.