On one side of the courtroom: a tiny trickster, accused of stealing a "precious" and powerful object. On the other: a broken shell of what was once a man, fevered in rage to reclaim what was once his.

Cue the gavel — and welcome to Middle Earth.

Law students and community members gathered to watch JRR Tolkien's classic book The Hobbit turned into a theatrical court case last Thursday night at the sixth-annual Weldon Literary Moot. The annual event, organized by students in Dal's Schulich School of Law with the support of volunteer actors and legal professionals, is a fundraiser for Halifax Humanities 101, a barrier-free humanities education program for adults living below the poverty line in Halifax and Dartmouth.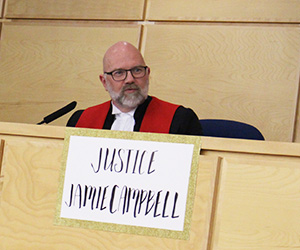 "It is such a wonderful program," said Justice Jamie Campbell, Nova Scotia Supreme Court justice who presided over the moot (a term for a mock trial) for the third straight year. "I think it is one of the treasures of the city."

Halifax Humanities 101 Director Mary Lu Roffey-Redden spoke at the start of the event, which in previous years has tackled such iconic works as Frankenstein, Alice's Adventures in Wonderland and The Odyssey.

"We do terrible things to great books," said Roffey-Redden, speaking to the irreverent nature of the proceedings. "We usually offend fans, and I'm sure we will tonight." Justice Campbell also joked that, "when lawyers are allowed to have at a piece of literature, they cannot help themselves but to tear out its very soul."

Jokes and tributes

As such, the night was filled with jokes, gags and inside references that delighted the capacity crowd in the Weldon Law Building and took hilarious liberties with Tolkien's material. The cast — a combination of law students, law professionals, law professors, and local acting talent — was led by Halifax comedian, actor and magician Bill Wood in the role of Gollum. His Gollum was suing Bilbo Baggins for possession of the "one ring" of power, a magic artifact that's central to the plot of The Hobbit and Tolkien's subsequent Lord of the Rings novels.

Wood's Gollum seemed moderately happy on the stand when answering questions about his life prior to meeting Bilbo, but turned agitated when describing their encounter and Bilbo's game of riddles. "But they weren't games, they were lies!!!" screamed Gollum.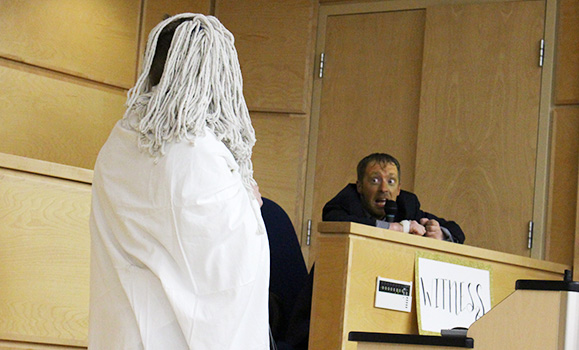 Law student Adam Norton portrayed Saruman the White, who served as part of the legal team for the defence alongside lawyer Laurie Jones. He showed "photo evidence" — clips from Peter Jackson's Lord of the Rings films — of how Gollum acquired the ring: "This is clearly you strangling that man to death!" (The plaintiff's lawyers argued the two couldn't possibly be the same, given their difference in appearance.)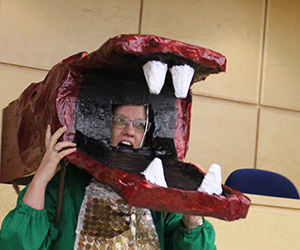 In addition to testimony from Gollum and Bilbo, the case featured a number of "celebrity" witnesses, including Schulich School of Law faculty members Stephen Coughlan and Diana Ginn as Gandalf the Grey and Smaug the Dragon, respectively. Ginn's Smaug entered the courtroom in loud, booming outrage. Before taking the stand, she verbally attacked the defence, approaching Bilbo (played by fellow faculty member Jonathan Shapiro), shouting, "I may simply CRUSH you beneath the weight of your civil procedure case book! Perhaps I will just bludgeon you to death using your stupid teaching award!"

After cases were closed, and following remarks from Justice Campbell, it was up to the jury — students from Halifax Humanities 101 — to render its verdict. In the end, Bilbo was allowed to keep the ring. "Justice was served and the ring is much happier with me," he said.

Community impact

Wood, who has taken part in all six Weldon Literary Moots, stepped out of character after the verdict to discuss the challenge of bringing Tolkien's work to life in a courtroom scenario.

"I think it's a great book," says Wood. "It's always great when you look at a situation and the bad guy isn't necessarily the bad guy. We do very little prep beforehand. We just kind of jump in, and it's very nice to see the joy the students take in it."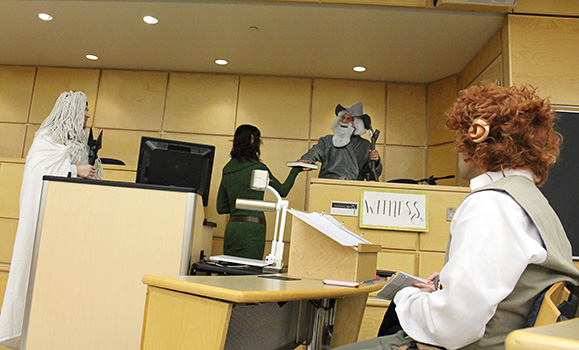 Lawyer Andrew Taillon, who formed part of the plaintiff's legal team along with law student Kate Costin, says that taking part in this event for the first time was a great experience. "I really enjoyed myself. The calibre of everyone involved was really impressive. The theme was really good; it's a popular work, so people were able to engage with it easily."

Prof. Shapiro credited Norton and Prof. Ginn with most of the funniest gags of the evening. "[The students] do all the hard work and all we have to do is execute it. It's really nice to see them donate their time. Law students are incredibly busy so it's great to see how much they put in to make it work."

And work it does — not just for the participants, but for the community members supported by Halifax Humanities 101.