There are more than 3,100 international students from 115 countries who study at Dalhousie, a number that's more than doubled in the past decade. These students add to the university's diversity, with Dalhousie bringing together individuals from around the world with different cultural experiences and points of view and allowing them to learn from one another.

For the second year in a row, Dalhousie has made it on Times Higher Education's (THE) list of the world's 200 most international universities. The list is based on three criteria: "proportion of international staff, proportion of international students and proportion of research papers published with at least one co-author from another country."

Though Dalhousie slipped spots slightly (to 125) from last year's rankings, the university's scores actually increased and it remained fifth among Canadian universities on the list (behind only UBC, McGill, Universite de Montreal and the University of Alberta).

A global perspective

Guiding Dal's global activities is its international strategy, explains Alain Boutet, executive director of international relations.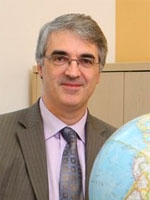 "We are trying to work on the recruitment of international students, both undergrad and grad students, and we're also trying to work on our student and faculty mobility," explains Dr. Boutet (left). "So, how can we increase our student mobility to provide all students with opportunities to reinforce their international learning experience?"

Dalhousie also looks to support international students once they are here, with services such as those offered at the International Centre, and finding opportunities for students and researchers to connect with international peers.

"We are trying to involve our students and faculty in research collaborations with partner institutions, and to have them go to visit other institutions as visiting lecturers, professors and research students," says Dr. Boutet. "We also try as much as possible to engage our international alumni, to work in collaboration with them to raise the profile of the university."

Supports for students

On campus, many student international connections are facilitated through the International Centre. It's often the first point of contact for students who are coming to study in Halifax from abroad.

"From the moment they've made the decision to come to Dalhousie, and they have indicated that they would like to enroll in classes, our office is in touch with them, including launching summer 2016 pre-arrival webinars," explains Kewoba Carter, who focuses on orientation and transition of international students.

"We talk about their pre-arrival needs including necessary immigration documentation as well as life at Dal and in Nova Scotia. We also make recommendations about seasonal things they may need to be aware of, since many of our international students come from countries which don't have a similar climate to Canada."

That support continues once students arrive in Halifax, with guidance on everything from setting up bank accounts to acquiring Nova Scotia identification, as well as workshops on topics such as Canada's health-care system and Canadian classroom culture. The International Centre has a staff member from Counselling and Psychological Services, Lisa White, present two days a week serving as a personal counsellor for international students who may need some extra support to deal with issues that come up unexpectedly, including, in some cases, "culture shock."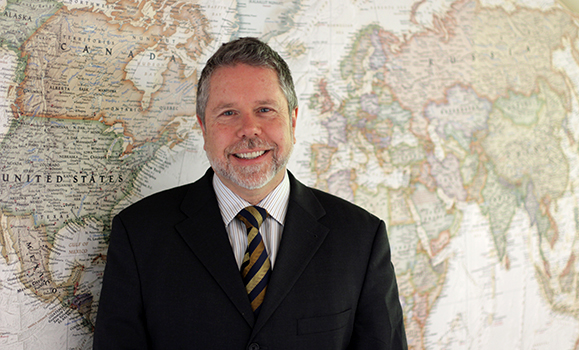 "In some countries, Canada among them, mental health has never been a front-and-centre issue," explains Philip Shea (right), the centre's new director. "There's been a lot of stigma attached to it, and mental health has been identified by insurance underwriters as being the number one health issue for international students … This is one of the things we are looking to expand into a little bit more."

"You can imagine being away from home and not having the support systems that you are used to, having to learn new support systems, dealing with language issues and learning issues within the classroom — all of these are topics which [Lisa] deals with," adds Carter.

For more information on international perspectives at Dalhousie, visit the websites for International Relations and the International Centre.