Each March, Engineers across Canada celebrate National Engineering Month — an opportunity for practitioners, researchers, teachers and students to celebrate the possibilities of a career in Engineering.
One of Dal's highlights of month takes place Tuesday, March 22 when Faculty of Engineering students get a chance to show off their skills at the third annual Engineering Design Expo and Poster Competition.

The Design Expo features senior-year Capstone Projects, which integrate course work and engineering design skills and provide innovative solutions for many local industrial partners. In the fourth-year course that spans two terms, students take on industry or community-based projects and work with the client to solve a specific problem.

"The Capstone Projects give students from all engineering disciplines an opportunity to use their technical and design skills, in a professional engineering setting, to see how they can benefit clients and society in their role as an engineer," explains Clifton Johnston, associate professor and NSERC Chair in Design Engineering. "It's an incredible learning opportunity for the students and the clients are always happy with the outcome."
Hands-on learning

Some of the industry/community projects are designed to be used by the clients, while others are simply an opportunity for students to get to work with detailed, real-world scenarios to enhance their skills. On one project this year, Civil Engineering students collaborated with Dalhousie's capital planning team in Facilities Management, completing their own proposal for the structural design and cost estimate for the IDEA Building project.

The forthcoming 72,500 square foot project aims to provide modern, hands-on learning space on Dal's Sexton Campus that increases interaction and collaboration between students in the Faculties of Engineering and Architecture & Planning.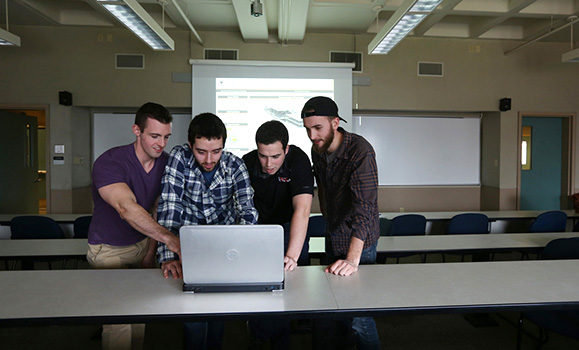 L-to-R: Dal Seamone, Rory Hastey, Andrew Smith, Sean Bent.
"We were excited to take on the IDEA Building project," explains team member Sean Bent. "The site location was convenient, we knew we wanted to design a building and it was cool that it was going to be a Dal building.

"We met with Nathan Rogers, assistant director, capital planning for Dal. He provided us with the architectural drawings and laid out the purposes within the building. From there, we began to develop the design."  

Participating companies and clients are matched with student teams in September. Through regular site visits and client meetings, project scope and requirements are developed and data are collected and analyzed. Solutions are designed, tested and presented by early April.
Hundreds of Dalhousie Engineering students will be demonstrating their group projects at the Expo.
"I think it's important for the public to see what our students have been working on, explains Dr. Johnston. "The Capstone Projects are a result of four years of intense engineering study. The students put a lot of creativity and effort into these projects that have a goal and real-world applications."  
Mentors and partnerships

Each team is paired with a professional engineer that acts as a mentor and consultant to the group. In the case of The IDEA Building design team, they were paired with Geoff Axell, a senior contract engineer for CBCL and a Dal grad. The team met regularly with Geoff to review their plans and get feedback on any issues or concerns.

"The project really forces you to utilize your four years of training," shares team member Rory Hastey. "At times we were in over our heads, but we learned so much during the process."

Sean adds: "In the classroom setting, the problems are very structured and everything kind of works out smoothly as you go though it. But with a real-world project like this, there isn't always a right answer. So, you're going through the process and meeting problems where you didn't expect them and having to work through them."

The team agrees even with various frustrations along the way, the process is incredibly valuable. The project exposed them to everything that goes into the structural design of a building, including the amount of hours that go into a project of this calibre.

"It's was really up to us to stay on top of this project. There were times that we put in seven hours but really didn't get seven hours of work out of it because it can take a full day to figure out a problem that just isn't working," explains Sean. "But eventually, we always found the solution."
Diverse projects

Approximately 70 projects will be featured at the Engineering Design Expo. The projects range from LaMP (Lower arm Mechatronic Prosthetic), a project to create an upper limb mechatronic prosthetic solution for amputees located in global conflict zones; to a team of students working with Emergency Health Services (EHS) to improve how biomedical devices are tracked for the EHS LifeFlight critical care transport program.

The Design Expo is about celebrating student work, supporting local businesses, strengthening Dal-industry relationships and promoting innovation in our province. The event is free and open to the public. Engineering students will display their projects and be available to answer questions.

The Third Annual Engineering Design Expo takes place Tuesday, March 22, in the Sexton Memorial Gymnasium at 1360 Barrington St. Visitors are welcome to stop by anytime between 12 -5 p.m.