For most people, NASA elicits images of golfing on the moon and the ongoing dreams of one day going to Mars.

Images of Apollo spacecraft and Cold War-era exploration missions are so entrenched in our collective consciousness that it might surprise you to know that some of the National Aeronautics and Space Administration's most valuable work is happening much closer to home.

Recently two Dalhousie researchers, Susanne Craig (Research Associate, Department of Oceanography) and Mark Gibson (Associate Professor, Department of Process Engineering and Applied Science), were recruited to help focus NASA's resources not just down from the stars, but also to our own corner of the North Atlantic.

Understanding the North Atlantic

Drs. Craig and Gibson are currently the only Canadian members in a worldwide NASA Earth Venture Class sub-orbital mission spanning five years with a $30 million budget. Called the North Atlantic Aerosols and Marine Ecosystems Study — NAAMES, for short — the mission is described by NASA as "a five-year investigation to resolve key processes controlling ocean system function, their influences on atmospheric aerosols and clouds and their implications for climate."

For their part, Susanne and Mark will be contributing in a wide variety of ways, with a specific focus on phytoplankton and the volatile organic compounds they emit into the atmosphere as a result of various life cycle processes.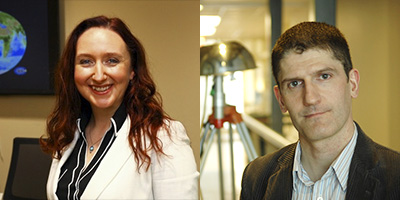 The two are well suited for the task. Dr. Craig is an accomplished optical oceanographer and the only Canadian member of the NASA Pre-Aerosol, Clouds and Ocean Ecosystem (PACE) satellite science team. Dr. Gibson, Dr. Craig's husband, is known for his research on atmospheric aerosols and trace gases. He's the director of the Sable Island long-term measurement station.

"Together, Mark and Susanne perfectly embody the overarching interdisciplinary science themes of ocean-atmospheric-climate interactions that we are seeking to better understand through the NAAMES project," says Michael Behrenfeld, principal investigator for NAAMES and professor at Oregon State University.

Chris Hostetler, NAAMES project scientist with NASA, echoes the sentiment.

"Dr. Gibson's long-term aerosol measurements from the Sable Island facility provide data important to NAAMES objectives both during our aircraft and ship deployments and, because of their sustained basis, our only insight on aerosol processes between deployments," he says. "In addition to her role as Co-PI on the Sable Island project, Dr. Craig's expertise in the ocean remote sensing, phytoplankton ecology, and biogeochemical cycles will be extremely valuable in the interpretation of ship, aircraft, and satellite measurements acquired during the NAAMES mission."
Studying climate impacts

Phytoplankton, particularly in the North Atlantic, play an immensely important role in climate regulation.

"It's hard to believe but over a period of just a few weeks, more than one third of the total carbon fixed by phytoplankton during the annual cycle in this region is drawn down. This is the spring bloom – a gigantic and rapid growth of phytoplankton that typically occurs around April – and along with a smaller bloom that takes place in the fall, it makes the North West Atlantic one of the most productive ecosystems in the world ocean."

With carbon dioxide acting as the largest contributor to global climate change, the applications of data collected through the NAAMES project are of critical importance for climate scientists and policy makers alike.

"This year was not only the warmest year on record, but dramatically warmer," says Dr. Gibson. "In addition, 2015 was also the first year to breach 1°C above pre-industrial climate temperatures".

The role of phytoplankton in drawing down carbon dioxide is only part of the picture, though. The other half lies in the volatile organic compounds, or VOCs, that phytoplankton emit back into the atmosphere.

"They can form secondary organic aerosols which are basically just tiny organic droplets that act as what we call cloud condensation nuclei," explains Dr. Craig. "One of the aims of NAAMES is to see what role phytoplankton — both in their abundance and type — play in the formation of these secondary organic aerosols, which may in turn effect cloudiness in our region, which in turn effects the entire climate."

Harvesting data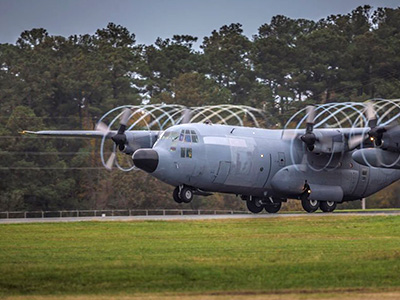 The way this sort of data is collected is impressive in its own right: the researchers will make use of a C-130 Hercules aircraft loaded with state-of-the-art instruments for measuring trace gases and aerosol composition.

"It has instruments that can look up through the atmosphere as well as down through the atmosphere, and also a powerful laser to characterize particle distribution not just in the atmosphere but also down through the ocean as far as 40 meters," says Dr. Gibson. "There's also a research vessel called The Atlantis and, four times over the course of the 5-year mission, it steams out past Nova Scotia towards stations near Newfoundland. During each mission the Atlantis research vessel visits six stations, spending a couple of days at each, with the aircraft flying around, characterizing clouds and aerosols, including aerosols of biogenic origin from the ocean."

Measuring levels of tiny plankton from the sky is something of a specialty for Dr. Craig in particular, whose algorithms to measure populations of the microscopic organisms based solely on ocean coloration garnered her international acclaim prior to her work with the NAAMES project. These aerial measurements are then verified using a series of more up-close measurements such as classic ecological sampling and a brand new holographic microscope designed by a Halifax based company called 4-Deep.

As Dr. Craig describes, the microscope allows the researchers to "take thousands and thousands of holographs of all the samples of water. Along with my colleague, Dr. Julie LaRoche (Dal, Biology), we are in the process of 'training' it right now. We tell it what each image is and it builds up a library with the ultimate goal being to have an instrument that can both count what's there and also identify what exactly is there in the water."

While the international climate research community awaits the results of the ongoing study, just having the research here has already been a draw for students and researchers alike — both Drs. Gibson and Craig have been working to incorporate their students, from undergrads to postdocs, into the project.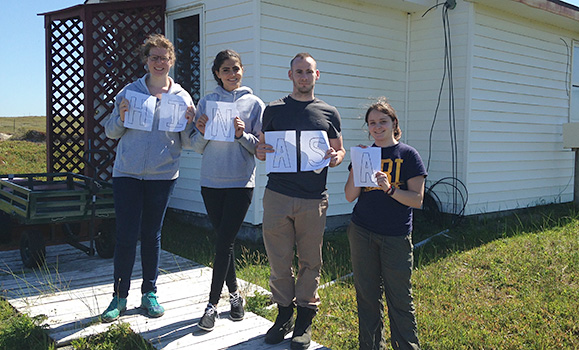 Engineering master's students Haya Qadoumi and Codey Barnett, co-op student Courtney Wilson and a summer research assistant Ellen Patrick.
For more on NAAMES, visit its website or follow its Twitter account.
(C-130 photo: NASA / Patrick Black)