International Women's Day, held each March 8, is an opportunity to celebrate the social, economic, cultural and political achievement of women around the world. Over time, it's grown to feature a week-long series of commemorative events and activities acros Canada.

At Dalhousie, there's much worth celebrating, from the university's longstanding Gender and Women's Studies program to the dedicated work of the Dal-hosted South House Sexual and Gender Resource Centre. There's a whole suite of activities happening throughout the week as well, under the banner of "Redefining Ourselves: Equality, Resistance and Resilence"; see the full schedule at the HREHP website.

There are also many student groups who work across the university to support the advancement of women in their particular fields of study or employment. To mark International Women's Day, we wanted to highlight some of them and their efforts.
Computer Science: Women in Technology Society (WiTS)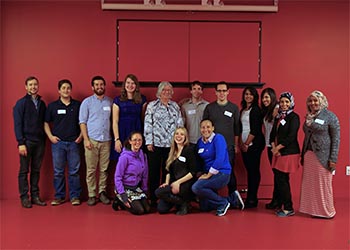 The Dalhousie Women in Technology Society (WiTS) aims to promote gender and racial equality in the university and technology sector. Over the past few years WiTS has built a strong presence in the Faculty of Computer Science, with membership increasing from less than 10 people in 2014 to more than 30 in 2016.

Efforts to promote equality include community-based initiatives such as introducing female students in high school to coding, as well as hosting educational networking events for university students. In particular, We Talk Tech is a major event hosted by WiTS each semester that brings together students and tech professionals from numerous areas of the tech industry. These events have provided a great setting for students to meet and interact with professionals in leading roles, learn about diversity initiatives at different companies, and discover the challenges and opportunities that exist in the industry.

Management: Rowe Women in Business Association (Rowe WIBA)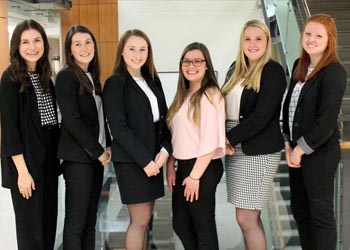 The Rowe Women in Business Association (Rowe WIBA) was started in May 2015 by a group of passionate Bachelor of Commerce students. Its purpose is to "focus on a future of advancement of women in business" and "to inspire young women to take on leadership roles and pursue success." In its first year, the association hosted numerous networking and social events in Halifax and Toronto, workshops, charitable fundraisers and guest speaker events. Its members also run multiple social media initiatives to draw attention to women in leadership issues (#WomenWednesday), to celebrate the co-op work term and career-related achievements of their members (#CoffeeWithWIBA), and to underscore the importance of supporting fellow female students (#WhyRoweWIBA).

The club has quickly grown to over 60 student members (plus executive members) and is currently ramping up to host its first half-day conference on March 18. The Rowe WIBA Atlantic Conference: Inspiring Women to Inspire Change will featuring a lineup of special guests and speakers, including Dal alumni, Dal Board of Governors members, and student employers. You can find more information about the conference on the group's Facebook page.

Agriculture: Female Leaders in Academia (FLIA)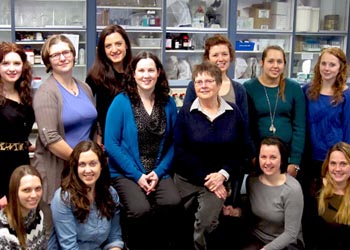 Of all agricultural faculty members across North America, only five per cent are female. Female Leaders in Academia (FLIA) is looking to change that. Hosted on the Agricultural Campus, it's a group open to female graduate students, postdoctoral fellows, female faculty and any undergraduate students interested in mentorship and leadership in academia. Founded in September 2014 by Sarah Stewart-Clark, assistant professor in the Department of Plant and Animal Sciences, the group meets monthly to meet female mentors, discuss work/life/family balance, discuss books about females in academia, practise communication and leadership skills and look at new ways to promote science to younger girls in the community.
"There have been many barriers for female scientists to vertically advance in academia," Dr. Stewart-Clark explains. "FLIA provides the support and inspiration for our female graduate students to expand their careers in science.

A signature event for this group is Girls Get Wise: an interactive workshop introducing science to girl's from grades 7-9 in a hands-on way. The workshop involves topics such as analytical chemistry, genetics, marine biology and more.
Engineering: Dalhousie Women in Engineering (WiE) Society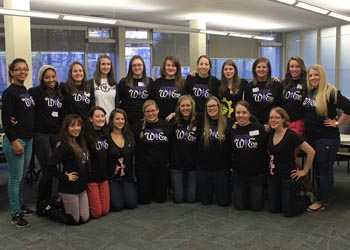 The Dalhousie Women in Engineering (WiE) Society is constantly striving to provide women with various opportunities to spark their interest in Engineering as a profession, to maintain the current female engineering population and to give them tools to succeed beyond postsecondary education. WiE supports the development of young talent in order to diversify the workforce through assisting ambitious students in pursing their career in the engineering field.

The women are involved in several events throughout the year: Women Engineering the Future Expo, Conference on Diversity in Engineering, and several Professional Development Days. One event that particularly stands out is Go-Eng-Girl, a day-long retreat for female high school students and their parents to learn about engineering as a profession. The girls learn about the disciplines currently offered at Dalhousie directly from current female engineering students, as well as other engineering aspects from female professional engineers.

Dentistry: Women in Dentistry Circle

The Women in Dentistry Circle brings together fourth-year female Dentistry students with practising female alumni for an annual session of open and honest conversation, specifically around the issues that affect women's private and professional lives. Topics covered include how having a family affects one's career and what to consider when looking for an associateship position. Participants say the group allows for a safe and honest space to discuss issues that stretch beyond beyond dentistry into the realm of overall work and life balance. The second annual Women in Dentistry Circle will take place on March 22.

Medicine: Federation of Medical Women of Canada (FMWC)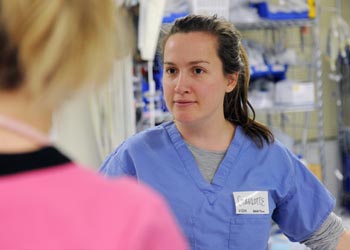 Dalhousie's female medical students and clinical faculty are part of a large network of women supporting women in the medical professional. The network, the Federation of Medical Women of Canada (FMWC), provides its membership with professional development, continuing education, and financial opportunities to advance in their careers. It also connects students with women in medicine from around the globe for mentoring and career advice.

In Halifax, student reps coordinate FMWC events and encourage new membership; first- and second-year students are quick to sign up to meet a female physician in their field of interest — each year, over 30 student-faculty matches are made. In addition, speed dating nights, career events, and speaker presentations on topics specific to women in medicine make FMWC a popular interest group for female medical students.
Learn more about International Women's Day on campus and around the world.