Joanna Cohen, a senior residence assistant in Risley Hall, wanted to be part of something that made mental health a larger conversation.

"We wanted to bring everyone together, hoping to reach more people on campus," she says, speaking to the various groups across campus who work in mental health.

The result: Mental Health Awareness Week at Dalhousie, a series of events and activities — largely student-led — which aim to bring attention and focus to mental health and wellness. Joanna helped spearhead the inaugural Mental Health Awareness Week last year, and now it returns for a second incarnation.

"This week really has something for everyone," she says.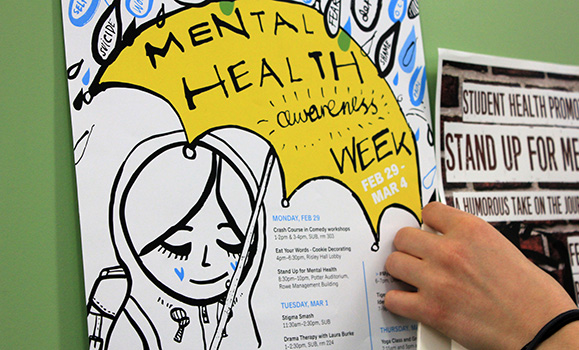 Members of seven organizations are part of the Mental Health at Dal committee helping pull the week together, including the Dal Student Union, Dal After Dark, Dal Off Campus, the Dal PROSocial Project, Student Health Promotion, Res Life and the Dalhousie Medical Campus Response Team.

"People have been working so well as a team, and I'm excited for the week to start," says Joanna, who says the inspiration for all her hard work "comes from my own experiences with mental health and seeing others experience it as well."

Getting creative

On Monday comedian David Granirer, the founder of Stand Up For Mental Health will be in the Potter Auditorium making students laugh while tackling the issue of mental wellness.

There are several events planned that find a creative way to talk about removing stigma around mental health. On Monday from 4-6:30 p.m. in the Risley Hall lobby, you can "eat your words" by frosting the cookie with words you don't like. And on Tuesday in the Student Union Building, you can write something about mental health on mugs and plates then literally "Smash the Stigma."
"We're using the broken pieces from the stigma smash to make a mosaic which we hope to hang somewhere at Dalhousie," explains Joanna.

Keeping with the artistic theme you can be a part of creating a splatter painting on Wednesday from 10:30-1:30 in LeMarchant Place. Mental Health Awareness Week concludes on Friday with a self-care fair in the LeMarchant Place atrium and talent night in Howe Hall at 8 p.m.

The week-long campaign also includes a movie night, the opportunity to cuddle therapy dogs and a chance to learn track and field skills (including high jump and shotput) from varsity athletes.
You can find full details of the week at the Mental Health Awareness Week website, and like Mental Health at Dal on Facebook for updates through the week.