This Valentine's Day, you may be expecting flowers and dinner with your partner. Maybe you're expecting to find a spark with someone new. Perhaps you're expecting to keep up your annual tradition of saying "good riddance" to the entire idea of Valentine's Day.

Here's something everyone can expect: a slew of quickly written clickbait web articles about love, sex and relationships in the 21st century.

Given their complexities, you can't blame people for seeking out easy answers to the so-called "mysteries of love." But what interests Dal postdoc Sarah Vannier is moving past those mysteries to get at the science behind matters of the heart — not to mention, matters of other parts of the human anatomy.    

"For me, looking at romantic relationships from a scientific perspective gives us a different insight, lets us take away some of the mystery," says Dr. Vannier, a researcher with the Couples and Sexual Health Research Laboratory, led by Dr. Natalie Rosen in Dal's Department of Psychology and Neuroscience.

"Some people say it makes it less exciting," she adds, "but I find it actually makes it more interesting."

The enduring power of romance

Dr. Vannier says one advantage of bringing science into our understanding of sex and relationships is that it helps debunk popular myths and fictions. Consider, as an example, the increasingly common belief that there's a casual sex "epidemic" or a rising hook-up culture among today's youth.

"It gets a ton of media coverage, but it's not actually the case; casual sex is not something the current generation invented," she explains. "The data shows young people now are more likely to use birth control and protection, they have fewer sexual partners, and they're having sex at an older age than their parents and grandparents did — which students always find interesting when it comes up in class."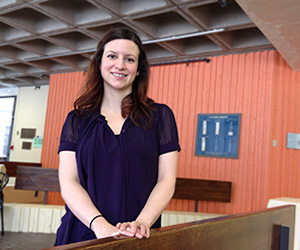 And if you think that romance is dead, think again: "The research shows romance is still the thing driving all this stuff: we want to fall in love, we want to feel those butterflies," says Dr. Vannier (left). "Even people who are hooking up through tools like Tinder are still hoping it turns into something. It might start with sex, but there's a hope there's going to be a more romantic connection."

But what about the sort of romantic beliefs that cynics of love might consider "myths" — things like "true love," "love at first sight," "love conquers all"? These were the sorts of expectations Dr. Vannier examined during her doctoral research at the University of New Brunswick. In her study of young adults ages 18-24, she explored the degree to which participants endorsed such romantic beliefs, their expectations for an ideal relationship, and how they saw their actual relationships.

She expected to find that people who held romantic beliefs were less satisfied in their relationships, given how hard it would be for their partners to live up to such great expectations. What she discovered surprised her: yes, romantic beliefs increased expectations, but those who held such beliefs were also more likely to identify those characteristics in their current relationship.

"It's almost like having romantic beliefs is like putting on rose-coloured glasses: you see the world through that lens, through those beliefs," she explains. "These people were more satisfied, more committed, more invested."

She adds that these individuals were also less likely to believe there were better options out there for them, and that additional research shows it's men who tend to hold more of these romantic beliefs than women (although this gap appears to be closing among younger generations).

Taking sexuality seriously

Dr. Vannier joined Dr. Rosen's Couples and Sexual Health Research Laboratory as a postdoctoral fellow last summer, and is currently focused on a new research study — together with researchers at the University of Toronto and the IWK Health Centre — that explores the sexual expectations and experiences of new parents.

"We're following couples who are having their first child, from 18 weeks pregnancy to one year postpartum," she explains. "Most people experience sexual changes, sexual declines, after they have their first child. It's really common to have lower sexual satisfaction and functioning, and you're typically not as sexually active. I'm really interested in whether people are expecting these sorts of changes, and what happens when what they experience is worse than expected."


Dr. Vannier greatly enjoys talking with people about her research (and she admits she "occasionally gets someone who shares more personal details than you were expecting"). This Saturday night, together with Dal PhD candidate Kate Rancourt, she'll be presenting on "How to Hack Your Love Life" as part of the Discovery Centre's annual "Discover Love" Valentine's Day event. Also presenting from Dal will be Matthew Numer of the School of Health and Human Performance, discussing modern society's understandings of love.

As for Valentine's Day itself, what does Dr. Vannier think of the occasion?

"I think it's fun!" she says. "It's nice to have things that let us focus on our romantic relationships. Life gets busy." That said — and no surprise here — she says it's all about expectations.

"It's important to know what your partner's expectations are, and to communicate your own expectations to your partner. If you want to go out for a really fancy dinner, let your partner know that. Make your expectations clear and figure out what your partner's expectations are."
For more from the Couples and Sexual Health Research Laboratory, visit its website or keep up with its research on Facebook or Twitter.