One of the struggles in high school is balancing your education, social life, hobbies and perhaps a part-time job. Throw in running your own business and you'd be busier than most adults.

However, for Peter Thiesen of Valley, this is was everyday life as a teenager.

When Peter was in high school he began doing odd lawn and maintenance jobs around his community. Eventually word got around and his skills became in-demand. Realizing he could turn this into a real business and job for himself, he bought a used truck, a few machines and never looked back.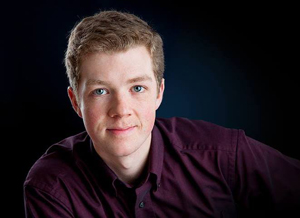 "I've always had an entrepreneurial spirit," says Peter, now in his final year of his Bachelor of Science in Agricultural Business at Dal's Faculty of Agriculture. "I tried to sell rolled up paper as telescopes to my family when I was four years old!"
Peter, who credits his entrepreneurial drive to his grandfather, is currently competing in the Global Student Entrepreneur Awards (GSEA) competition with his business P. T. Property Care, which looks after property management, lawn maintenance, landscaping, snow removal and light trucking.
"Now that both the business and I have grown, I've realized there are so many more rewards from being an entrepreneur than just making money," he says.
Pitch perfect

The international competition rewards students who run a business while pursuing an undergraduate degree. Peter explains it was Cultiv8 Sandbox coordinator Jolene MacEachern that heard of the competition and nominated him. He then attended the Atlantic portion of GSEA in Halifax last month he placed first.
At the competition, each contestant pitched a 12-minute presentation about them as an entrepreneur and their business. As first place winner, Peter now advances to the National competition in Toronto on February 18; he also received $22,000 in business services. "I was nervous for the first few minutes but I was fine after that," Peter explains, saying he's excited about his upcoming trip to Toronto.

First-place winner of the national competition wins a prize package including money and a trip to Bangkok, Thailand for the global finals.

When asked what advice he would give others with entrepreneurial spirit he says: "If there's a viable plan, go for it! Our school, our community and our province as a whole need young people to stand up, be bold and do something that many are afraid to do."