Nestled between Africa and Asia sits the Red Sea, known for the algal blooms that turn its water a reddish hue. Here, amidst a coastal desert, the sea's Gulf of Eilat (also known as the Gulf of Aqaba) is home to unparalleled marine systems of great interest to ocean scientists all over the world.

This past December eight Dalhousie Marine Biology and Ocean Sciences students skipped their holiday break to travel to Eilat, Israel and learn about this unique environment in person.

Thanks to the Schulich Ocean Studies Centre — an initiative between Dalhousie and the Interuniversity Institute for Marine Sciences (IUI) in Eilat — the students could take a field course taught at IUI for a full credit toward their undergraduate degrees. While the course is open to students at several Israeli universities, Dalhousie is the only Canadian university involved.

Two week crash course

"It was an intensive course," says Connor Booker, a fourth-year Marine Biology student. "We covered chemical, biological and physical oceanography, marine biology and geology."

The course, "Introduction to the Ecosystem of Gulf of Eilat: Coral Reef and Subtropical Sea," was a two-week lesson the students will never forget. Along with lectures, snorkelling through the coral reefs and joining in on a research cruise, students were given a research task to complete in the field.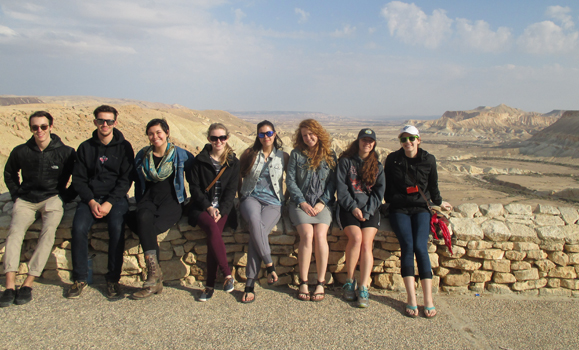 Dal students (left-right) Matt Auvinen, Connor Booker, Danielle Moore, Emma Arsenault, Kelsey Desilets, Kaitlin Burek, Lia Domke and Izzy Jubinville in Israel this past December.

"My project looked at fish species richness around coral knolls. Someone might say knolls are like giant boulders of coral," says Kelsey Desilets, another fourth-year Marine Biology student.

With her research goal in mind, Kelsey went diving in the Gulf — a world-renowned dive spot — and counted 40 different species of fish during her underwater work.

"The whole course revolved around [the question] 'why are there coral reefs in the Gulf of Aqaba?'" says Kelsey.

An environment like no other

The Gulf is a narrow finger-shaped basin in the north of the Red Sea, part of the Great Rift Valley between two major tectonic plates stretching from Syria to east Africa. Its geological characteristics in part give way to marine conditions that aren't typical anywhere else. In the Gulf of Eilat, depths of almost 2,000 metres are found mere minutes away from the shore. Jordan, Egypt and Saudi Arabia are all visible from seashore in Eilat, which provides an interesting context to scientific investigation as well.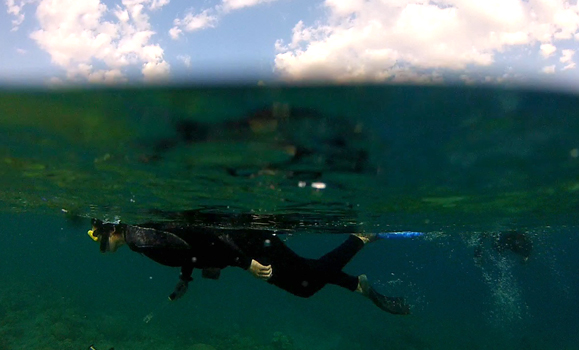 For almost two weeks, students in the course put the textbooks down and carried out field work.

"It was cool to come into the course with knowledge from [the Dal class] Blue Planet," says Kelsey. In that class, Kelsey learned how the "rest of the world works." But it's "completely different in the Gulf of Aqaba," she says.

This fascinating marine area has always caught the attention of ocean scientists, including some here at Dal also involved with the Schulich Ocean Studies Centre.

International in scope

Marlon Lewis, a professor in Dalhousie's Department of Oceanography, is interested in the deep-water mixing properties of the Gulf, a basin where unusually warm and constant temperatures are observed from the surface to deep down within the water column. With longtime scientific ties to Israeli researchers and institutions, Dr. Lewis played a part in getting this course off the ground after generous support from Canadian philanthropist Seymour Schulich.

In fact, part of the Schulich Ocean Studies Centre partnership includes teaching visiting Israeli students about the North Atlantic here in Halifax through Dr. Lewis's and instructor Laura DeGelleke's "Introduction to Field Oceanography" SEASIDE course. Last summer, Dalhousie hosted eight Israeli students through this initiative and will welcome another group again this summer.

"Oceanography by its nature is very international in scope," says Dr. Lewis. "The experience gained by students from Israel and Dalhousie has contributed to both a scientific and cultural foundation that will stand long after the courses are finished."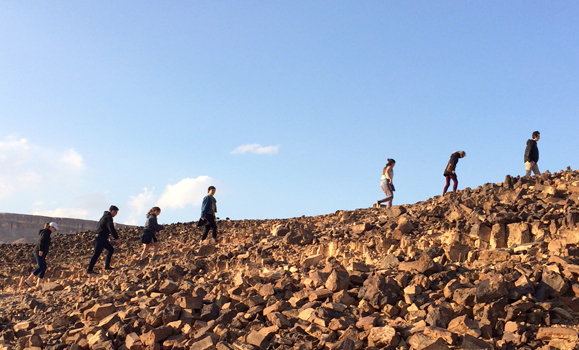 While exploring on land, students learned about the geological history of the area — an important factor in the Red Sea environment.

Connor and Kelsey were two students in the first Dal cohort benefitting from the partnership. Applications for the 2016/17 winter field course at IUI will be available to Dal students soon.

"I'm so grateful to have been accepted into this class. It's everything you could ever want in a course," says Kelsey. "Dal really is the place to study oceans in Canada."

Those interested in more information on placement in the 2016/2017 winter field school with IUI should contact the Schulich Ocean Studies Centre Initiative Project Coordinator (c.macneil@dal.ca).