A digital world changes everything — including our relationship with government.

The question of government's role in a digital society was front and centre at the annual Atlantic Conference on Public Administration (APCA), which took place at the Atlantica Hotel this past week. The conference, organized by Dalhousie MPA students, provides opportunities for graduate students, professors and professionals in the public service and non-profit organizations to collaborate on ideas and best practices.

Under the theme "Remaining Relevant: Adapting for Tomorrow," this year's two-day event featured a First Nations skills workshop, a panel discussion on immigration, a debate about the "sharing economy" plus two keynote speakers. In addition to the event, there was a research paper competition open to graduate students from any university across the country to highlight their current research on a relevant policy issue for presentation in a public forum.

Now in its 16th year, the ACPA is the largest it's ever been. Over 150 individuals attended the conference, with 120 registered for the pre-conference skills workshop. Attendees included a mix of MPA students and public servants in Atlantic Canada, including representatives from provincial and municipal governments, the private sector, non-profit organizations and the Aboriginal community.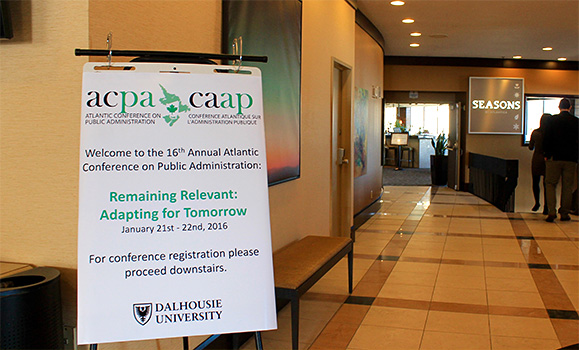 Behind this year's successes were the event's chair, Erik Fraser, and its vice- and programs chair, Paige Jenkins. The two second-year MPA students attended the conference last year as participants and applied this year for executive positions to gain experience organizing an event of this scale and building on what's been done in past years.

Under the duo's lead, this year's conference introduced online registration, a livestream of the debate for those who couldn't make it in-person, a live-poll system for people to contribute to certain issues discussed throughout the day, as well as an active Twitter feed to bring it all together. All new adaptations were in line with the theme of remaining relevant in a digitized world.

"What we wanted from this theme was to really talk about timely policy issues, now," says Paige. "One of those was the "sharing economy" — platforms like Uber and AirB&B."

"The sharing economy is a very polarizing issue," says Erik. "The Uber conversation hasn't necessarily reached Atlantic Canada yet, but it's coming.  If you look at public, private and government industries; everybody disagrees. So that's the reason why we picked it as a debate topic this year."
Engaging presentations and discussions

Outside of the sharing economy debate, the two keynote addresses discussed the overall theme in general. Avrim Lazar, policy and communications consultant, spoke about the government's current and future role in regulation, and Rosalind Penfound, vice-president academic at Nova Scotia Community College, explored what the individual can do to remain relevant and keep their skills and personal portfolios updated.

"We thought that was something really important to touch on, especially because we're a student-run conference," says Paige. "All Dalhousie MPA students attend the Conference, so it's a nice message to send to students that after you're done school, you can always work to improve your skills and training."

With one successful event under their belts, both agree that what the ACPA offers students in terms of networking opportunity, experience in planning large-scale events and exposure to community and public service issues is invaluable.

"The speakers and even the attendees themselves really give students a bit more perspective about what various levels of government are talking about now and [the] issues they're facing," says Erik. "It kind of takes those lessons we learned in the classroom and shifts them out into the real world to give you a bit of insight about the career you're headed into and what you're going to be able to do in that field."