University Hall is a room that wears history on the walls.

In part it's because the hall, located in the Macdonald Building, contains books and memorabilia that reflect its use as a university library for over 50 years. Today, though, instead of students sitting at desks and reading quietly, the space is used for prominent meetings (like the Board of Governors) as well as special events.

But University Hall also feels historic because the room is home to the official portraits of Dalhousie's presidents. From the Reverend Thomas McCulloch (president from 1838-1843) through to Howard Clark (1986-1995), the portraits circle the room with a painting of the university's founder, ninth Earl of Dalhousie George Ramsay, resting over the fireplace.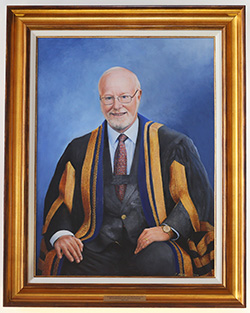 Now, Tom Traves, Dalhousie's most recent president emeritus, has joined their company. Dr. Traves's presidential portrait was recently installed in University Hall, and Dr. Traves and his wife Karen dropped into campus earlier this month to witness its official unveiling.

The portrait was painted by Susanne MacKay Kaplan, an artist from Saskatoon, Saskatchewan, based on a photograph by university photographer Danny Abriel.

"I like it a lot," said Dr. Traves, who is depicted in the portrait seated in his official Dalhousie gown. With each presidential portrait having its own pose and setting, Dr. Traves's was inspired by Dalhousie's first chancellor.

"I was in the Lord Dalhousie Room in the Hicks Building [where chancellor portraits are hung] and I liked the pose of C.D. Howe," he explains. "It's very forward looking."

Dr. Traves was joined at the unveiling by current Dal president Richard Florizone and his wife Mona Holmlund, Chancellor Emeritus Fred Fountain and his wife Elizabeth, and former Board chair Jim Spatz. He says he's staying busy in retirement.

"Busy with things, but not too busy, so I have lots of time to do the things I like," he said. "It keeps me hopping."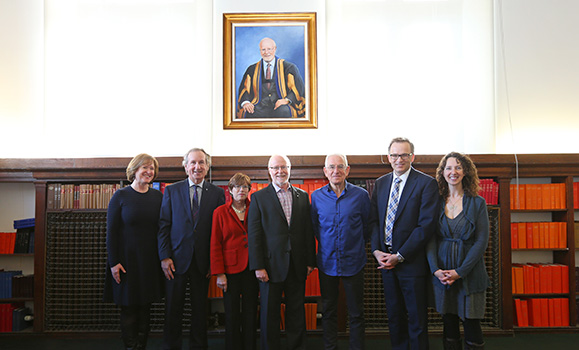 Left-to-right: Elizabeth Fountain, Fred Fountain, Karen Traves, Tom Traves, Jim Spatz, Richard Florizone, Mona Holmlund.