The Truth and Reconciliation Commission (TRC) made headlines in the news both nationally and here at Dalhousie last year. The university, like others across Canada, is working to respond to the commission's calls-to-action for a new relationship between Canada and its Aboriginal peoples.

Read more: From reflection to action (Dal News, December 11)

As part of that work, Dalhousie has formed a new partnership with the National Centre for Truth and Reconciliation, based at the University of Manitoba.

The key point-person on the partnership is Amy Bombay, assistant professor in both the Department of Psychiatry and the School of Nursing.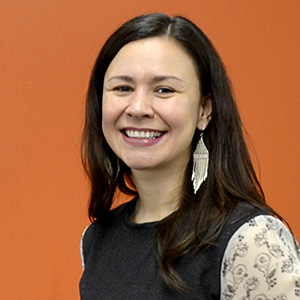 "We are part of the movement to continue the research and the conversations that have been started throughout the process of the Truth and Reconciliation Commission," she explains.

Launched last year, the national centre will serve as the permanent home for all statements, documents and materials gathered by the TRC in its work to address the troubling legacy of Canada's residential school system.
Additionally, going forward, the centre will work with a network of partners and supporters across the country to become a living archive related to Canada's Aboriginal peoples.  

"We [Dalhousie] really want to contribute to that… to share that information and promote the ongoing idea that the TRC and its goals were not just a one-time thing, but that they are something that we will do continuously into the future," explains Dr. Bombay.
Forging connections

Dr. Bombay has led and been involved in a wide variety of research related to well-being and mental health among Indigenous adults and youth, those living both on and off reserve. Her research, combined with her personal experiences, gives her an excellent perspective to expand the work of the TRC here at Dalhousie.

Dr. Bombay's father is Ojibway, and grew up on reserve, but she says he didn't really talk about it when she was growing up. By the time his children were born, the family was living in Ottawa. It was later in Dr. Bombay's life, when she was in high school, that she began to take more of an interest in her Aboriginal culture and heritage.

"Both my father's parents attended residential schools, which had a big impact on his childhood," she explains. "But growing up, he didn't talk a lot about how our family was affected by residential schools. My own experience — growing up not talking about residential schools — I found to be a common experience in my research."

Now, Dr. Bombay's work with the centre has the opportunity to expand the conversation. "This partnership is about bringing students into this work. We're really trying to make this a priority at Dalhousie by raising the profile of Indigenous issues to everyone, and part of that is to really engage students in these issues, getting them involved and interested."
Exploring identity

Dr. Bombay is also involved in a project titled "This is What I Wish You Knew" at the Mi'kmaw Native Friendship Centre in Halifax. The project will be facilitating discussions around Indigenous identity and, through allowing individuals to create their own clay tiles, creating a visual mosaic of the collective Indigenous identity in Halifax.
 
"It's really about exploring Indigenous identity in an urban context and giving Indigenous peoples in Halifax an opportunity to begin these conversations around reconciliation in Halifax," she explains.

Those who wish to get involved with "This Is What I Wish You Knew" are encouraged to reach out to the Friendship Centre to get involved. As for those who want to learn more about the new partnership with the National TRC centre, they are welcome to contact Dr. Bombay.