Sitting on the bench with an injury is certainly not an ideal way for any athlete to end their career, but Tigers women's hockey forward Sarah MacNeil is staying positive — and there is plenty of positive to focus on.

For one, the Recreation Management student has just been named as one of Dalhousie's Academic All-Canadians, recognizing her outstanding academic achievements. But just as importantly Sarah, the recipient of an Atlantic University Sport (AUS) Community Service Award last year, is finding ways to still help her team.

"Her leadership qualities extend beyond the ice," says Sean Fraser, her coach. He says Sarah's been sorely missed in recent games, but her work ethic and positive attitude allow her to contribute.

"She helps our team get better in other ways now, giving feedback, mentoring other players and just seeing her at the rink is motivation for our team to continue to work hard," he says.
Overcoming adversary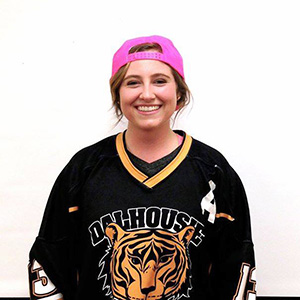 Sarah's injury occurred earlier this month at the Theresa Humes Invitational in Montreal, in a game against the Laurentian University Voyageurs.

"I was chasing a player back into our zone and got tangled up with her and went down," she says, recalling how she went blades-first into the boards. "I wasn't in pain, but it felt odd. When I looked at my foot, it was turned completely sideways, with my right toes completely facing my left foot."

Knowing something serious was wrong, Sarah decided that rather than skating off the ice, she would crawl. The team was also on a penalty kill at the time, and all she could think was that she had to make her way to the bench.

The Mira, Cape Breton native was pleased to see the team win the game in overtime, but a broken bone in her foot meant surgery, a cast, crutches and the end of her season — and her Tigers hockey career.

While it's not the way anyone sees their time as a student-athlete ending, Sarah looks back with pride at what she accomplished, from competing in the 2011 Canada Winter Games to the numerous accolades she's received in her time at Dalhousie. Her Atlantic University Sport (AUS) Community Service Award recognized her contributions to academics, athletics and community involvement. She's served as the student-at-large board member for Recreation Nova Scotia, helps organize the Hockey Players for Kids (HP4K) elementary school reading group, and is involved with events like Operation Christmas Child, the Easter Seals sledge hockey program and the Salvation Army's Christmas Kettle campaign.

Additionally, her Academic All-Canadian honour — recognizing varsity athletes with a GPA of 3.5 or higher — is her fourth during her time at Dalhousie.
Commitment and dedication


Sarah says the key to her academic success has been the support of Athletics and Recreation Services at Dalhousie, which helps varsity athletes learn time management and make sure they have access to tutors. Sarah thanks her solid, supported start at Dal for her success throughout her time here.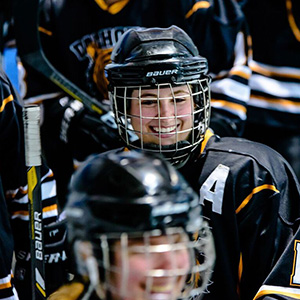 Fraser, Sarah's coach, says her positivity has always been contagious and her reaction to her injury has proven that.

"From a hockey perspective Sarah will never get out-worked," he says. "We know what we get from Sarah every time she steps onto the ice," he says. "She holds people accountable but even more so holds herself to the same, if not an even higher, standard. She is a fierce competitor on the ice yet always seems to be smiling off the ice. Her positive attitude is contagious… and we very much miss having her with us everyday."

Sarah says she has so many great memories from her time with the team and they are like her second family. She says her favourite moment was during last year's playoffs, where the team came back from losing its first game to St. Thomas to win the three-game series.

"Everyone had worked so hard to get to this point, and to come back after a tough first game loss to win two games back to back was awesome. The joy and excitement of knowing we deserved that win and worked for it was so rewarding."
More Academic All-Canadians coverage