For Sangmuk Choi, varsity sports have always been a platform for getting involved in his community.

"The Athletics Department and Varsity Council do a fantastic job of organizing a lot of events — fundraising and charity events — that allow athletes to get involved," says the Tigers soccer player and fifth-year Kinesiology student.
"I was always interested in getting involved with that stuff, because otherwise I wouldn't have had the opportunity to represent my school, and give back to my community thus I really can't thank them enough for that now that I'm graduating."
Sangmuk, one of 80 Tigers student-athletes recognized as Academic All-Canadians this week, was also this season's recipient of the Canadian Interuniversity Sport (CIS) Community Service award for men's soccer.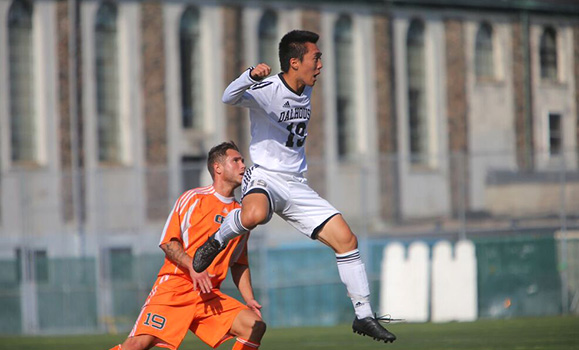 Throughout his involvement with the soccer team at Dalhousie, he described he was very fortunate to be part of a number of events with a great cause, such as helping to organize the international student soccer tournament and playing in the annual charity exhibition soccer game between Dalhousie and a big town-rival SMU which always is an exciting one. He also helps out with the Special Tigers event put out by the Varsity Council, bringing together children with intellectual disabilities and student-athletes to participate in sports.

Then there's what Sangmuk calls his "personal volunteering." "I volunteer at a physio clinic because I'm in Kinesiology and I want to go into physiotherapy, and also at a cardio rehab centre… assisting the patients and the nurses who work there".

It's a lot for the dean's list student to manage, but he pulls it off. "I try to have my schedules planned weekly so I know where I need to be at certain times." His schedule during the season includes four classes a day, practice every evening, and then time with friends or homework. Despite this demanding schedule, Sangmuk remains pleasant, upbeat, calm and personable.

In the long term, Sangmuk says he would like to pursue "a career in helping people" and plans to do this by putting his Kinesiology degree to work. He says he would love to practice physiotherapy in his home city of Charlottetown, PEI — continuing to contribute to his community.
More Academic All-Canadians coverage