Nova Scotia Premier Stephen McNeil joined Dalhousie President Richard Florizone and others Tuesday to celebrate the opening of a transformative new health education facility at Dal that promises to improve the state of patient care in Atlantic Canada by boosting opportunities for collaborative learning and research across the health sciences.

In the works for several years, the $38.5-million Collaborative Health Education Building (CHEB) will enable the university's 3,700 Medicine, Dentistry and Health Professions students to come together under one roof for an integrated learning experience designed to foster greater interprofessional collaboration.

The five-storey, 117,000-square foot facility was created with families and patients in mind, offering students from various schools and departments within the faculties the opportunity to learn with, from and about each other in an environment that more accurately reflects real-world health-care practice.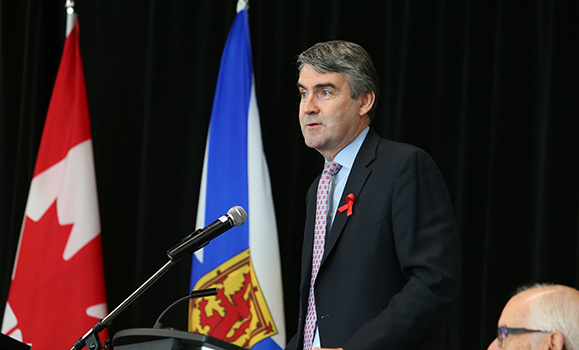 Premier McNeil heralded the opening of the CHEB — made possible in part by $10 million in provincial funding — as a step forward for health education and care in the province, calling it one of the most exciting announcements he's made during his time as premier.

"I think all of us as patients and as citizens of the province recognize that in order for us to deliver health care across this province, each of us is going to have to begin to understand the full scope of all practitioners from one end of this province to the other and build a collaborative model," Premier McNeil told the more than 300 people gathered in building's large, bright Windsor Foundation room on its first floor.

With CHEB, students will learn to have respect and recognition for all health-care partners from day one and hopefully find opportunities to stay in Nova Scotia once they are done their education, he said.

"This is the beginning. This is an opportunity for us to attract not only our sons and daughters, but also health care providers across the globe to come to Nova Scotia to work and to be trained in this kind of an institution of collaboration, of respect for different disciplines, and it's an opportunity for us to keep them in our province to be able to ensure that they deliver services all across Nova Scotia," said Premier McNeil, who was joined at the event by Leo Glavine, minister of health and wellness.

Making it possible

Dr. Florizone thanked the province and other donors — including the McCain Foundation and the Windsor Foundation — for their generosity, vision and support in making the project a reality.

"With it, Nova Scotia is leading the way in interprofessional health education and leading the way into that transformation to a more collaborative family and patient-centred care," he said, noting that half of all physicians and three quarters of dentists across Atlantic Canada are trained at Dal.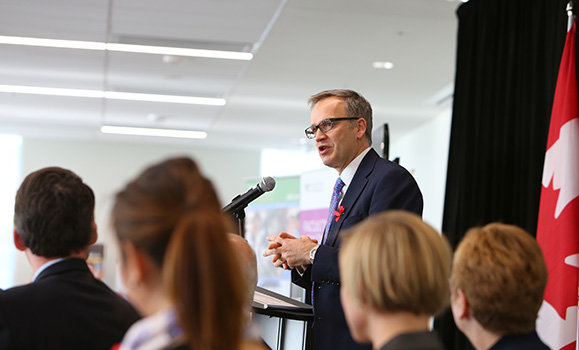 Dr. Florizone said that as the health-care system becomes more complicated in the future, it will be even more important for practitioner teams to work together to help coordinate care for families and patients.

"They'll get a chance to learn from each other, to get to know each other and understand and respect the role of each others' professions, which are such key ingredients for the future of care for all of us," said Dr. Florizone.  
Both Dr. Florizone and Premier McNeil praised William Webster (left), dean of the Faculty of Health Professions and the event's MC, for his vision and commitment to the project from its early days as an idea through construction and the opening.
Dr. Webster began the day by reciting an African proverb that he said captured the spirit and intent of the building.
"'If you want to go fast, go alone. If you want to go far, go together,'" he said. "This building is all about working together to go far, to go far in education and to go far in impacting healthcare delivery in this province."
Other speakers at the event included Minister Glavine and Janet Knox, president and CEO of Nova Scotia Health Authority.

Inside the space

Located at the corner of University Avenue and Summer Street, CHEB acts as a new anchor building for Dal's Carleton campus where the majority of students in the health sciences spend their time.

CHEB is packed with potential: the second floor features a mix of classrooms and seminar spaces where students from Dal's many different schools and departments can come together to work in teams in a way they might on the jobs. It also features an open-concept Learning Commons, where students can find workstations and access Dal Libraries services.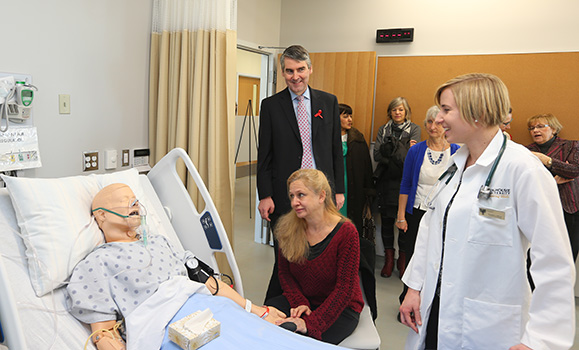 The building's third floor boasts several state-of-the-art clinical skills and simulation labs designed to mimic realistic homecare, rehabilitation and hospital settings.

After prepared remarks wrapped up for the morning, Premier McNeil, Dr. Florizone and others toured some of the spaces, including a homecare wing built to resemble a lived-in apartment — complete with a kitchen, bedroom and bathroom.

Faculty, student volunteers and others acted out simulations for attendees in a number of other spaces as well during guided tours. On the mobility terrace — an outdoor roof space where students learn to teach clients how to use walkers, canes and other mobility devices on rough surfaces — attendees watched a simulation of a student teaching a client how to get around using a wheelchair.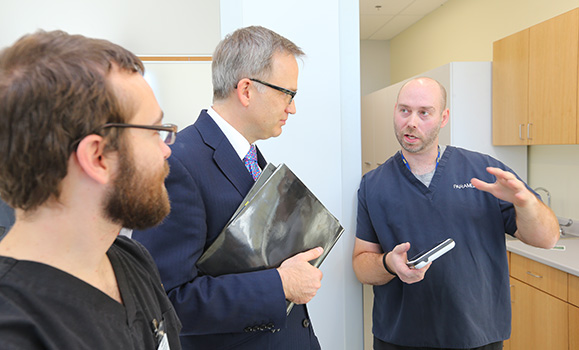 Down the hall in the simulated patient care wards, teams of future doctors, nurses and others worked together to respond to scenarios with simulated patients both old and young in hospital-like settings not unlike those you might find in the Victoria General hospital located across the street.

"We can simulate pretty much any scenario on them," said Shelby Higgins, a third-year Nursing student helping run one of the simulations.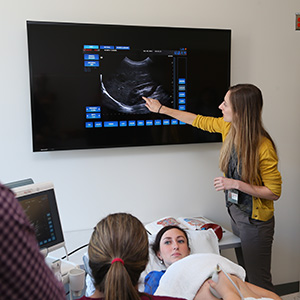 Wired throughout with the latest IT and remote-broadcasting technology, CHEB expands Dal's capacity for interactive learning and research in the health fields.

"I believe that this building will increase our interprofessional opportunities and help make us better care providers and future colleagues," said Madeleine Bohrer, a second-year medical student from Germany during remarks at the opening.

Bohrer was joined by with Meghan Beals, a third-year student in respiratory therapy. The two are co-presidents of Dal's Health Sciences Students' Association, which promotes and encourages inter professional collaboration among students. The group was recently selected to host the National Health Sciences Student Association conference next March, which will be held in the CHEB.

"We are very excited for this opportunity and to showcase that Dal is a leading example of how interprofessional, collaborative education is fundamental for our students," said Beals.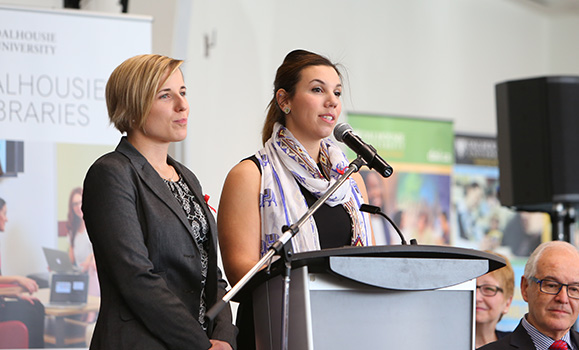 Team approaches

Construction on the facility began in October 2013 and required an enormous amount of time, energy and vision from university staff, faculty, deans and others to complete, said Dr. Florizone.

"CHEB is not only collaborative by name. The whole process was collaborative," he said, with thanks to the Facilities Management team that led the project together with architects, subconsultants, subcontractors and service providers.

To officially mark the opening of CHEB, Dr. Florizone, the premier and other speakers stepped outside to unveil the building's cornerstone. Like their entrance, the party's exit was accompanied by Cathy Martin, a member of Millbrook First Nation in Truro and holder of Nancy's Chair in Women's Studies at MSVU, with a drum performance in recognition that the new building's land is home to the first peoples of the province, the Mi'kmaq.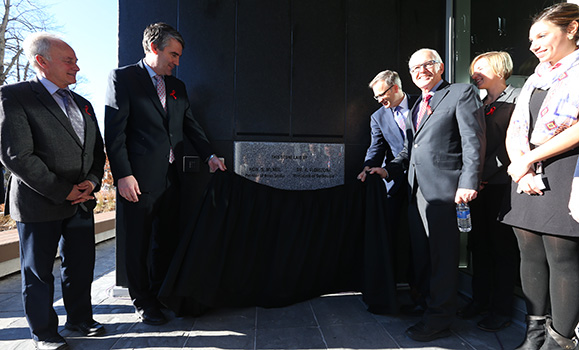 But although the cornerstone unveiling was an appropriate end to the ceremony, Dal's newest building means so much more for the university and the province than just the physical space.
 
"It isn't just about a building," said President Florizone in his remarks. "It is about changing this culture of care."