Some of Nova Scotia's tiniest and most fragile patients live at the IWK Health Centre's neonatal unit. There, they not only receive excellent care: they are helping to improve it.

These "preemies" and their parents are involved in the research of Dr. Marsha Campbell-Yeo and her team. The Dalhousie professor and neonatal nurse practitioner is transforming care at the IWK: premature babies here now spend more time outside their incubators, cuddling with their parents.

"We have proven that skin-to-skin contact reduces pain and improves outcomes, especially for critically-ill newborns," says Dr. Campbell-Yeo, who is also one of very few nurse clinician scientists in Canada.

Her work is just one example of the kind of groundbreaking research projects that will be the focus of Dalhousie's new Centre for Transformational Nursing and Health Research (CTNHR), which celebrated its opening on November 24.
Expanding the impact of nursing research

"Our mission at the centre is to have an impact locally, nationally and globally," says Director Gail Tomblin Murphy. "We're launching the centre so we can build on our existing partnerships, work on larger collaborative projects, and ultimately do more to improve patient care and to influence innovation in health policy."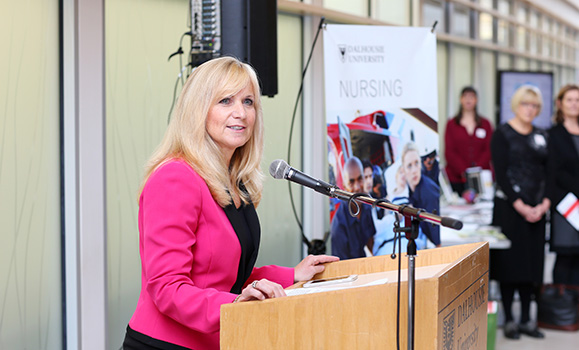 Dr. Tomblin Murphy, who also leads research teams with the World Health Organization, initiated the work to establish the centre four years ago. With the designation of the Dalhousie Senate, the Centre for Transformational Nursing and Health Research is the first nursing-led research centre in Atlantic Canada. The Centre's research will focus on four key areas: the health needs of people; health workforce and health systems planning; marginalized populations and health equity; and knowledge translation.  

"Your four pillars of research are exactly aligned with the priorities of the Nova Scotia Health Authority," said Janet Knox, Nova Scotia Health Authority CEO and Dalhousie alumnus, at the opening event. "We are very proud of the School of Nursing and are ready and willing to be good partners."

Other speakers at the Centre's launch included Nova Scotia Minister of Health and Wellness Leo Glavine; Dalhousie Provost Dr Carolyn Watters; Dean of Health Professions, Dr. Will Webster; and IWK CEO Tracy Kitch. Kitch spoke about the IWK's partnerships with Dalhousie School of Nursing researchers, saying.
"Affectionately I refer to this distinguished group as some of our 'rock stars of research,'" she said. "They are not just benefiting our work here at home — their work is changing the world."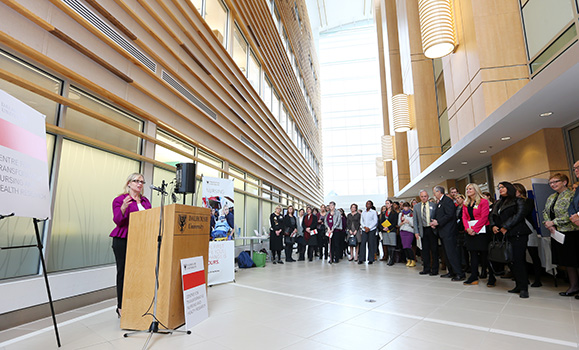 A catalyst for collaboration

Researchers with Dalhousie's School of Nursing have $14 million in funding for a wide range of projects including:  

Homecare, medication use and patient safety (Dr. Marilyn MacDonald)

How aboriginal children express pain and its implications for access to care (Dr. Margot Latimer)

Improving communication with parents of children being discharged from emergency (Dr. Janet Curran)

Integration of nurse practitioners in community-based health care (Dr. Ruth Martin-Misener)

Enhancing teamwork among health professionals (Dr. Sheri Price)

Many of the researchers were present at the opening, and see the centre as a catalyst for future collaborations.

"It will give Dalhousie a stronger identity and will catapult us into the top five nursing schools in the country," says Dr. Campbell-Yeo. "We need to be competitive at the national level because we are competing with the top schools for research funding. Having a centre will also help us attract the best and brightest students."

"The centre will do powerful things for nursing," agrees Britney Benoit, a student in Dal's Nursing PhD program. "Nursing is not always viewed as a big contributor in health research. Having this centre will increase the visibility and impact of nursing research and will draw more students into a research path. It will also be energizing to work with people from different backgrounds — we can produce stronger work with more people working together."

As School of Nursing Director Kathleen MacMillan noted in her remarks, the Centre for Transformative Nursing and Health Research will not only be innovative in its choice of patient-centred, system-changing research projects, but in its approach. The centre isn't a building, or even a space in a building: it's a virtual research centre, and exists in the knowledge, experience, community partnerships, and collaborative spirit of its researchers.

Having a Senate-designated research centre is a significant milestone for Dal's School of Nursing. It is not only a seal of approval of the quality of the research produced so far, it's a vote of confidence that allows its researchers to work with other similar centres across Canada and around the world.

"We're here to partner. Together we have so much to offer in terms of transforming our health-care system," said Dr. Tomblin Murphy.