Ten years ago, backpacking through India with friends, Jeremy Schmidt made the decision to treat and purify his own fresh drinking water rather than buying plastic bottles the entire trip.

The experience led to a lot of thinking about water for the soon-to-be graduate student, who subsequently decided to focus his research on the policies and values that shape our relationship with water.

"What I found was that water managers very rarely discuss ethics, and environmental ethicists rarely discuss water," he explains. "So essentially I was just tying to combine the two. And, as it happens, there were lots of people who were trying to combine the two, from working groups at UNESCO, to different scholars around the world, to the Alberta government."

Today, Dr. Schmidt is one of the leading scholars in the emerging field of water ethics. And now, he's this year's recipient of the Social Sciences and Humanities Research Council of Canada's (SSHRC) Talent Award, one of the council's Impact Awards presented at a ceremony in Ottawa this Monday, November 16.

A national honour


The Talent Award is one of SSHRC's top honours, presented annually to an individual holding a SSHRC doctoral or postdoctoral fellowship or scholarship. It's awarded based on academic excellence, talent for research and knowledge mobilization, and potential for future leadership within and/or outside the academic sector.

Dr. Schmidt recently joined the Department of Geography and Environmental Studies at Carleton University as an assistant professor, but the Talent Award recognizes his work at Dalhousie this past year, where he was a Banting Postdoctoral Fellow in the Department of Sociology and Social Anthropology.

"It means a great deal to me," says Dr. Schmidt, speaking on the phone about the award. "One, it represents just a great honour to be recognized by the academic community in Canada for my research. And it also recognizes the support that institutions — especially Dalhousie, in this case — have provided to my career."

In particular, he singles out Brian Noble, associate professor in the Department of Sociology and Social Anthropology, with whom Dr. Schmidt worked closely during his time at Dal.

"He's been an outstanding mentor," says Dr. Schmidt. "Brian brings an amazing energy to his research and he is somebody who takes a great joy not only in his own ideas but in the ideas of other people. And that is a contagious kind of energy. It's partnered with both a deep care for the future of Canada and an incredible commitment to academic rigour. He's a really great example of a public scholar in Canada."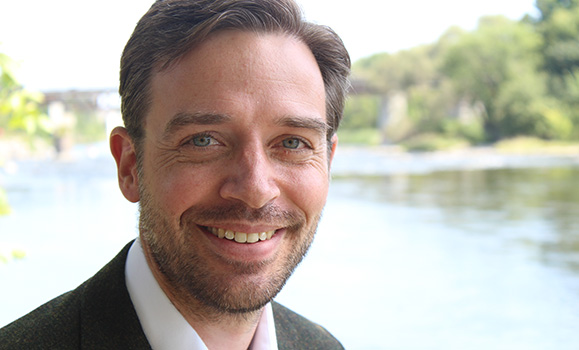 Jeremy Schmidt. (Provided photo)
Management, ethics, governance

Much of Dr. Schmidt's ambitious, multidisciplinary research has focused on water management, ethics and natural resource governance in Alberta. He says the province makes for a compelling case study in water ethics because for more than 100 years it's developed water policy by considering best practices from around the world.

"It has this history of incorporating international ideas, so it shares both the plusses and flaws of those sorts of frameworks," he says. "That's what I find interesting: it provides an important case in Canada, with its energy-intensive industries, but it also provides an interesting lens on how a much broader circulation of ideas can turn up in concrete policies."

Dr. Schmidt's research during his Banting Fellowship, which followed postdoctoral studies at Harvard, focused on two related topics. The first was the way Canadian laws divide "land" from "water," treating those two areas as separate entities. The second was how technologies for extracting bitumen from the northern Alberta oil sands make that legal and policy distinction difficult to maintain.

"That's because of the ways surface and ground water are connected with land, both at and below the surface," explains Dr. Schmidt. "The legal and policy frameworks draw a distinction that doesn't mirror the empirical facts on the ground, and also doesn't mirror alternate ways of understanding the earth and ecological systems — such as, for example, those held by indigenous peoples, whose territory these sorts of resource extraction activities often take place on."

Dr. Schmidt's studies are the first to link legislative changes in the federal government's 2012 omnibus budget bills to legislation in development designed to privatize land originally reserved for First Nations. Clearly, understanding the relationship between water management and public policy is of great importance to Canada, which is why Dr. Schmidt has always strived to make his research accessible to broader audiences, from policy makers to First Nations communities.

With two books already under his belt — Normal Water, completed during his time at Dal, and Water Ethics, a collection he co-edited — Dr. Schmidt says the $50,000 Impact Award prize will support the fieldwork needed to complete the project he started at Dalhousie.

"It's a great boon for the sorts of resources that you need to go out into the field, to gather data on the concrete problems you're looking at," he says. "The plan is, once this project is nearing completion, to put all of my graduate studies on Alberta together into a single book that will be accessible to a large audience in Canada."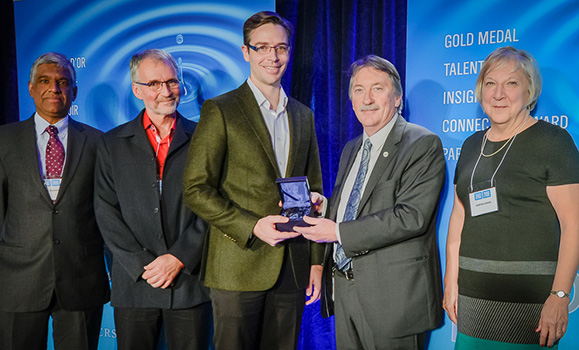 Jeremy Schmidt (centre) receiving his Talent Award in Ottawa on Monday, November 16. Left-to-right: Nimal Rajapakse (vice-president research and international, Carleton University), Brian Noble (associate professor, Department of Sociology and Social Anthropology, Dalhousie), Dr. Schmidt, Ted Hewitt (president, SSHRC), Martha Crago (vice-president research, Dalhousie.) (Martin Lipman photo)