Dalhousie alumna Sharon Carstairs (BA'62; LLD'13) laughs when reminded she once began a cabinet meeting by telling everyone in the room "you're going to die."

It was early 2003 and Carstairs, then Leader of the Government in the Senate and Minister with Special Responsibility for Palliative Care, was seeking support for new legislation: The Compassionate Care Benefit. It would provide six weeks of benefits to anyone looking after a gravely ill or dying family member.

"It came to me impromptu," she explains. "The ministers had their heads down in their projects and I needed their attention. They all looked up and I said, 'Now, let's talk about how you want to do it.'"

Going above and beyond

Death is a topic that few of us are eager to broach. Yet for almost 20 years Carstairs has dedicated herself to engaging Canadians in discussions about how we die. It's a conversation that she says goes to the heart of who we are as a society. "I consider the dying the most vulnerable people in Canada. If we don't ensure we provide a certain degree of care or services to them at that time, then we're not, in my view, doing what is expected of us as Canadian citizens."

Carstairs has always been one to go above and beyond what is expected, proven by the fact she was the first woman to lead the Manitoba Liberal Party and the first woman to lead the official opposition when the party took 20 of 57 provincial seats in the 1988 election. This was at a time when few women were active in politics, and those who were found their every move subject to intense scrutiny just because of their gender.

Still it is Carstairs's pioneering work in enhancing palliative care in Canada that is particularly important, especially when you consider that such care was virtually non-existent in 1995 when she was appointed to the Special Senate Committee on Euthanasia and Assisted Suicide. Only 5 per cent of Canadians had access to palliative care then, and little had changed by 2003 when she reminded her cabinet colleagues about their own mortality. It may have been blunt or morbid, but Carstairs was determined, based on personal experience, to make a difference.

That determination came, in part, from the example set by her parents. With a father, Harold Connolly, who served as Nova Scotia's 15th premier, and a mother, Vivian, who was a nurse, Carstairs's Senate duties seemed a natural fit for her. Yet her career initially took a different path, thanks to Dalhousie. Originally enrolled in the university's pre-med program — her mother had changed her application from nursing — Carstairs was inspired by her professors to go into teaching.

"It was mainly because of Peter Waite and Guy McLean, who were exemplary scholars in their own right. Waite in particular made history come to life because he encouraged us to read novels while exploring Russia's past. I took a Master of Arts in the Teaching of History based on that experience. Dalhousie was just an incredible place to be and it gave me a skill set I still draw on to this day."

Living a journey

Carstairs would eventually leave education for politics, but palliative would not become a focus until many years later. If anything, it was a long evolution that began with the death of her parents.
"My father had a very good death because, despite a massive stroke, he lived for 10 years, well beyond any of our expectations. But I was very angry with the way my mother died, because her do not resuscitate order was not respected. I came to realize my mother's experience of not dying well was more typical than my father's and that's what galvanized me."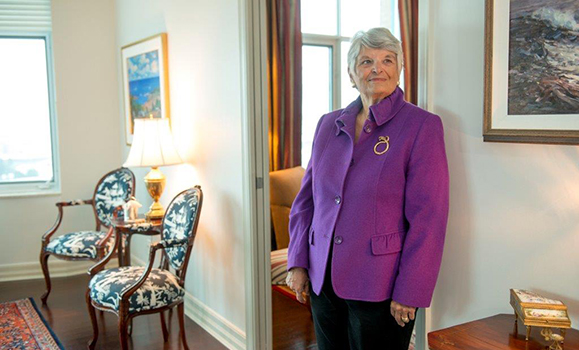 That was 1980. At the time, Carstairs had no inkling there were hospices in Canada. It would be six years before she would visit a palliative care unit at St. Boniface in Winnipeg. It would be another nine years before she was appointed to the Committee on Euthanasia and Assisted Suicide, which released a report in 1995 with 14 recommendations on improving palliative care. Four years later, Carstairs decided to see what became of those recommendations, and that resulted in the 2000 report Quality End-of-Life Care: The Right of Every Canadian. But it wasn't until she became the Government Leader in the Senate that she began to get real traction on this issue.

"I went to Prime Minister Jean Chretien and asked if I could use the tag line of Minister with Special Responsibility for Palliative Care. He didn't understand why I wanted to do that, but he agreed and told me I wouldn't get any money. I said I'd find it, which I was able to do."

Being the only senator at the cabinet table, Carstairs realized she had the ability to effect change. "You're the person the cabinet members come to in order to get legislation through the Senate. So I used the leverage. If I was talking to Corrections or Veteran's Affairs about legislation, I'd say 'What are you doing about palliative care?' And as a result, I was able to make some breakthroughs."

In fact, there are four breakthroughs that she is particularly proud of: the aforementioned Compassionate Care Benefit, a $16.5 million commitment from the Canadian Institutes for Health Research for palliative care research over four years, an agreement with the College of Physicians and Surgeons that palliative care would become part of the core program for undergraduates studying medicine and the founding of the Canadian Virtual Hospice, a Winnipeg-based bilingual internet resource that receives approximately 1,600 hits a day.

Making change

Now retired from the Senate, Carstairs looks back on those achievements, and the multiple reports and presentations she made, and sizes up her legacy. Currently, there is a 35 per cent access rate to quality end-of-life care in Canada, family doctors are more knowledgeable on the subject and there are residency programs in palliative care. Clear progress, but not to the degree she'd like to see due to everything from an emphasis on acute care in the system to a lack of commitment from the most recent government. But Carstairs has every reason to believe that this could soon change.

"The baby boomers are becoming the aging population and they've had everything the way they wanted it all their lives. They're not going to put up with anything less. They're going to become the focus of demand for palliative care."

And Carstairs will be there beside them, pushing for change, serving on committees and giving presentations whenever possible. "It is something where I feel I can continue to make a difference. I can continue to reach out to people and make them think they can also do it. That's even more important, because I can't do it all."

That's not to say she won't try. "I won't be satisfied until every single Canadian has access to palliative care. I don't know if it's possible. But I won't rest until I've done all I can to make it happen."
This article is part of the Building a Better World series, featuring profiles of outstanding alumni. For more stories, visit alumni.dal.ca.