What brought Dinesh Thapa to Nova Scotia was the opportunity to research novel drug treatments for alleviating chronic inflammation and pain.

It's an issue as relevant in his home country of Nepal as it is here Atlantic Canada, where one in three suffer from chronic pain; across Canada, the direct and indirect costs of chronic pain total $60 billion annually. As a master's student in Dalhousie's Department of Pharmacology, he's exploring how non-addictive natural constituents found in cannabis plants may hold potential drug solutions.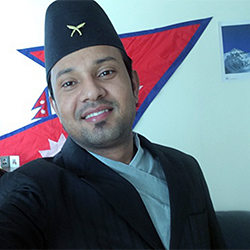 "Coming all the way from Nepal, which is badly affected with earthquake was really a challenging thing for me," he says. "But the main thing which brought me here is because of great support of my Professor Melanie Kelly and my interest for new drug development utilizing the natural sources."

Dinesh is just one student, but he's part of a broader story: the important role universities like Dalhousie play in attracting talent from around the world to Nova Scotia.

According to Times Higher Education, Dalhousie ranks as one of the top 100 most international universities in the world in terms of research collaboration and international student/staff populations. Last year, Dalhousie was host to nearly 3,000 students from 116 different countries around the world, an increase of 21 per cent over the past three years.

Opportunities for supporting immigration

As the number of international students at Dalhousie has grown, so has the potential for the university and its partners in government and the private sector to support opportunities for students who wish to stay and work here in Nova Scotia.

The ONE Nova Scotia coalition has flagged "Immigration and Welcoming Communities" as one of the seven pillars of its forthcoming action plan, recognizing that unless patterns change, Nova Scotia's population is set to fall by 65,000 in the next 25 years. That would have significant impacts on our labour force, tax revenue and social services. Immigration needs to be a key part of slowing and, ultimately, reversing that trend, and international students are a crucial source of talented individuals whose work can make a real impact here in Nova Scotia.
Read more: Immigration and Welcoming Communities (oneNS Coalition)

The 2014 "Now or Never" report (often known as the "Ivany Report") recommended setting a goal of having 10 per cent of foreign post-secondary graduates becoming permanent residents. There are 1,000 or so international students who graduate in Nova Scotia each year, and a 2009 report by the Maritime Provinces Higher Education Commission (MPHEC) found that about 20 per cent would like to stay here to find work. However, visa applications suggest that only about 5 per cent do.

Last month, the Province of Nova Scotia announced two new immigration streams: an entrepreneur stream and a graduate entrepreneur stream. Dalhousie President Richard Florizone greeted the changes as welcome news

"They align with Dal's commitments to support immigration and diversity and to nurture entrepreneurship, and will help our graduates create businesses and make Nova Scotia home," said President Florizone in a release. "I would like to see at least 50 Dal students take advantage of these programs in the next five years."

Collaboration and cooperation

Additionally, Dalhousie is part a group called the Halifax Higher Education Partnership (HHEP), which includes the city and its universities and is focused on attraction and retention of students to our region. Some of its areas of focus include considering adjustments to municipal services to benefit international students; increasing internship and co-op placements; a recruitment summit with both HRM and the universities; and the annual welcome reception for international students in Halifax, which Dalhousie takes part in together with the city's other universities.

Dalhousie is also part of an Innovation Team in collaboration with the provincial government, Nova Scotia's universities and NSCC. Its Student Recruitment and Retention Working Committee is developing a strategy focused on three primary priorities: recruitment, retention, and residency. These priorities are reflected in a planned pilot project that aims to recruit students from China, India and the Philippines.

There are also many programs at Dal designed to help immigrants feel more comfortable and confident here in our region. One of these is the Faculty of Management's Workplace Experience Program (WEP), launched summer 2014. It offers a chance for international students in the Faculty of Management to job shadow at a local company or organization, giving them better exposure to Canadian workplace culture and boosting their confidence when it comes to applying for jobs here in Nova Scotia.

Dalhousie also offers many supports for international students looking to improve their English skills, including a free English as a Second Language (ESL) conversation for all international and exchange students at Dalhousie, along with peer tutors and a non-credit ESPL writing seminar. (Learn more.)

Finally, Dalhousie's International Centre is there to support students interested in starting their careers in Nova Scotia. It hosts hosts weekly immigration workshops covering post-graduation work permits and permanent residence, invites the Office of Immigration to give talks about how to apply for permanent residency under the Nova Scotia Provincial Nominee Programs, and provides one-on-one advising to students who want to explore pathways to permanent residency in Nova Scotia and Canada.

Learn more about Dal's International Centre and international studies at Dalhousie.