Music could be heard playing down University Avenue as the masses gathered for the second annual President's Fun Run/Walk this past Saturday morning. As part of Dalhousie Homecoming weekend, President Richard Florizone invited alumni, students, faculty, staff and retirees to jog or walk for 5K across the university's three Halifax peninsula campuses.

To kick-off the festivities, President Florizone and his family's dog, Cookie Florizone, welcomed participants beneath inflatable red arches that marked the start and finish line in front of the Killam Library. Despite the October chill, the event boasted an impressive turnout of tiger pride.

"So many people showed up that we actually lost count," said President Florizone. "We have well over 700 participants, and we're so pleased to be here with each one of you."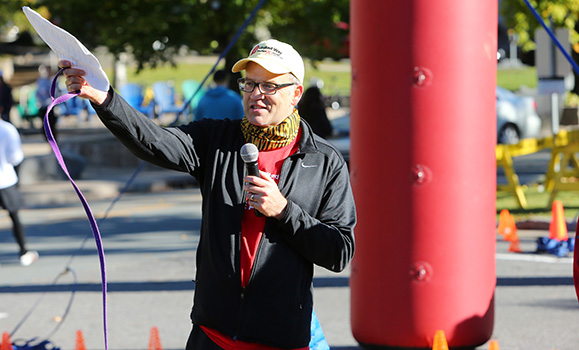 Attendees came in full swing with all their school spirit: carrying signs, wearing tiger-striped head bands and in attire ranging from alumni sporting letterman jackets to current students clad in Dal sweatshirts. Cheers could be heard throughout the route down University and Morris Street to Sexton Campus, along College Street to Carleton Campus, and returning back to the quad at the finish line. After the run, participants were treated to coffee and light refreshments and invited to mingle with one another.  

Among the sea of black and gold was Tim Tracey, a Dal alumnus who received his undergraduate degree from the Faculty of Commerce in 1965. Having graduated 50 years ago, Tracey and his wife traveled from their home in New Jersey to celebrate the significant anniversary with his fellow Dalhousie family.

"When I graduated, there was only 33 people in my graduating class and about 500 students in the whole school, including graduate students," he remembers. "It was a much smaller university."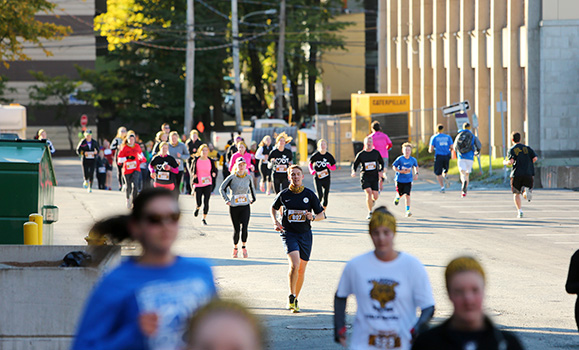 During his time at Dal, Tracey was also part of the fraternity, Sigma Chi. While he wasn't able to find any of his peers from the class of 1965, he did make a trip to the new fraternity house on South Street and had the opportunity to meet some of the new brothers.

"There's a lot of new construction, but I'm glad they kept they old architecture buildings," he said. "It brings back a lot of memories."
 
Beyond encouraging people to lace up their sneakers for some early morning exercise, President Florizone also posed a challenge to participants of the fun run: the Faculty or organized group with the most individuals in attendance would win a $500 cash prize to be contributed towards a post-Homecoming event such as a party or in support of a student society. The winner: the Faculty of Health Professions, which had representation from all eight of its schools to the total of 96 participants.
Other race winners were:
First Female (alumni/faculty/staff) - Jenna Ritter (Engineering)
First Male (alumni/faculty/staff) - Andrew MacIntosh (Engineering)
First Female (Student) - Matha Barrett (Engineering)
First Male (Student) - John Chandler (Law)
First Girl (Youth) - Kate Keats (Age 14)
First Boy (Youth) - Riley Tulloch (Age 13)
Meanwhile, in Truro, Rocky's Run also took place Saturday morning. A total of 81 runners took part in the annual Homecoming event on Dal's Agricultural Campus, which attracts attracts numerous alumni, Run Nova Scotia members from various parts of the province and local runners of all levels. The winners were Donald Rasmussen for the men's division and Emily Hamilton for the women's. The top alumni runner was Audrie-Jo McConkey.