Entrepreneurship and innovation at Dalhousie got another boost last week with the official launch of a new designated space for student teams, faculty members and community mentors to come together and collaborate on start-up projects.

President Richard Florizone and nearly 100 others from across the university and the local Halifax start-up community gathered last Thursday evening for the grand opening of the Collider, a space for the "serendipitous collision of ideas" located on the second floor of the Killam Library.

Dal's Norman Newman Centre for Entrepreneurship hosted the launch event, which featured remarks from Dr. Florizone, local mentors and others, as well as presentations from various start-up teams that have formed in the room over the past few years as it has become the de facto hub of entrepreneurial programming at the university.

"I'm just so excited to be here and to see so many familiar faces," said Dr. Florizone. "I feel like there's some kinship here, like there's a band of us trying to advance entrepreneurship."

The Norman Newman Centre held its first start-up event in the space back in 2011 and has used it on a regular basis ever since as a central gathering place for students in Starting Lean and Innovation, two cross-faculty courses first offered in 2012 as part of the recently rebranded "Launch Dal" initiative led by professors Mary Kilfoil and Ed Leach.

Opportunities for collaboration

Donna Bourne-Tyson, university librarian, was also on-hand to help officially open the space.

"Libraries are about the collision of ideas," Bourne-Tyson told the crowd. "It's our pleasure to collaborate with partners who want to spur creative and vibrant learning experiences where innovation and entrepreneurship can thrive."

In addition to being rechristened the Collider, the large multimedia room will now be earmarked for exclusive use by the Norman Newman Centre  programming every day after 5 p.m. and on weekends. That'll make it easier for students coming from many different faculties — Management, Engineering, Computer Science, to name a few — to work with each other and with community mentors on accelerating their business ideas.

Jevon MacDonald, a co-founder of Halifax-based startup incubator Volta Labs and regular mentor to Dal students, lauded the launch of the Collider.

"This is the culmination of a lot of effort, but it's the start of a bit of a new era for Dal," said MacDonald, whose start-up house has offered residency to a number of companies that have come out of the Dal classes.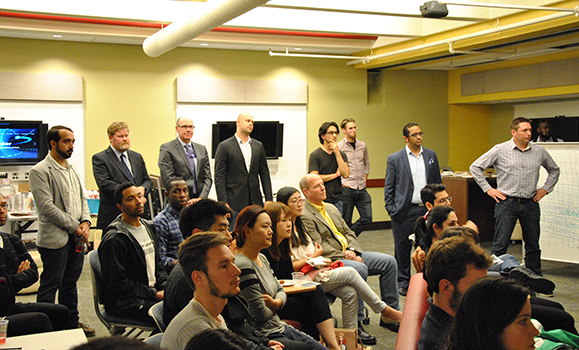 A place to start

One such company is Analyze Re, a globally focused big data provider for the insurance and reinsurance industry that got its start at Dal in 2012 before entering into Volta and other accelerators and moving on to raise $1.4 million in venture capital.

In remarks Thursday, Adrian Bentley, the company's CEO, credited Dal's Starting Lean course with teaching him and others in the company how to be entrepreneurs.

"Really the start of Analyze Re was right here pretty much in this very spot where, thanks to Ed [Leach] and Mary [Kilfoil]'s generous invitation, we took part in the Starting Lean course where we leaned to become entrepreneurs," said Bentley.

In April 2014, Bentley's company signed a six-year incentive agreement with Nova Scotia Business Inc. — the province's business development agency — that provided them with payroll rebates and tax incentives in exchange for the creation of 50 jobs.

Spring Loaded Technology, Sage Mixology as well as some teams from the 2015 Starting Lean cohort at Dal also presented at the Collider launch.

"Together we are making a dent in the universe. It's quite amazing to see how far these guys have come and how they've grown and where they are going," said Dr. Kilfoil.