On October 19, Canadians get to decide who will form the next federal government. For many young Canadians — Dalhousie undergraduate students included — this will be the first time they are eligible to vote in a national election.
We chatted with John Hutton, VP academic and external relations with the Dalhousie Student Union (DSU) and chair of its election organizing committee, and others at Dal and Elections Canada about what students should know ahead of the upcoming vote.

1. You have a choice as to where you vote.

Students can vote in the home riding where they live while not at Dal or in the local riding where they live during the school year.

If you want to vote in your home riding (in other words, not the one you're living in while studying at Dal), you can do so in a few different ways: requesting a voters' kit from Elections Canada (EC) online; casting a special ballot at one of two temporary EC offices located in the Student Union Building (SUB) and LeMarchant Place between October 5 and October 8; visiting a local EC office in Halifax or Truro until October 13; or casting a ballot in your home EC office if you are going to be there at any point before election day.

What is a special ballot? It means you simply write the name of the candidate that you're voting for in a white space instead of marking a ballot pre-printed with the names of candidates. This means you need to know the name of your candidate before going to vote.

2. Voting is easy.

As long as you are 18 or older and a citizen of Canada, then you are eligible to cast a ballot. If you are not yet registered to vote, you can do so online or by visiting one of the EC offices mentioned above.

Should you choose to vote in your home riding you must have two forms of government ID (one with a photo) that include the address for the area in which you would like to vote.

If you are planning to vote in Halifax or Truro you need to register with the address you live at while attending Dal. For that, you'll need two pieces of identification, one of which must have your current address. First-year students moving into residence can use the Residence Offer Acceptance or Residence Agreement that was provided to them upon being accepted into residence (available at DalOnline) as proof, or pick up a Residence Confirmation Form from their Residence Life Manager. All you need to do is present one of those documents at the polling station along with a Dal student card or another valid piece of ID. (Check acceptable types here.)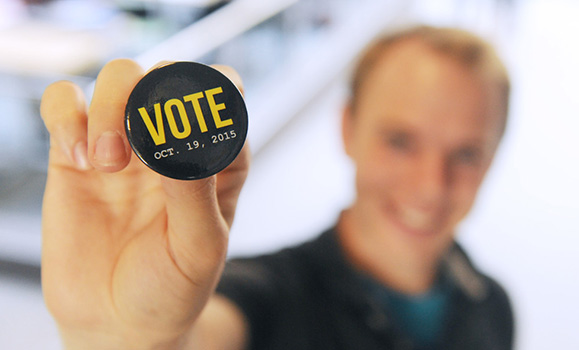 3. You have options as to where you vote.

Students voting in Halifax can do so on Election Day at polling stations on the main floor of the Student Union Building (SUB) from 8:30 a.m. to 8:30 p.m. In Truro, students will vote at an off-campus location noted on their voter identification card.

If you will be away from campus or are busy on Election Day, you can vote at advance polling stations open from 12 p.m. to 8 p.m. between Oct. 9 and Oct. 12. The location of advanced polls can also be found on your voter ID cards or by searching by postal code at Elections Canada online.

Find out more about other options, including voting by mail, by visiting Elections Canada online.
4. Your vote matters.

Voter turnout among 18-to-24-year-olds slumped to 38 per cent in the last federal election. The DSU's Hutton says one of the best ways to get politicians to respond to the issues you care about is by casting a ballot. "When youth get involved in voting, we do see actual change on the issues that affect us," he says.

5. Voting is just one way to exercise your political rights.

"There's a lot of ways you can make a difference in your community," says Hutton. Voting may be the most common way citizens in a democracy express themselves, but other actions such as petition drives, letters to the editor, meetings with MPs and attending rallies can also help bring about change, he says.

Still have questions? Contact Elections Canada or the DSU for more information.