Dalhousie's Faculty of Health Professions has launched its first faculty-wide doctoral program, the PhD in Health.

Last Thursday, September 24, 60 faculty, students and community partners gathered to celebrate new PhD program, which will allow students to pursue new types of interdisciplinary research. It also builds on Dalhousie's strengths in health and wellness research — one of the university's priority research areas.
"This is a great moment in the life of Dal," said President Richard Florizone. "This launch represents new opportunities for our students and faculty," he said, adding that the interdisciplinary nature of the PhD in Health is "the new model in health education and research."

Building on strong foundations

The PhD in Health will encompass a broad range of topics, from bench science to social science. It builds on the strengths of the Faculty of Health Professions (FHP), home to the largest collection of educational programs related to health and social well-being in Canada. There are 60 faculty members from FHP who are potential supervisors or co-supervisors. The PhD in Health has a strong emphasis on applied research, knowledge translation and policy development, helping prepare graduates for the next generation of health leadership roles.

"We need to stop reactive health care and promote health in better ways, as well as manage our high rates of chronic disease in Nova Scotia," said Cheryl Kozey, associate dean of research in the Faculty of Health Professions.  "Those changes must be grounded in solid science — and that's where this PhD is essential."

The required courses in the PhD in Health will give students a foundation in the social and economic determinants of health, as well as an understanding of current health-care delivery systems and effective health policy, in addition to their discipline-specific training.

Success through partnership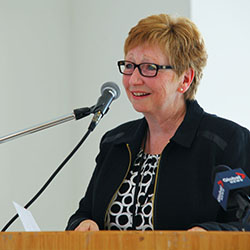 "This is an exciting step forward for Dalhousie and an exciting moment for the Nova Scotia Health Authority," said Janet Knox (right), president and CEO of the Nova Scotia Health Authority (NSHA), speaking at the launch.
"We know Nova Scotia is one of the unhealthiest provinces in Canada. We have to do something about this — and working together we can, we will, and we must improve the health status of our province. The research that happens here (at Dalhousie) will have a direct application to our work at the Health Authority."

Knox added she is looking forward to developing collaborations, and possibly internships, between the NSHA and Dal's PhD in Health students.

Dalhousie's research across the three health faculties attracts over $80 million in funding each year. Community partners view the PhD in Health as a way to better align university-based research with the needs of communities.

"I think this PhD is an example of efforts to modernize PhD programs in general and to deal with issues that are relevant to the community," said Krista Connell, CEO, Nova Scotia Health Research Foundation. "It's exciting because students will drive innovation: we'll see different issues addressed, with hopefully results that are immediately applicable."

New opportunities

Bonita Squires was the first student to enrol in the PhD in Health. She did her masters at Dalhousie in Speech Language Pathology and the launch of the new program means she can remain at Dalhousie to advance her work in improving education for deaf and hard-of-hearing students in the region.

"There hasn't been any research done on the education provided to deaf and hard-of-hearing children in the Maritime provinces," says Squires. "Education for these children is very individualized and there are no standard procedures. My research, with APSEA [Atlantic Provinces Special Education Authority] is aimed at developing an evidence-based practise."

Squires, a native of British Columbia, is one of eight students currently enrolled in the PhD Health, with 11 more applications pending. All students, both Canadian and international, are funded through a combination of scholarships. They'll work closely with professors who are leaders in basic, applied and clinical research from FHP and will benefit from being close to 2,000 health researchers at Dalhousie and affiliated teaching hospitals.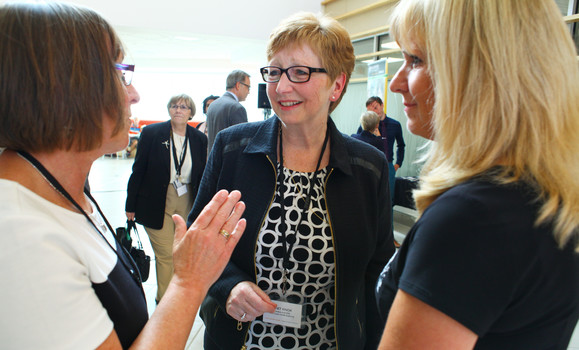 Dr. Cheryl Kozey, Janet Knox and others chat at the launch event for the PhD in Health.
Commitment to success

The PhD in Health is the culmination of years of collaboration by administrators, faculty and researchers in FHP's 8 schools and one program. The faced many challenges in setting up this unique faculty-wide program, which isn't specific to one unit. In particular, Patricia Cleave, professor in the School of Human Communication Disorders, was lauded by her colleagues for her extraordinary commitment to the program.

"It's wonderful to see the establishment of the PhD in Health," said Dr. Cleave. "It will strengthen the research capacity of the Faculty and the University to answer important questions. Having PhD students in the lab will not only be an asset to faculty: master's students will also benefit from the role models the PhD students provide."

For more on the program, visit its website.