Two of Nova Scotia's top high school students aren't wasting any time getting settled in at Dal — a school they both say they've always wanted to attend.

For the fourth year, Dalhousie is welcoming two Schulich Leader scholarship recipients as part of its incoming class: Victoria Somerton from Dominion, N.S. and Allyson Evans from Middleton, N.S.

The Canadian Schulich Leader Scholarships recognize more than 50 Canadian high school graduates who will be pursuing science, engineering, technology or math programs in university.  

A degree that can go places

When thinking about university, Victoria knew that she wanted to come to Dalhousie but was prepared to complete her first two years closer to home before transferring to Dal to finish her engineering degree. Thanks to the $80,000 Schulich Leader scholarship she's been awarded, she's able to attend Dalhousie for her full degree.
"It's amazing to be able to come here for all four years and to start with my classmates," she says. "I'm going to know my professors and get to live in residence."
Victoria was nominated for the scholarship program by her guidance counselor, Denice Breen, who describes her as an active citizen at both the local and global levels.

That interest in global issues was something that Victoria considered when choosing a program. "I want a degree that will be versatile and that can take me anywhere in the world. Dal's Engineering program is recognized around the world and I know that I'll be able to go anywhere after graduation" she says. "I want to help people and engineering lets you do that in unexpected ways. You don't have to be directly in front of someone to help them or improve their life."

As the only student attending Dal from her high school, Victoria has already found support and met people with similar interests. "The university is more accepting and diverse than I expected" she says. "At the engineering orientation the student society was the first group to speak to us and they stressed that we aren't alone. They'll help us blend academics and extracurricular activities and also give us a support network."

Victoria knows quite a bit about building support networks and getting involved. She was Glace Bay High School's Schulich Leader nominee based on her high level of involvement in academic, athletic and extracurricular activities. "I noticed a lack of integration between students at my school who were in the high-needs resource room and the rest of the students so I started spending my lunch hours visiting those students, helping with feeding, going for walks and trying to bridge the gap between them and the rest of the school."

She also captained her soccer and rugby teams, played three other sports and found time to be the leader of the school's Me to We and Operation Christmas Child groups while being involved with the Interact Club, Heart and Stroke Foundation and Nova Scotia Secondary School Students' Association. In her local community she spent time volunteering at the hospital and with the local health authority's volunteer program.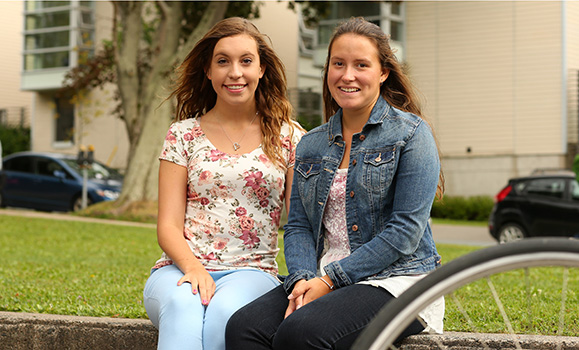 Keeping career options open

Coming from the small community of Middleton, N.S., Allyson is looking forward to meeting people with similar interests to herself. It's one of the advantages of going to a larger university she says.

Allyson received Dal's $60,000 Schulich Leader Award and is enrolled in the Medical Sciences program. With a strong interest in the sciences, she's looking forward to getting further along in her program before making any decisions about what career path she might take.
"I've always been interested in the human body, figuring out why things are the way they are and how things work," she says. "Medical Sciences will leave lots of doors open. I was surprised to hear about all of the careers and graduate programs it can prepare me for."
As the student representative on the Annapolis Community Health Board, Allyson lead an initiative to reduce alcohol related risks and injuries amongst youth in her community. She was also the youth ambassador for her hometown, coached with her local Can-Skate program and was heavily involved in 4-H working her way up to be a junior leader.

At her high school, Allyson headed up the prom and recreation committees and was active in yearbook, the math league and the environment club.

When asked if she's planning to get involved at Dal she doesn't hesitate, "There are some opportunities and special events through my program that I want to get involved with, this year the topic we're focusing on is nephrology. And I want to join intramural curling in the winter; I think it will be a lot of fun."

Off-campus Allyson is hoping to secure a volunteer placement with the IWK "I hear that it's hard to get into because so many people want to volunteer there but for me it hits close to home." As a triplet, she was born in Halifax at the IWK.   

No matter where her involvement takes her on campus or in the city Allyson is already feeling at home at Dalhousie. "I've been pleasantly surprised by university so far. Everyone is very friendly and you can tell that it's a close-knit community."