Holly Johnson throws another skull on the table. Three fellow Dal students sitting around her toss skulls on, too, as the pile grows bigger and bigger.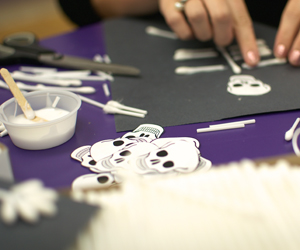 Johnson and the others aren't prepping for a horror film shoot. Instead, they are cutting up paper printouts and other materials to help create prototypes for a skeleton craft activity that will be part of an upcoming kids' Halloween event at the Discovery Centre in downtown Halifax.

The students have all signed up to spend the afternoon volunteering at the science centre as part of Community Day, a Dalhousie initiative that connects student volunteers to local charities and organizations.

About 125 students came out last Saturday to take part in the annual one-day event, providing an estimated total of 625 volunteer hours over the course of a single afternoon.

This is Johnson's second year in a row volunteering at the Discovery Centre as part of event, organized by Dalhousie Residence Life.

"I am in sciences myself and love the idea of promoting science to younger kids," says the second-year microbiology student from Vancouver, B.C., who was a team leader for the event this year.

A few feet away at another table, Yosefyah Williams and two other volunteers build circuit boards, while the group across the hall fills small plastic bags with plaster for use in an exercise in which kids create replicas of fossils.

Connections that last

Started eight years ago as a humble neighbourhood affair aimed at introducing first-year students to life beyond residence by getting involved in their community, the event now boasts partnerships with 11 organizations, including Habitat for Humanity, Feed Nova Scotia, the YWCA Halifax among others. And off-campus students are now invited to participate.

Across town at the Ronald MacDonald House on Tower Road in the south end, steam rises from a pot on the stove as a mix of onions, celery, carrots and ground beef sizzles away in the kitchen. Dinner is still two hours away, but the group of volunteers here has already made a lot of progress in preparing the hearty meal of shepherd's pie and berry crisp.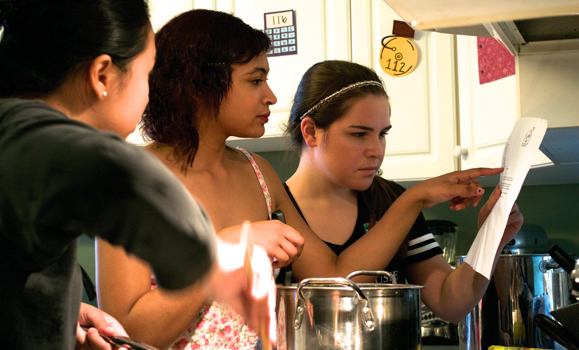 "It smells so good," says one of the nine volunteers gathered here to help out with the charity's Home for Dinner program, which provides families staying at the house a home-cooked meal after a long day at the nearby children's hospital.

Jessica Pelley, a second-year microbiology student, says she'd always wanted to volunteer for Ronald MacDonald House and was excited to see it as one of the partners in Community Day.

"Even just doing a little thing like cooking a meal can make a really big impact in people's lives," says Pelley, after helping prepare a pan of the crumble.

Pelley, who spent time volunteering at a long-term care back home in Newfoundland, says she plans to stay involved at Ronald MacDonald House this fall.

"I absolutely love it here and we've just been here for a few hours," she says.

Community Day organizers expanded the event this year to include a mini-volunteer resource fair and rally in the Studley Campus quad in the morning prior to separating off into groups to head out to their respective activities. By providing more information on volunteer opportunities — both on campus and off — and leadership programs like DALConnects, they hope to keep more students like Pelley involved after the day is over.

"It's really easy for students to get really involved in that one day and then not know how to stay involved," says Jeff Wilson, residence life manager at Howe Hall and a Community Day organizer.

An enriching experience

In addition to giving back to the community, the event allows students to meet new people outside of their own residence or social circle, gain new skills and contribute to causes they're passionate about.

Isabel Thomas, a first-year Science student from the small farming town of Fergus, Ont., says she signed up to volunteer at the Common Roots Urban Farm because she wants to support the effort to keep more land from being industrialized.

"This is a really cool place because it's being used for something that the whole community can benefit from instead of just another parking lot," she says, taking a break from sprinkling buckwheat seeds along a row of soil to be used for a flower crop.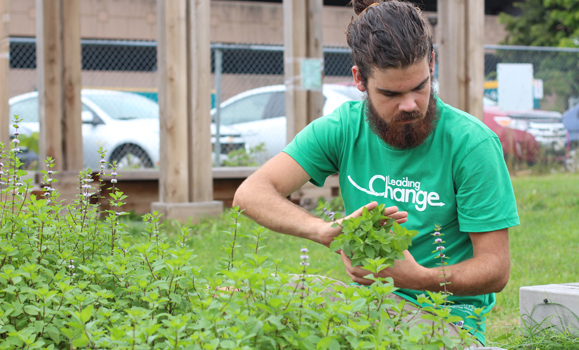 James MacNeil, another participant at the farm, says volunteering helps give him the work-life balance he needs as an Engineering student.

"In Engineering, it's easy to get overworked," says the third-year transfer student from Sydney, N.S., in between throwing shovel loads of dirt onto a soil bed. "I find that this really helps me to not get too overworked or to be always thinking about tests or assignments."

After several hours of volunteering, students made their way back to the Carleton Campus quad near the Tupper Medical School for a BBQ and a meet-and-greet with Dalhousie President Richard Florizone.

After mingling and posing for pictures with students, Dr. Florizone spoke a bit about how important volunteering was to his own experience as a student and the great contribution all the students were making by taking part in Community Day.

"I just wanted to give you a big round of applause and thank you for all the great work you are doing for yourselves, but also for the community on behalf of Dal," he said.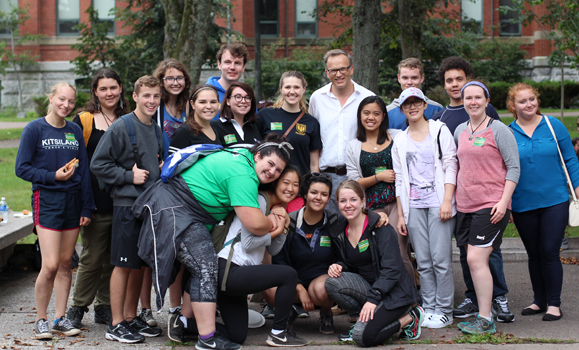 Missed out on Community Day but want to volunteer? Visit DALConnects to find out more about how you can get involved.
Photos:
Common Roots farm, Parkinson's Walk, day-end BBQ: Ali Seglins
Ronald MacDonald House, Discovery Centre: Matt Reeder
Point Pleasant Park: Nick Pearce