On August 1, garbage collection across Halifax started to look a little bit different.

That's the date the municipality began its long-telegraphed rollout of a new clear-bag garbage collection system. While it might seem relatively simple for a household to adapt to the new waste-sorting standards, bringing a university with more than 24,000 community members and 100 buildings up to speed poses unique challenges.

Dal has been preparing for the challenges for some time now and is using the opportunity to overhaul the way it handles solid waste on its Halifax campus, even though it and other institutional and commercial organizations are not actually required to take part in the clear-bag program at this time. By taking a leadership role and implementing clear bags across the university, Dal is showing its seriousness about reducing its overall waste and diverting more of it from the landfill.

Some of the changes for this year include:
doing away with dumpsters and compacting garbage at the university;

rolling out new waste bin systems and educational signage to encourage better sorting;

implementing new battery recycling and piloting lab Styrofoam recycling.

To get a better sense of the scope of this work and what it will mean for the Dal community, Dal News sat down with some of the key individuals involved to talk about these changes. Their common theme: for Dal to improve how it manages waste on campus, it's going to take everyone working together and doing their part.
Meeting standards and targets

Dal's decision to update its solid waste procedures starts with a fairly simple point: the university wants to get better at complying with existing Halifax municipal by-laws on sorting materials into streams.

"These are not nice-to-have standards, they are must-have standards," says Rochelle Owen, director at Dal's Office of Sustainability.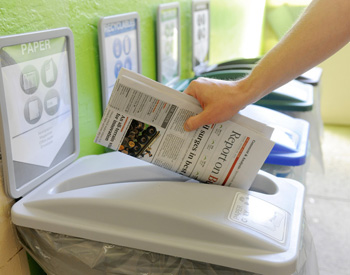 Dal already works to meet federal regulations on hazardous waste and uses broad targets and bans laid out at the provincial level as a general guide for setting its own goals. While municipal sorting standards have been in place for some time, the rollout of the clear-bag program in Halifax is part of the city's effort to get better at meeting those broader goals. Dal decided it made sense to do the same. (For information of Dal's Truro campus, see sidebar below.)

Owen's team worked closely with Facilities Management over the past three years to craft a new Solid Waste Management Plan for the university. Completed in June, the document is aimed at meeting those government standards as well as the university's own sustainability targets, which include hitting 70 per cent diversion from the landfill by 2020.

Dal's targets, while not as immediately pressing than compliance with broader government standards, are no less important from the university's standpoint, as they're reflected in its sustainability plan and the overall Strategic Direction.

"Dalhousie has taken substantial strides already, but this is the next step to work towards achieving our goals, which can reduce costs and improve our environmental stewardship over the longer term," says Ian Nason, Dal's vice-president of finance and administration.
Dumping the dumpsters

Meeting Dal's ambitious waste diversion targets means getting creative with how waste is handled on a university-wide level — including removing all dumpsters and replacing them with two industrial-sized compactors.

There are 31 dumpsters currently located around Dal's Halifax campuses, in which all of the university's garbage is placed to be taken away to the landfill. The three other streams of waste (organics, paper/cardboard and recyclables) are hauled by grounds staff back the main Facilities Management warehouse on Studley campus to be tallied and shipped out.

Now, instead of paying a private garbage company to come along a few times a week and empty the dumpsters, the university's own facilities staff will transport the garbage back to the warehouse along with all the other streams of waste. There, one of the new compactors will compress the garbage before it gets picked up and sent to the landfill. The other will be used to compact paper and cardboard.

Swapping dumpsters for compactors will enable Dal to better track contamination in its garbage by centralizing the path it takes to get to the landfill. Staff will get an up-close look at what ends up in the clear bags, identify where contamination is happening around the university and talk to building occupants and administrators if improvements are needed.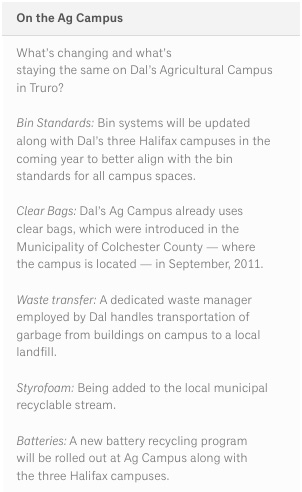 "We really need to put our hands on the waste to reduce contamination," says Darrell Boutilier, director of operations for Facilities Management. "The clear bag initiative plays to our advantage because now we can actually see which ones are contaminated and we start looking back at the source and educating those people"

The changeover will require increased costs in some areas: in addition to the compactors (here on a lease), a new truck will be added to Dal's fleet for daily pickup and two staff members to collect the waste and run the compactors.

But because the university pays by weight to have its waste taken away, Dal ultimately expects cost savings. Excess weights due to rain/snow/ice seepage into the dumpsters will be eliminated, as will illegal dumping (where individuals or groups other than the university throw their trash into the dumpsters). And by reducing contamination of Dal's waste before it goes to the landfill, Dal expects to have less waste being sent away overall.

"We are confident that there will be a reduction in the disposal costs over the next few years if everyone supports our solid waste plan," says Boutilier.

The disposal costs for organics and recyclables, for instance, amount to quite a bit less than sending waste to the landfill, and paper and cardboard recycling will become a revenue stream rather than a cost, he says

Boutilier expects the compacters should be up and running by the beginning of October. He foresees an initial learning curve as the nearly 200 facilities managers, custodians and grounds staff sort out the most efficient way to get the waste out of university buildings and onto the trucks headed back to the warehouse.
Fewer bins, less waste

Michael Wilkinson, who oversees the grounds and trucking crews as manager of environmental services at Dalhousie, says once they've determined the best way of doing that, the main challenge will be making sure the broader university community understands they've also got a role to play.

"We're only a small crew of people that needs to do the waste of a big community of people," Wilkinson says. "In order for us to succeed at this, we need the help of everyone."

That means getting more members of the Dal community to properly sort their waste before facilities staff even comes into contact with it, which is why the Office of Sustainability has been working for more than two years on a new waste management standard for all spaces on campus.

Dal will follow Halifax's lead by getting rid of excess garbage bins and implementing a new office standard and four-bin PROG (paper, recycling, organics, garbage) system in buildings across the university. New educational signage will also be placed near bins.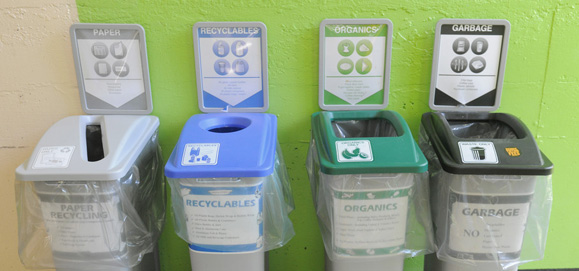 Brendan Brady, a Dal physics student and intern with Office of Sustainability, has been auditing the more than 5,000 rooms across the university to determine what needs to be removed and added in each case to meet the standard and spend the least amount of money. The challenge in all of this, says Brady, is applying a standard across a large organization that is anything but standard.

"Dal has kitchens, residence rooms, labs, athletic facilities, libraries, barns, almost anything you can imagine," he says. "It's probably the least 'standard' place, and we're trying to implement a standard across the entire university."

He has tapped the help of custodians in different buildings on his tours to get a better sense of what sort of waste ends up in bins in different rooms on a daily basis. Using that feedback and applying it against the standard, Brady has come up with specific recommendations for the many different types of spaces around campus.

(For a detailed look at the guidelines for each of these areas, please consult the standards document.)

Brady has completed audits of the Agricultural and Sexton Campuses, and is halfway through Carleton Campus. He plans to finish as much as he can before he heads off to the University of Victoria in British Columbia to do his MSc in Physics. (Another student intern will continue the project when he leaves.)

A gradual rollout

While the rollout of the new standards begins this fall, full implementation will take place gradually over the next year, starting with a building or two and working across campus. This will enable the university to track whether new signage and bin systems are having the desired effect.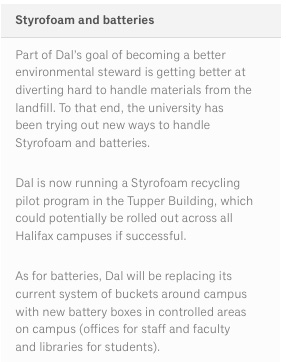 Some of the new standards will mean changes in how some staff, faculty and students manage their own waste. One of these is the move to a pared back desk-side bin system in university staff and faculty offices. Under the new standard, office occupants will only get a blue bin and a small, black side-saddle garbage bin and will be responsible for taking those to the nearest four-bin system in the hall to empty them out themselves. This reduces contamination, concentrates material in large bins, and reduces the number of garbage bags used.

Custodial teams will take care of the set-up of new bins systems within buildings. They'll also act as a kind of 'neighbourhood watch' of waste across the university, says Michael Campbell, who is Custodial Services manager at Dal. If there's too much contamination in a certain building — organics or recyclables in clear bags, for instance — they'll report back to their managers, who will then work with Owen's team on coming up with better ways to educate users and enforce the standards.

"We are not asking office staff to do anything they would not do at home, which means you manage your own waste," says Campbell.
 
Educating the nearly 4,000 new students that flood onto campus each fall could also prove a challenge if they are coming from cities, provinces or countries with different rules.

Overcoming these hurdles may seem like a monumental task, but the university is focused on the ultimate end goal of less excess waste.

Should there be enough cost savings from the changes, the university could also hire a full-time solid-waste educator, something many other universities of Dal's size across Canada already have.

Doing our part

The good news is that Dal is well equipped to succeed in its efforts. An easy-to-understand guide illustrating what goes where will be distributed around campuses with new bins and placed prominently in key areas for reference. Students, faculty and staff can also access the guide online.

With clear bags already in use across the university, compactors coming to campus and new bin systems on the way in the coming months, now is the time for everyone in the Dal community to step up to play a part.

"We have too much contamination," says Owen. "Dalhousie must do its part to meet municipal standards."