This past Monday evening, at 6:30 p.m., a fire alarm was sounded at the Ruminant Animal Centre on Dalhousie's Agricultural Campus. As the smoke and flames caught the eye of onlookers across Colchester County, farm staff and emergency services moved quickly to successfully evacuate all of the staff and animals from the building.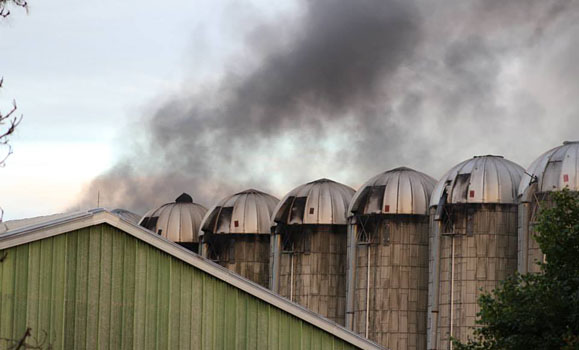 The Ruminant Animal Centre (RAC) is a teaching and research facility for ruminant animal production. (Ruminants have stomachs with four compartments that break down fibrous material like grass). The RAC has a classroom, a research lab and a computerized diet centre (for animals, not students). As well, the RAC houses cows plus multiple groups of sheep for research and teaching. Five permanent staff and two students work in the facility, along with 38 head of cattle that are milked there and a flock of 140 sheep (although only six were in the barn at the time of the fire).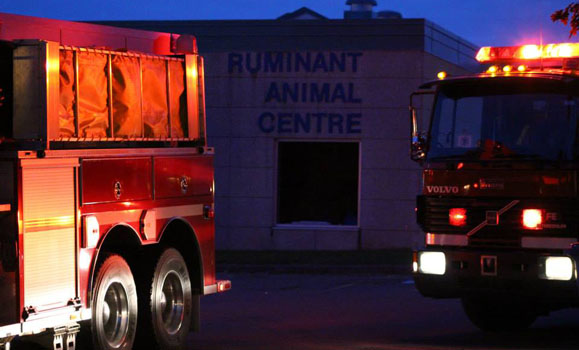 While the cause of the fire is yet to be determined, the majority of damage was contained to the main feed storage area, which contained approximately 2,500 bales of hay. Since the fire, the main building has been reopened, and the herd was back to being milked in the parlour as of Tuesday evening. The feed storage barn, however, suffered significant damage and is in the process of being taken down.

In an email to staff and faculty on the Ag Campus, Dean and Campus Principal David Gray expressed his appreciation for the quick response of emergency services and farm staff. Thanks were also extended to the Nova Scotia Provincial Exhibition for allowing the use of the Atlantic Dairy Promotions portable milking machine to ensure the cows could still be milked.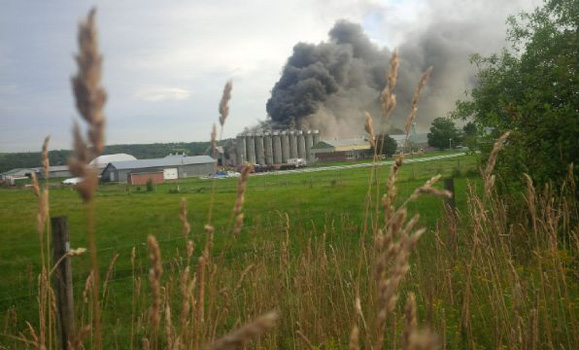 "As a campus community, we have all just been overwhelmed by the show of support from our many communities including our local community, our industry, our farming community and our community of alumni," said Dean Gray. "Their generous offers of help in our time of need have been truly humbling.

"Buildings can be repaired or rebuilt, equipment and machinery can be fixed or replaced… people and animals? They can't. No one was injured, all of our animals were safely evacuated… even the farm cat made an appearance this morning… everything else can be fixed."