In some respects, Dalhousie's four campuses are certainly quieter during the summer months — the number of students around, for example. But in terms of campus construction, things are as lively as ever.

Several major capital projects are underway at the moment, some nearing completion while others are just getting started. The projects align with the university's Campus Master Plan, a document that details a vision for Dalhousie's physical space over the rest of the decade. Approved in 2010, the plan identifies where Dalhousie needs to improve and increase student learning/study and accommodation, academic, research and administrative facilities to continue to meet the needs of students, faculty and staff.

"As our community has grown over the past decade, the needs of our students, faculty and staff have grown with it," says Ian Nason, vice-president finance and administration. "The Campus Master Plan is our guide as we look to ensuring we have the classroom, study, lab and other space required to support the Dalhousie community — now, and in the years to come."
Read: Dalhousie Campus Master Plan

One of the strategic priorities in Dalhousie's Strategic Direction focuses on "enhanc[ing] our infrastructure with a multi-year capital plan that promotes environmentally sustainable development." That plan is, essentially, the implementation plan that will bring the recommendations of the Master Plan to life. Under the Capital Projects Governance Policy, approved in 2014, each capital project is reviewed by the Provost Committee and the Board of Governors to ensure the project supports a priority initiative within the Strategic Direction and that a solid source (or sources) of funding has been identified appropriate to that priority. These sources may include government funding, philanthropic donations, new revenues and financing where required.

Here's an overview of some of the key projects currently under construction:
Wallace McCain Learning Commons
Budget: $6M
Website


In terms of academic facilities, the Faculty of Science has long identified a need for more student study space at the west end of campus; a concept which was incorporated in the Campus Master Plan.

The McCain Learning Commons will be the second of four learning commons on campus — technology-rich spaces linked in with the university library system. (The first is located in the Killam Library; a third will be part of the Collaborative Health Education Building, described below.) The McCain Learning Commons will be a single-storey addition to the Life Sciences Centre (LSC)/Chemistry corridor, adjacent to the Chase Building. The new commons will provide a space for students, faculty, staff and surrounding community to come together, mingle, study and access IT.

"We know that especially during the end of fall and winter terms, every seat in every library is taken and we hear from students frequently that they want more seats, longer open hours and access to more computers," says Donna Bourne-Tyson, university librarian.

To address this need, the new learning commons will feature collaborative workspaces, 15 bookable study rooms, and a glassed-in area that will be reserved for absolute quiet study. Academic libraries endeavour to provide seating for up to 20 per cent of the entire student population, and Bourne-Tyson believes this additional study space will help bring the university closer towards this target. "This will be sort of the front door to the university if you're coming up Lord Dalhousie Drive, so it will be a comfortable and welcoming entry way into the world of academic learning."

The project was made possible thanks to a major gift from the late Wallace McCain and his wife, Margaret. Construction started in June 2014 and is slated to open this fall.

Collaborative Health Education Building
Budget: $38.5M
Website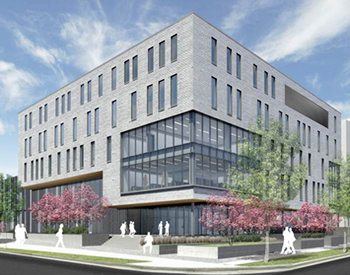 In the competitive world of teaching and research in health care, state-of-the-art facilities are no longer an advantage — increasingly, they're the norm. But what matters most is what's done inside those facilities.

That's reflected in the forthcoming Collaborative Health Education Building, opening late fall. The architectural design is informed by concepts of interprofessional education that focus on bringing together students and faculty in different health-related fields to learn with, from and about one another to enhance collaboration and quality of health care.

The classrooms are designed to facilitate small group discussion and problem solving by students from different professions in the Faculties of Health Professions and Medicine, and a state of the art skill development and simulation centre will promote and foster realistic interprofessional simulations in different health care scenarios (e.g., palliative care, emergency room, nurse practitioner/physician clinical suites, rehabilitation, mental health and addiction crises, home care, mobility training, case planning, discharge planning, etc.).

State of the art audio-visual technology will allow the broadcast of simulations across the province, and will enhance opportunities for students to receive meaningful and relevant feedback, which they can use to enhance their skills. A learning commons and social space ensures that students from different professions can rub shoulders together in an informal context. The integrated collaborative teamwork approach aligns well with how the students will practice when they enter the workforce.  

Currently, resources and facilities for students, faculty and staff in health-related fields are housed in various building across campus, some of them leased space. The five-storey building on the corner of University Avenue and Summer Street will serve as a collaborative hub that brings extensive learning resources for students of health-related fields, all under one roof. Construction on the project began in October 2013 and is targeted for completion this fall.
Carleton to Sexton Campus District Heating Project

Budget: $6.3M
Website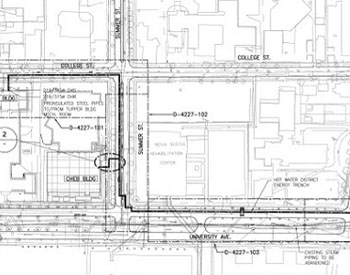 This planned replacement of Dalhousie's steam line to Sexton Campus is necessary to ensure the university can supply a sustained source of heating to all of its campuses. Excavation began this spring and must be completed by the fall in order to be ready for heating season.
Fitness Centre

Budget: $23.3M
Website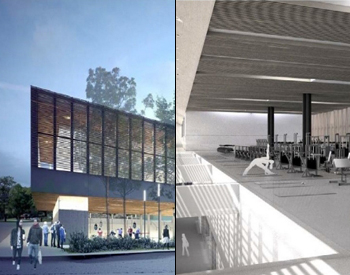 Improved fitness facilities have been identified as a key campus development priority at Dalhousie for some time now, given the age and state of the university's current offerings. The university has been working with students, faculty, staff and neighbours on the design of the fitness centre for the past couple of years.  The design team has been working hard to incorporate feedback into the design, which is now approved and ready to be brought to life. The 58,500 square foot fitness centre will include cardio and strength training facilities, group fitness studios, change rooms and a streamlined customer service and rental facilities that will service the new centre and Dalplex. The new fitness centre will not replace Dalplex: both facilities will operate alongside each other to serve the fitness needs of the Dal community.

The centre will be built at the Eliza Ritchie Hall site on South Street, and represents a significant improvement to athletics facilities on campus. Dalhousie's Capital Construction team will be finalizing building plans and beginning construction later in summer 2015. A community consultation regarding the construction is tentatively planned for early August.
Dentistry Clinic and Facilities Renewal

Budget: $27.625M
Website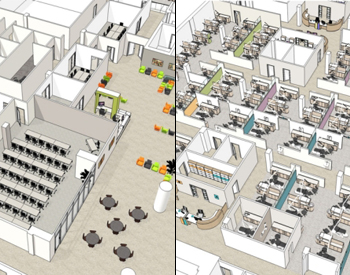 The Faculty of Dentistry is undergoing a specialized renewal project to better prepare dental students for working in a practice setting and to enhance the overall service the dental clinic offers the Halifax community.

When completed, the clinic will have new and improved space for teaching and learning and its ability to deliver high-calibre research, education and patient care will be enhanced.

"It's a complete redesign of the clinic to try to better simulate group practice or a private practice setting," says Dr. Blaine Cleghorn, assistant dean and professor of clinics.

The main part of the clinic will be organized around four group practices with 16 chairs each. Within each practice will be designated faculty group leaders and students from each year of the Dentistry and Dental Hygiene programs. Students will rotate through a designated group practice, and treat and share the same family of patients as a group.

"Clinic renewal should improve students' overall clinical experience and dental education, and better prepare them for practice when they graduate," says Dr. Cleghorn. "It means that the communities where they work after graduation will be better served."

Phase one demolition began in April 2015 and completion of the project is expected in September 2019. The project will be carried out in phases over the next five years to allow the clinic to remain open during the renovation. The facilities will meet the latest CSA standards and code regulations for health-care facilities when the renovation is complete.
Student Union Building Renovation

Budget: $10.7M
Website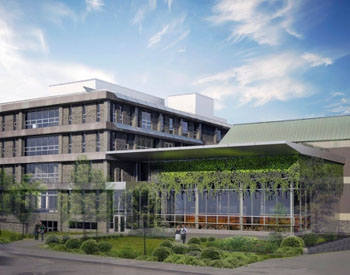 For the first time since it opened in 1968, the Student Union Building is about to receive a major upgrade. The Dalhousie Board of Governors has approved an extensive project scope that includes interior renovations to the basement, first, second, and third floors of the SUB totalling approximately 23,000 square feet of the existing 104,000 square foot building. All designs were developed in consultation with the DSU, SUB user group and society representatives, and the general student population. The costs will be shared between the university and the student union, with Dalhousie contributing $2.4 million for air-handling improvements and sustainability elements.

A central feature of the new SUB renovation is the creation of the Society Hub, a new space that will permanently host society offices and create shared collaborative space for the DSU's 200-plus student societies. "The hope is that they'll be able to collaborate or co-create better, because I think right now a lot of societies aren't connected very well," says DSU President Dan Nicholson.

Read more about this project in our recent Dal News story.
More information

Want to learn more about these projects, or about projects in the planning stages such as the Sexton Campus IDEA Building? Visit the Capital Development website.