Nikita Morris jabs her hand into the air. She's just volunteered to be a test patient for a demonstration in the clinical skills lab at Dalhousie's School of Physiotherapy. By the time she ambles up to take a seat, though, she seems to be having second thoughts.
 
"Am I going to feel it?" the 16-year old from Truro, N.S., asks Nancy Walker, an instructor at the school who is running this training session for kids attending the African Nova Scotian Health Science Summer Camp. "It's an electrical current, so, yeah, you're gonna feel it," responds Walker.
 
Nikita steels herself. Sure enough, as Walker begins rubbing a wand-like tool along Nikita's forearm, the tingling begins. "Whoa," she says, as her fingers suddenly start moving back and forth on their own as if her hand's been possessed. "I can't make a fist, so I think it's too high." She gasps.
 
Everything is fine, of course. Walker has calibrated the machine to just the right levels. She's illustrating a technique used in physio clinics around the world to treat injuries and body pain by administering electrical currents directly to targeted muscles. Now, several of the other kids watching want to see what it feels like, too.

Organizers of the Dal camp figure it's this kind of hands-on, interactive experience that can help them achieve their goal: increasing the number of African Nova Scotians in health professions across the province by convincing more of them to study in those fields at university.
 
"We're quite underrepresented in those programs and a lot of it has to do with not seeing yourself in those programs," says Michelle Patrick, who is program coordinator at PLANS, the Dal-based group that organizes the camp and promotes leadership in health for African Nova Scotians.
Showcasing possibilities

The overnight camp, held from July 5-10 in various departments and schools across the university's health faculties, drew 50 applications from Grade 8-11 students across Nova Scotia. Twenty-one of those teens ended up getting accepted and 19 attended the camp. That's up from 15 applications and participants last year when the program was first launched and only open to Haligonians.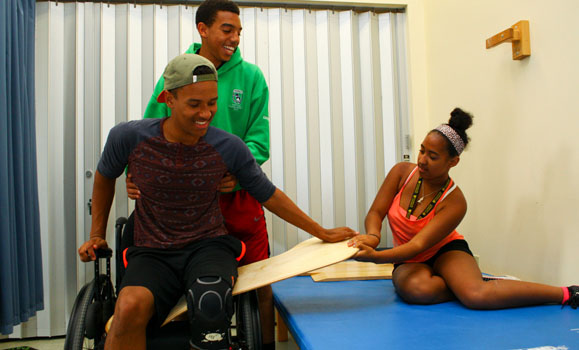 Darien Rolle, standing, helps Jaela Deal, right, lift Koko Davies out of a wheelchair during a demonstration in the School of Occupational Therapy's practice clinic. 
Darien Rolle, a 16-year-old entering into Grade 12 at Citadel High in Halifax this fall, says the camp opened his eyes to other areas he might not have considered before, like nursing and pharmacy.
 
"Someone explained to me that it is not just being behind the counter and picking up the drugs for people," Darien says of the pharmacy session. "There are different sides to it. There's a business side. There are so many different options."

Darien hopes to be accepted into a health program at Dal. Even though he grew up in the Bahamas and lived in Toronto for years, Darien says Dal is still his top choice as he thinks he would have a better relationship with his teachers than if he went to a bigger school.

He'd also like to stay close to his family members, two who are dentists in Nova Scotia and seem to have inspired him to broaden his interests beyond soccer and music production.

"Being black myself, it'd feel good to also follow in their footsteps and do something important and show that you can do it — that it's not just something for other races," he says.

Others in this year's camp plan to apply to Dal as well, and at least three of last year's eldest participants have now been accepted into the university, including Dominique Parsons, who enters into the Nursing program this fall with $22,000 in scholarships

"The hands-on stuff really got my attention. Instead of just thinking about nursing, I got to see some of the things nurses would do," Parsons says, noting they got to give injections into injection pads and take out stitches with scissors.
Connecting to the community

Camp participants also got to meet leading black health professionals currently working in the community such as Gaynor Watson-Creed, the current Medical Officer of Health for Nova Scotia, during the week.

"The camp is more than just visiting the different departments, but also connecting the students to others from the community who have been successful to show that they do have a place in university and in the health system," notes Patrick, the camp's organizer.

Patrick says her other priority is to make sure those children who show a genuine interest are given the direction they need after the camp ends and they head back home.
 
That means connecting with them on visits to community schools, sending reminders about deadlines for program applications and providing information about the many Dal scholarships available for African Nova Scotians.
 
Counsellor Karissa Izzard-Wells, a Dal MSc student studying speech pathology, says she tries to do her part to influence the kids to enter the health professions by sharing her own experience.

The counsellors create a comfortable, family-style atmosphere for the kids at the camp, with African drumming, a variety show and goal-setting workshops.

"I pass along my knowledge of going through university and how to succeed and be successful," Izzard-Wells says. "Ultimately, that 's the goal here."