Convocation is a celebration of completions and beginnings, as Provost Carolyn Watters described it in her opening remarks Monday afternoon.

That's true of every convocation ceremony, but it was particularly appropriate at this one. That's because Fred Fountain, now chancellor emeritus, was there to help install his successor, the Honourable A. Anne McLellan, in the role of chancellor.

Ms. McLellan becomes Dalhousie's seventh chancellor in its history. The chancellor, largely a ceremonial role, presides over convocation and other university ceremonies while also sitting as an ex officio member of the Board of Governors and serving as a general ambassador for the university.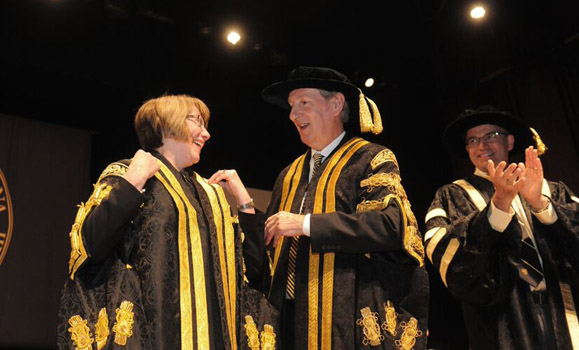 "This is very grand," said Ms. McLellan with an enthusiastic laugh as Dr. Fountain — her classmate from the Dalhousie Law Class of 1974 — helped her put on the chancellor's robes for the first time. Just before doing so, she officially took the pledge of the office from Board of Governors Chair Larry Stordy.

Described by President Florizone as "an accomplished lawyer, politician, academic and esteemed Canadian leader," Chancellor McLellan is a Dalhousie alum twice over, with a Bachelor of Arts degree alongside her Law degree. Though best known for her time in federal politics — where she served as Deputy Prime Minister, among other key roles — she has also been a law professor, community leader and, most recently, chair of the Dalhousie Advisory Committee.

Also present at the ceremony were representatives from other Canadian universities, there to welcome Chancellor McLellan to the role. Other universities from coast to coast sent along letters of congrats.
Encouraging grads to strive for greatness


Later in Monday afternoon's ceremony, after the graduates had all crossed the stage to receive their degrees, Chancellor McLellan addressed convocation. She not only offered her advice to the Class of 2015, but talked about her own experiences as at Dal student.

"I owe Dalhousie University more than I can ever repay: a mind-opening education, lifelong friends and the opportunity to do work that I would never have thought possible when I left Noel Shore [Nova Scotia] in the fall of 1968," she said.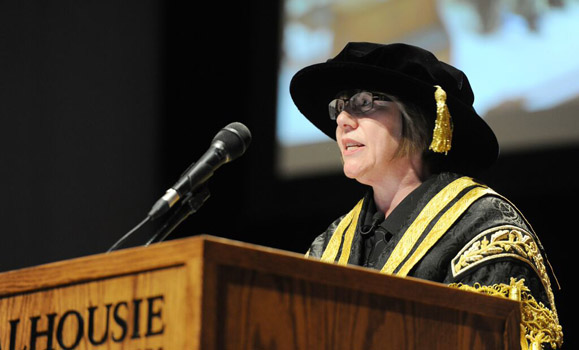 Attending university in the late 1960s and early 1970s was to be part of social change, she said, with women entering higher education in larger numbers than ever before, the rise of feminist thought and theory, and widespread social activism around issues like the Vietnam War. Against this backdrop, she was exposed to Dalhousie Law's Weldon Tradition of public service. She described this as, "an expectation that those blessed with a university education, like all of you [graduates], would be called upon to offer some part of their lives to public service of whatever kind."

That spirit has guided Chancellor McLellan throughout her career and life. She said that whatever success she's been credited with is due in large part to support from others. Whether it's in one's career, one's family or in one's community, she believes respectful, ethical and caring relationships are the key to success.

"It is not who you know, but how you treat the people you know, that will determine your true worth and your lasting legacy," said Chancellor McLellan.

She concluded her remarks with one last piece of advice for graduates, borrwed from the late Steve Jobs, founder and CEO of Apple. She quoted Jobs as noting that because work is such a large part of our lives, we should strive to find work we love — and that, ultimately, the only way to do great work is by loving what you do.

"Find what you love and be great at it," said Chancellor McLellan. "We need you to be great. The world needs your generation to be great. My fervent hope is that the time you have spent at Dal has helped prepare you to identify what you love and to be great at it."