The trash talk was decidedly scientific last week as dozens of junior high students descended on Dalhousie's McInnis Room.

The occasion: the sixth-annual Let's Talk Science Challenge at Dalhousie, which brings together students from grades 6-8 to engage (and compete) in learning about the sciences. Run largely by volunteers with the Dalhousie chapter of Let's Talk Science, the event involved a three-part competition — two sections of "Science Quiz Show," followed by the design challenge.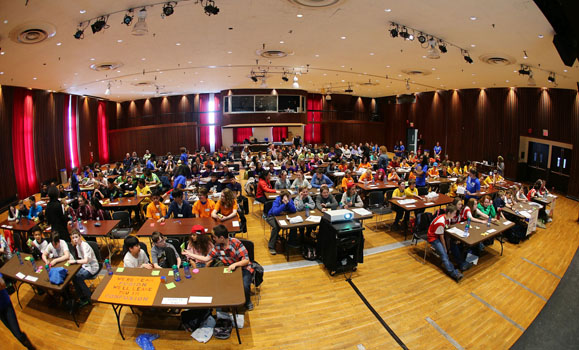 In the quiz sections, students fielded questions from fields as diverse as math, biology and chemistry, among others. Some of the questions were quite challenging: would you know, for example, to which category of viruses "bacteriophages" belong? ("Complex viruses" is the answer.)

The student competitors, obviously, spend a lot of time studying and preparing for the event, and their excitement level in the McInnis Room was through the roof. With many of them clad in colourful costumes, kids screamed and cheered throughout the event, with good reason: a team spirit award is one of the major prizes for the day. In total, 38 teams from 12 schools competed, for a total of over 145 students.

Event organizer Sandra Chukwu said that for her, the best part of the experience was, "bringing the kids to Dal to compete based on these science questions they've been studying for a while now. It's really amazing to see how enthusiastic they are." Twenty student volunteers helped make the event possible.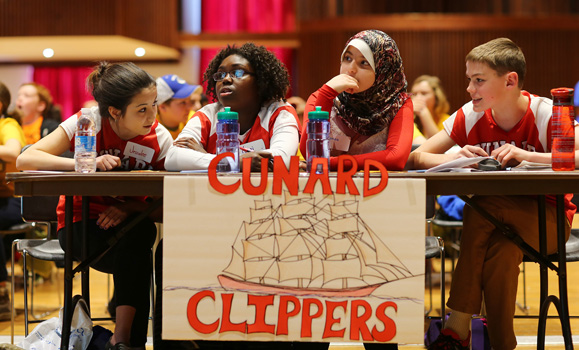 The greatest challenge for the competing schools? "Balancing very active kids who have incredibly varied interests competing for their time," said Kim MacIntyre, an Armbrae Academy teacher. Indeed, most of the students also spend time in sports, the arts and many other activities. Two competitors I spoke to, Owen and Claire, both said that finding the time to study was absolutely the hardest part of the competition — but that it was worth it.

MacIntyre also said that one of the most rewarding aspects of the event is "watching [the students] have success on the challenges we did while practicing." Activities like this give kids a chance to push themselves and get engaged with STEM fields — and this year's event was another rousing success.

The winners were:
First place: Gorsebrook Junior High Team 3
Second place: Gorsebrook junior High Team 1
Third prize: The Magic Muggles
Spirit Award: ParkWest Panthers Team 2