They say 'the sooner, the better' — and that was certainly the case late last month at the North End Community Health Centre during its annual preschool screening.

With the support of Dalhousie's School of Human Communication Disorders and the School of Dental Hygiene, the clinic offers free screenings for children to ensure overall health at an early age.

"Right before they enter school is a good time to determine whether or not their development is progressing as one would expect," says Mandy Kay-Raining Bird, a professor in the School of Human Communication Disorders.

Each child received an eyesight screening done by Public Health; a fine motor screening by an in-clinic occupational therapist; dental screenings by the School of Dental Hygiene; and speech, language and hearing screenings completed by students from the School of Human Communications and Disorders.

If problems are detected during the screenings, the clinicians supply resources or make referrals to the correct organizations so that families can receive full and formal evaluations by specialists, either through the public health system or through the school board if children are about to begin school.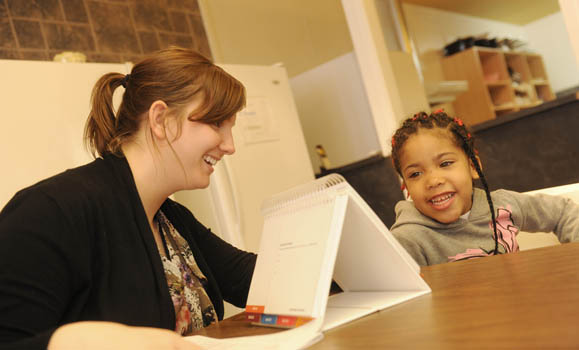 First-year Speech-Language Pathology student Jennika Soles, at work at the screening clinic.
Students and faculty supporting community

The goal is to help parents understand the areas of strength for their children and any areas they may need some support in. "Once all of this is identified to them we can offer guidance and support" said Anne Villeneuve, administrative assistant at the North End Community Health Centre (NECHC).

While the clinic has offered preschool screenings for the past nine years, this year was the first time they included three-year-old children into the mix. Typically the screenings welcomed children ages 4-5, but long waitlists made it difficult for them to actually be seen before the entered school.

"It's always good for kids to get in before school and start that early intervention," said Emily Balkam, academic coordinator of clinical education in Speech-Language Pathology at Dal.

For speech language pathology screenings, Balkam and students administered tests to screen children's speech development, articulation, understanding and use of language voice, fluency (ie. stuttering) and social and pragmatic skills. Students in their first year of study in the graduate program of Speech-Language Pathology or Audiology are required to participate in the preschool screenings as a clinical experience.

"It's part of their education to be able to work with young children, administer the tests that we're using, interact with parents, and learn how to do those types of things," said Dr. Kay-Raining Bird.

A focus on health

"From an oral health perspective, the earlier we get to issues in the mouth, the better," said Brenda MacIsaac from the School of Dental Hygiene at Dal. "With dental hygiene, our focus is all about prevention, so for us the preschool screening is the perfect fit because we're always looking for opportunities to get in early with parents and reach populations that need early intervention."

These prevention measures involve assessing teeth and soft tissue, making sure that growth and development is where it should be, and applying fluorides. Intervention means early identification of cavities or decay and providing the proper resources to combat issues of oral health. In addition to the annual preschool screenings, second-year Dental Hygiene students also do a rotation at the NECHC every Friday during the year.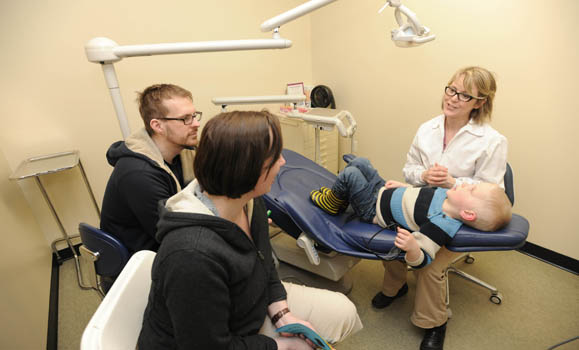 Dental Hygienist Andrea Hare consults with the family of one of the clinic attendees.  
"This is one of their favourite rotations throughout the community, so that's invaluable to us as educators to have this collaboration and to have them coming here," says MacIsaac.

Beyond the student experience, the preschool screening clinics themselves have been gaining more and more traction as they continue. "What we know is that once the community is aware of and trusts the services being offered there is much more uptake," says Villeneuve. This year yielded a fantastic turnout of 35 children.

"I think word's getting out in the community about just how valuable this early screening is, and that's really going to make a difference for the children."