Producing baby food might seem like an unusual activity for a soon-to-be university graduate. Yet Angela Hersey, who will graduate with her Master of Environmental Studies (MES) degree from the School for Resource and Environmental Studies (SRES) later this month, is doing just that.

Angela's interest in food began in high school, she explains, when she was an avid reader on nutrition.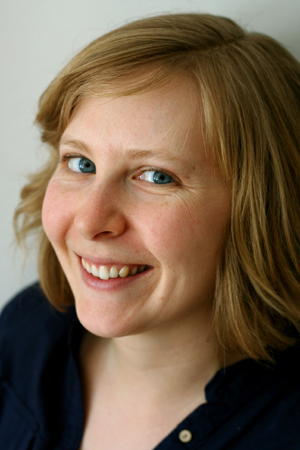 "The more you read about it, the more you realize that food is much bigger than what it does in your body," she says.

After completing an undergraduate degree in History, she sought an opportunity to pursue her interest academically. "I had been thinking about studying food in some way," she explains, "and I hadn't found the place I could do that in the way that I wanted to." Angela heard about SRES, and began the MES program as a part-time student.

She was becoming increasingly fascinated by food systems and agriculture. "I'm interested in what kinds of things are being done to use and protect land," says Angela, whose thesis explored issues such as succession in farming. Alongside considering food and health in her academic life, Angela served for two years on the Dalhousie Libraries' Health and Wellness Committee, encouraging others in healthy activities. While completing her MES, she worked full-time at the Kellogg Library.

"I did my homework from 5:00 to 7:00 a.m.," she says.

From concept to reality

Now, Angela is applying her interest in food in a different way.

"I decided that after graduation, I wanted to work for myself, I wanted to do something hands-on, I wanted to do something creative, and I wanted to work with food," she says. "I had no idea what that was."

A friend approached her with a business idea: baby food that uses local and organic ingredients whenever possible. Angela loved the idea, and Beanstalk Baby Food was born. For the last year Angela and her business partner, Aimee Carson, have been creating recipes in the evenings and on weekends.

"During the testing phase, I ate so many purees," says Angela, with a laugh. She speaks of the challenges and rewards of starting a business, and of some of Beanstalk's priorities: "Our goal is to have as much organic as possible, but we're also interested in sourcing our food from local farmers who may not be certified but whose growing practices are organic, and with whom we have a good relationship."
Academic connections

Angela's business and her degree have developed in tandem. "The day I defended my thesis was the day we incorporated the business," she says. "It was a big day."

She notes that her MES work has influenced her business, and her desire for Beanstalk to have a strong educational aspect.

"We want people to understand why we choose organic or local," she says. "Agriculture and the food system are complicated. We want to educate people." With her entrepreneurial interests and her academic interests dovetailing, it seems that the growth of Angela business has been very much like the baby food itself: mostly organic.

Beanstalk Baby Food will launch on Saturday, May 9 at the Alderney Landing Market.