While the co-op student experience varies greatly across sectors and academic programs, excellence is found everywhere. This was the prevailing theme during the 2015 Co-op Awards on March 26, hosted by Dalhousie's Science, Information Technology, Engineering Co-operative Education.

"Co-op would not be possible without the dedication of our employers and our students, many of whom go beyond the call of duty to create exceptional co-op learning experiences," said Doug Gallant, director of the co-op office. "These awards highlight the incredible transformative learning experiences our office hears about every day."

Co-op staff were joined by co-op employers, students and faculty at the event, where awards were presented to what the office calls its "Top 6 Co-op Employers on the Planet," as well as the Co-op Students of the Year for the Faculties of Science, Computer Science and Engineering.

Co-op Students of the Year

To be nominated as Co-op Student of the Year, students must have two outstanding work term performance appraisals, two outstanding work term reports, letters of support from an employer and a faculty member and demonstrate how co-op has enhanced their education.

FACULTY OF SCIENCE
Katherine Fraser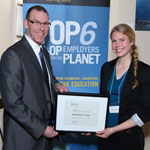 Marine Biology student Katherine Fraser completed work terms with Acadian Seaplants Ltd., Virginia Seafood AREC and the IWK Health Centre Division of Pediatric Hematology / Oncology. Katherine returned to the IWK for an optional fourth work term, where she was praised for strong leadership skills and excellent overall performance.
 
"During Katherine's second co-op work term [at the IWK], she had the opportunity to take on more responsibility in the laboratory and did so exceptionally well," said Dr. Jason Bernman, Katherine's supervisor at the IWK. "She always took her work seriously, displaying excellent organizational and time management skills."
FACULTY OF COMPUTER SCIENCE
Tyler Pachal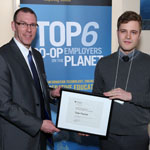 Computer Science student Tyler Pachal demonstrated an ability to learn quickly, strong technical aptitude and great communication skills during his work terms with Thompson Creek Mining Ltd., Lockheed Martin Canada and Teck Resources — with whom he returned for an optional fourth work term.
 
"Tyler looked for new ways of doing things and didn't hesitate to suggest alternatives," said Tyler's co-op supervisor David Morris, senior analyst with Teck Resources. "He was an excellent co-op student and performed fantastically when presented with very challenging projects."

FACULTY OF ENGINEERING
Carling Gratto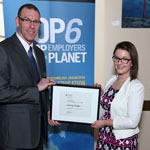 Attention to detail and exceptional organization are just two of the many traits that earned Industrial Engineering student Carling Gratto commendation during her work terms with Capital District Health Authority, LED Roadway Lighting Ltd. and Proctor & Gamble Inc.
 
"Carling's performance was outstanding," shared Carling's co-op supervisor Vicki Howie, supply network / operations leader with Proctor & Gamble. "We have made an offer of full-time employment upon graduation."
"Top-6 Co-op Employers on the Planet"

The student-driven Top 6 Co-op Employers on the Planet are determined by the quality of work assignments, supervision and environment. Students nominated 32 organizations for 2015, of which a winner was selected to represent each of the six major sectors that hire science, computer science and engineering co-op students.

"Although it may sound cliché to say that just being nominated is an honour, in this case it is actually true," says Gallant. "Co-op students balance a full course-load, their co-op job search and in many cases, part-time jobs. For these extremely busy people to submit a written nomination indicates that their co-op experience must have been truly inspiring."
 
GOVERNMENT SECTOR
Shannon Wright, Regional Manager, Applications
Public Works and Government Services, CIO Branch


Computer Science student Brittany Kelly truly loved her work as systems analyst for Public Works and Government Services. Brittany's nomination cited the exceptional work environment, challenging projects, supportive coworkers and co-op supervisor Shannon Wright's genuine care for Brittany's professional development.
 
"I was out with some friends who asked me about my job," recalls Brittany. "After explaining what I was working on, they looked at me and said, 'Aww, you love your job!'  And I do. I felt that I really was playing a part in the branch, and was never just 'some student.'"

MANUFACTURING SECTOR
Andrez Flores, Mechanical Reliability Technician
Michelin North America (Canada)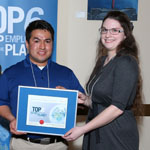 Mechanical Engineering student Emily MacRitchie served as a reliability engineer for Michelin during her work term, focusing on industrial ventilation and the significance of combustible dusts within industry. Emily's nomination attributed her outstanding co-op experience to Michelin's friendly work environment and her supportive and highly-engaged supervisor, Andrez Flores.
 
"Andrez went out of his way to ensure that I felt safe and comfortable in my environment and this gave me the courage and confidence to face many of my fears," shares Emily. "Because of this, I have grown immeasurably in the few months that I spent there. I honestly could not have asked for more in a supervisor than what I found in Andrez."

TECHNOLOGIES SECTOR
Dylan Boudreau, General Manager
Magic Lamp Software Solutions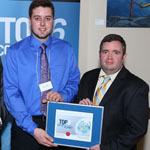 Computer Science student Matthew Burke worked with Magic Lamp for two work terms, where he made valuable contributions to a number of projects. Matthew credits his exceptional co-op experience to Magic Lamps' supportive culture and insightful feedback from fully invested supervisors, including Dylan Boudreau and Dalhousie alumnus Scott Power.
 
"The work environment allowed for a high degree of collaboration with the various senior developers at Magic Lamp," wrote Matthew. "This allowed me to receive a great amount of feedback and guidance in my projects at Magic Lamp. It was clear to me that my colleagues had a definite interest in my personal development as a consultant and a programmer."
 
SERVICES SECTOR
Blair George, Controls Supervisor
Nova Scotia Power, Point Aconi Generating Station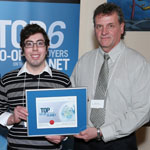 Electrical Engineering student Joshua Fritz spent two work terms at Nova Scotia Power's Point Aconi Generating Station, where his projects included the installation of new turbine control systems. Joshua drew inspiration from his team at Point Aconi and the leadership within Nova Scotia Power, including that provided by Blair George.
 
"Blair is an outstanding leader, supportive supervisor and a phenomenal person," wrote Joshua. "His guidance led me to be the person I am in the work force today and laid the groundwork for the engineer I hope to become tomorrow."

ASSOCIATIONS AND NON-PROFIT ORGANIZATIONS SECTOR
Kate Shaffer, Animal Care and Facilities Coordinator
National Marine Life Center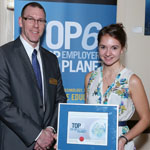 When she secured her self-found co-op job at the National Marine Life Center in Massachusetts, Marine Biology student Sarah Dier-McComb knew she would personally care for and learn about various marine mammals. What she couldn't anticipate was the inspiration she would draw from the "outstanding and infectious" dedication of her supervisor Kate Schaffer.
 
"Kate went beyond teaching us about her work and took it upon herself to teach us about the practical field of Marine Biology," shared Sarah. "I feel incredibly lucky to have gotten the chance to meet and work alongside so many talented and dedicated individuals."

RESOURCES SECTOR
Michelle Briggs, Engineer
Shell Canada, Process Technical Services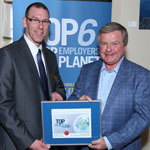 After her work term with Shell Canada last summer, Chemical Engineering student Bonnie Moore returned for a second term with Shell this winter. Bonnie credits her exceptional co-op experience to Shell's collaborative leadership model, which provided her with a supervisor for daily guidance as well as a mentor to focus on professional development. (Nova Scotia Business Manager Scott McDonald accepted Shell Canada's Top 6 award on behalf of Michelle Briggs.)

"I am always close to both my supervisor and my mentor, which allows for clear directions and immediate feedback," shared Bonnie. "It is a great learning environment where diversity and inclusion are common themes and different life and work styles are recognized and celebrated."