This article first appeared in the Winter 2015 issue of Dalhousie magazine.

Helping people make sense of the world seems an impossible task, but day in and day out, that's what drives Vassy Kapelos (MA'06).

Whether it's a chaotic breaking story such as the shooting on Parliament Hill last year, or a complex web of numbers and political positioning on policy issues like income splitting, Kapelos thrives on the challenge of taking vast amounts of information and turning it into something people can understand in her job as the parliamentary correspondent for Global National. She credits her time at Dalhousie, where she tackled the debt crisis in Argentina for her masters studies in political science, with giving her the skills necessary to do what she does today.

"The most useful skill I have now is the ability to look at large amounts of information and find what is most important, and synthesize and present it in a way that is easy to talk about," says Kapelos. Class discussions and essay assignments, where reading requirements were challenging, forced her to hone in on the heart of arguments and relevant facts. "My degree forced me to do that faster and better and that was without question the most transferable skill I have today."
A taste for political journalism

Born and raised in Toronto, and with a BA from University of Western Ontario, Kapalos chose Dalhousie because of the Political Science department's reputation, and the appeal of living in Halifax. After graduating with her MA, she took a one-year journalism course at a community college in order to break into the industry.

Shrinking newsrooms and unprecedented cuts made her chosen field a tough one to get into. Her first job was in Swift Current, Saskatchewan, and she admits that she found the stories she was assigned at the local level to be a bit frustrating. "I remember thinking I spent time being so challenged at Dal, and here I was doing stories on fundraisers and crosswalks. It was a humbling experience to have." Humbling, but one she says she wouldn't trade.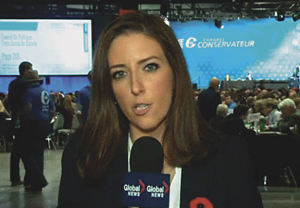 From Swift Current, she headed to Saskatoon and Edmonton, where she got her first taste of political journalism as Global's legislative reporter. She experienced for the first time the kind of effect solid reporting can have on people's lives. Her investigative exposé of the ambulance industry in Alberta, which she revealed was under-resourced and put people's lives at risk, forced a provincial review of the entire system.

"That was a defining moment for me," says Kapelos. "I realized that beyond just reporting what has happened we do have the ability to effect change. I felt I was able to use my job for something really positive." In 2013, she received the Edward R. Murrow award for best news series for her reporting on the issue.

And for Kapelos, it brought home an important lesson: understanding the world is a challenge, but good reporting makes it easier, one story at a time.