It's like a research conference in 24 minutes.

Last Thursday was the final round of Dalhousie's annual Three-Minute Thesis competition. The previous week, a field of more than 40 of Dal's top graduate students was whittled down to eight finalists. Thesis candidates in the graduate programs from Engineering to English literature vied for the grand prize of a $1,000 scholarship and a chance to compete at the Eastern Canadian Championships in Montreal. The stakes were high and the calibre of the competition even more so.

Each competitor was allowed a single slide behind them, could not use any props, and of course, had only three minutes to explain their research. With such vast subject matter, it was up to the researchers to find ways to make the material accessible to a general audience.

Amazingly, at the end of a combined total 24 minutes, the audience had a working comprehension of each of these topics and the judges left the room to deliberate. Competitors used a variety of techniques to explain their research from Justine McMillan who used the example of flight turbulence on a trip to sunny Mexico, to Kala Hirtle who made clever reference to current popular culture like Buffy the Vampire Slayer. The judges — Dean of Graduate Studies Marty Leonard, Assistant Vice-President of Research John Newhook and Assistant Vice-President of Communications and Marketing Catherine Bagnell Styles — had their work cut out for them.

In the end, the second runner-up for the evening was Kala Hirtle, and first runner-up was Xuijie Lie. But there could be only one winner: the calm, collected Justine McMillan, who will go on to represent Dalhousie at the Eastern Canadian Championships.

 "It was definitely a surprise to win because all of the finalists had great, and very diverse, speeches," said McMillan, a PhD student in Oceanography.

She says most of her preparation involved thinking critically about her research and coming up with a way to explain it that was both interesting and relatable. "The strategy I ultimately settled on was to compare the turbulence experienced by a tidal turbine to that of an airplane," she says.  

This was her second time competing in the 3MT event and she highly recommends it to other grad students.  

"Communication is a very important skill, which isn't often taught. I think the more practice you can get the better, and what is unique about the 3MT is that you are not talking to experts in your field, so you may have to explain things in a slightly different way than you are used to. I think that assessing your audience is a critical component of successful communication. and 3MT competition allows for a very friendly environment to gain this experience."

The finalists and their projects were:
Kristina Keilty, Envrionmental Studies, "Understanding Energy Landscape Values and Baselines of Acceptability on the Mactaquac Dam Headpond, New Brunswick."
Justine McMillan, Oceanography, "Flow and Turbulence in Tidal Channels with Implications for In-Stream Tidal Power Development."
William Burt, Oceanography, "The Use of Radium Isotopes to Investigate Boundary Exchanges in Coastal Ocean Systems."
Kala Hirtle, English, "Altered States of Consciousness: Gender, Nineteenth Century Medical Discourse, and Gothic Literature."
Peter Baumeister, Cardiovascular Physiology and Biophysics, "Getting Pumped on Heart Disease: The Loaded Truth About Cardiac Mechanical Dysfunction During Acute Regional Ischemia."
Elizabeth Croteau, Industrial Engineering, "An Event-Based Model for Scheduling of Aircraft Heavy Maintenance."
Xuijie Li, Agriculture, "Hatching Egg Sanitation for Improvement of Storage, Hatchability and Chick Performance."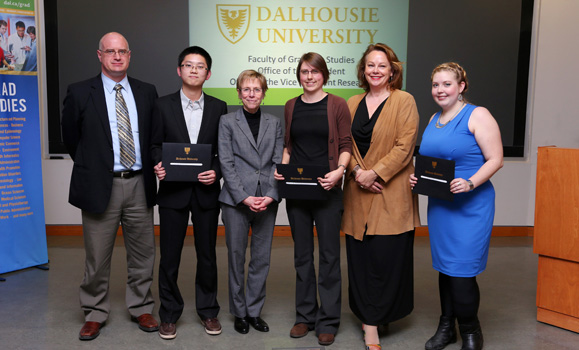 Left-to-right: Judge John Newhook, second-place finalist Xuijie Li, judge Marty Leonard, first-place finalist Justine McMillan, judge Catherine Bagnell Styles, third-place finalist Kala Hirtle.