Matthew Griffin-Allwood has studied architecture all over the world. He's participated in studios in Botswana, Scotland, Japan, Canada and Norway, but his recent thesis project brought him home to study a familiar and dynamic site: Sable Island.

The graduate of Dal's Master of Architecture program was honoured by Canada's leading architecture magazine, Canadian Architect, for his project focused on the island. At last year's Canadian Architect Awards of Excellence, he received the organization's student prize for his thesis work.

"It was a huge honour to even be chosen to compete for the award. To actually receive it was a huge surprise, so that was incredible," says Matthew. "Sable Island is this place that's captivated human interest for centuries and so it certainly captivated mine."
Adapting to habitat

His thesis, Sable Island National Park: Design with a Dynamic Ecosystem, investigates the relationship between design and place on the remote location of Canada's 43rd National Park. Matthew explains that a dynamic ecosystem is one that naturally changes faster than its human settlements, and notes that human development in these types of ecosystems is often avoided because inevitable landscape changes are difficult to predict and not easily accommodated by traditional building methods and technologies.

"Sable Island is constantly on the move because there's nothing but sand there," says Matthew. "So many of the buildings have been engulfed by sand or dunes that have been traveling across the island, or they've been undermined as wind blew the sand out from underneath of them. Sometimes the ocean itself has come onshore and breached the dunes and washed out the foundations. It's a place that you sort of need to think twice about building, so that's what I did with my thesis."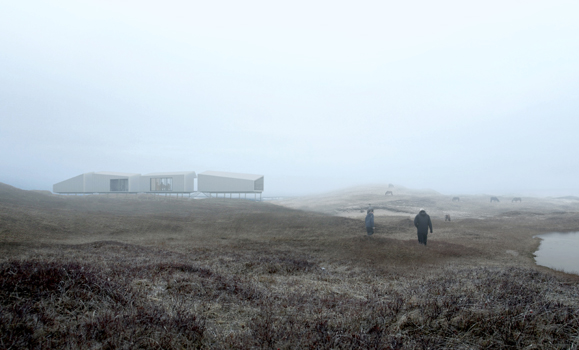 His work proposes National Park infrastructure remodels that are designed to adapt to changing habitats and support the interaction of humans and the environment. He recommends drastically shrinking the human impact on the island to reduce erosion of the dune structure that holds the island together, and reimagine a more environmentally friendly infrastructure that is more in-touch with the island's ecosystem.
His thesis also considers the importance that habitat protection will have on the several unique and endangered species that live on the island, such as the Sable Island horses.

"The thesis serves as sort of a possibility study," explains Matthew. "I tried to look at several different habitats on the island, several different areas that are more or less stabilized by dune systems and to analyze what are the possibilities for building in these, if any. I explored several directions and several levels of permanence and impermanence in infrastructure on the island to find the best solution."

Shaping a vision

To conduct his research, Matthew did a site visit to the island and worked closely with the Sable Island park manager. His thesis has been taken in by Parks Canada and is currently part of a briefing package that is under review by the organization's senior managers. The hope is that his research can shape the vision for what Sable Island National Park can become with the proper environmental and architectural design.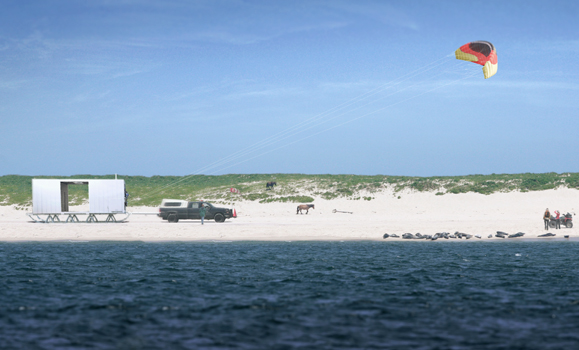 Despite winning the award, and there being the possibility for his project to be translated into reality, Matthew remains humble. He credits his thesis supervisor and advisor, Professors Richard Kroeker and Catherine Venart, for being instrumental in the development of his award-winning thesis.

"Dal Architecture has a really fantastic program," says Matthew. "Students are getting hands-on experience, [and] international experience. They're being exposed to so much in such a short period of time and developing really great personal connections with professors in the process.

"It was such a great experience that I think I would do it all over again in a heartbeat."