Zach Feener can tell you it isn't easy raising $20,000 by selling samosas. But that's what the third-year Earth Sciences student and his classmates were doing to help cover the costs of their upcoming Advanced Field School trip to the southwest United States.
 
Then, they heard that the university was starting a new crowdfunding website called projectDal, and they decided to try it out.
 
"It seemed like a fantastic way to raise funds because we could really get the word out through social media and maybe make the campaign go global, which you can't really do with a bake sale."
Site available to the Dal community

Hosted by External Relations, projectDal is a tool that offers the Dalhousie community a new way to raise funds for university-related projects and initiatives such as academic trips, bursaries or buying athletic equipment. The site went live with its first campaign — the Earth Sciences field school — earlier this month.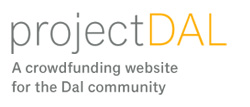 "Crowdfunding sites allow you to tell your story and reach out to donors in dynamic ways that previously weren't possible," says Kim McDonald Winsor, director of annual giving.
 
"They're gaining in popularity as a means of fundraising at universities across North America and we're seeing interest in it on campus, so we decided to develop our own site."
 
McDonald Winsor notes that projectDal is unique compared to many public crowdsourcing sites in that all donations are charitable and all funds raised go directly to the recipients.
 
"On some sites, there's a fee associated with each transaction. With projectDal, there's no charge. If you donate $100, that full amount goes to the project involved, so they keep every dollar raised."
More information: projectDal website
 
Anyone from the Dalhousie community — staff, faculty, students, alumni — can create a university-related fundraising campaign on the projectDal website. Once the project is approved, fundraisers can also access assistance from External Relations to successfully launch their campaigns.
 
"For example, if someone doesn't have the resources or experience to create web content or pull together a video that tells their fundraising story, we can provide that support for them, and help get the word out," says McDonald Winsor.
Several campaigns set to launch

In fact, word is already getting out about projectDal, with a few more campaigns set to get underway before the site's full launch this fall.
 
"There's a student who will be doing a co-op at Harvard who is looking for assistance in covering costs," explains MacDonald Windsor. "The Agricultural Campus is interested in raising funds to purchase some new equipment for its cows. The possibilities are limitless and we're hoping to get faculties such as Law and Medicine involved in campaigns as well."

The Earth Sciences campaign is the first active campaign on projectDal and it's proven to be quite popular. With 13 days left in their campaign, Feener and his classmates have raised more than a third of their $20,000 goal, giving them a chance to get invaluable geological experience in the deserts of Nevada and California that otherwise might have been beyond their financial reach.
 
"A lot of students don't get opportunities to go on a field trip like this. This experience will give us a real advantage in the job market, and projectDal is making that possible," says Feener.
 
As for projectDal, Feener believes it will become the future of fundraising at Dalhousie. "I can't say enough good things about it, or about the support we've received along the way. If you're looking to raise funds for a school trip like this, it's definitely the way to go."
Learn more: Visit the projectDal website