Ian Finlayson and Natasha Morrison are two Dalhousie students whose hands-on learning experiences have taken them to unexpected places.

In Morrison's case, an elective course on dinosaurs inspired her to switch programs into Earth Sciences. She was drawn to the program's many experiential learning opportunities, and credits its field schools with not only shaping undergraduate experience but helping lead her towards masters studies, also at Dal.

"It was during these field experiences that my passion for petroleum geology was ignited," says Morrison, citing the Earth Sciences program's Trinidad field school in particular. "Bringing us to such an amazing geological outcrop allows us to see real-world examples of active petroleum systems that we would only have ever seen in our textbooks."

Finlayson, a fourth-year Mechanical Engineering student, travelled to the UK last year to help race Dal's student-built Formula SAE car at the prestigious Silverstone raceway, competing against teams from around the world. Now the team's captain, he and his fellow students are hard at work leveraging the skills they've learned in the program to prepare this year's car for competition.

"The team, like many of the other teams here on campus, provides students with the opportunity to gain hands-on experience and expand upon the knowledge in the classroom," he says.
Shell's support

Shell Canada played a crucial role in helping make these learning experiences possible. Activities like the Formula SAE team and the Earth Sciences field schools receive funding through the Shell Canada Campus Ambassador Program, which supports hands-on learning experiences at Canadian universities.

On Wednesday morning, at an event in the Faculty of Engineering's Alumni Lounge, Shell Canada announced a continuation of this support: a contribution of $600,000 over three years to fund experiential and extracurricular learning in the Faculties of Engineering, Science and Management.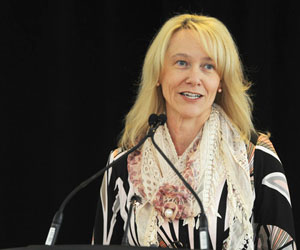 "This partnership is fuelled by a shared philosophy that innovative learning is key to unlocking the tremendous potential of our youth," said Stephanie Sterling, general manager of venture support integration and social performance with Shell Canada.

The relationship between Shell Canada and Dalhousie dates back to the 1960s, and the university was an inaugural partner in the Campus Ambassador Program when it launched in 2005. Since that point, Shell has invested $1.9 million in experiential learning on campus.  

This new investment includes $500,000 for the Shell Experiential Learning Fund (SELF). This funding supports field trips, guest lectures, conferences and events, and extracurricular competitions — all activities that connect students with opportunities to learn more about their field of study with real-world application and industry engagement.

"Students in the Faculties of Engineering, Science and Management gain valuable insights into their respective fields — ones that would not be otherwise available until they were well-established in their careers," said Peter Fardy, acting vice-president external at Dalhousie.
Alumni connections

Sterling explained that what makes Shell's partnership with Dalhousie unique is the large number of Dalhousie alumni who work directly with students. The company's ranks feature many former students of the university; in the past five years alone, Shell has recruited 34 new Dal graduates to its workforce.

"The alumni partner with the faculty and the students here to look for those opportunities for hands-on learning," she explained. "I've never seen more passionate and committed individuals, and I think it speaks to the values that get instilled in students here at Dalhousie. This alumni team wants to be involved so much that it doesn't matter where in the world they're based."

The remaining $100,000 will be used to establish a new Offshore Energy Fund to support student learning opportunities related to offshore oil and gas exploration and development. Murray Coolican, deputy minister of energy for Nova Scotia, also spoke at the event, highlighting opportunities within Nova Scotia's offshore energy development (particularly the Shelburne Basin exploration project).

For its part, Shell sees the continuing investment as key to ensuring that the graduates of today become the leaders of tomorrow: individuals ready to hit the ground running in addressing the issues the energy sector faces.

"We need your skills," Sterling told the students in attendance at the event. "We need your ingenuity. We need your innovation. That's how we're going to tackle the challenge of meeting our rising energy demands in an economically, environmentally and socially responsible way."