For the past 10 years the Residence Charity Series has been raising tens of thousands of dollars for the IWK Health Centre. The annual competition between the Bighorns (Risley Hall, Shirreff Hall, LeMarchant Place, Eliza Ritchie Hall) and the Trojans (Howe Hall, Gerard Hall, O'Brien Hall, and Mini-Rez) pits the students against each other in three sports: soccer, basketball, and hockey. This year's series started in October with the Charity Kick-Off, followed by the Charity Tip-Off in November, and was brought to a close last Saturday with the Charity Face-Off at the Halifax Forum.
The first period was close, with the Bighorns scoring first. But their lead was short-lived as the Trojans tied the game less than two minutes later, and then scored twice more within the first 20 minutes to finish off the period with a 3-2 lead.
The Trojans kept pouring in the goals over the next two periods, and ended the game with a convincing 10-3 score. It was the team's second win in a row, with the Bighorns' last victory coming in 2013.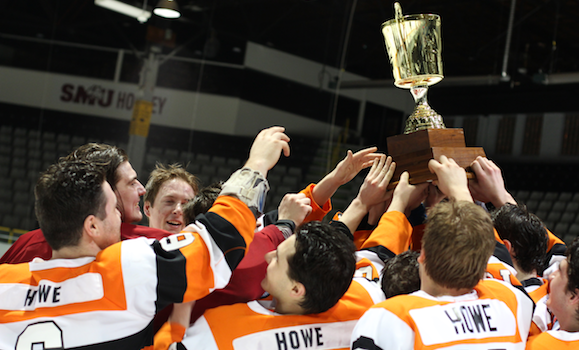 Funds for the IWK were raised through ticket sales ($7 in advance and $10 at the door), as well as from sales of Bighorns and Trojans T-shirts so fans could go all out. And that's just what they did. One side of the rink in the venerable arena was completely covered in red and the other in orange. Fans made sure the rink never experienced a quiet moment, and gave praise to every player on the ice regardless of what team they played for.
"It's events like this that help us enjoy our first year," says Karly Maki. "It's all about the fun and about the support."
At the end of the game both teams lined up on the blue line to present a rep from the IWK Health Centre with a cheque for $17,000 from the three Charity Series games. By the time another cheque is presented to the hospital in May at its annual telethon, over $150,000 will have been raised for the IWK over the past 10 years.
"It's amazing how much money these events raise for charity," says first-year student Jennifer King. "And the games draw in students from all years, it's not just first-years who come out to watch. It's the type of thing that keeps you coming back."
2015 Residence Charity Series Face-Off
Ali Seglins photos