Completing and publishing a book is often seen as the pinnacle of an academic career. Last week, the Faculty of Arts and Social Sciences community converged in the McCain Building's Fireside Lounge to share their works published in 2014.

"What we have on the table here today is a snapshot of the tremendous diversity and complexity of the scholarship inside this faculty," said Robert Summerby-Murray, dean of the Faculty of Arts and Social Sciences, to the gathered writers and colleagues. "It's a chance to read through the wide range of topics that are represented, from human history to medieval chant."

A testament to the faculty's diversity was represented in the large proportion of works that were the result of international collaboration and in languages other than English, including Spanish, French and Italian. "There's global significance to this scholarship," said Dr. Summerby-Murray.
From science fiction to Irish literature

The works on display at the book launch the table included poetry, textbooks, fiction and contemporary non-fiction.

Anthony Enns from the Department of English wrote a chapter on pseudoscience in the hefty Oxford Handbook of Science Fiction. In it, he discusses how science fiction flirts with the unorthodox and often darker sides of scientific progress.


Beyond the world of cultural discussion, many works at the event were aimed at politics and policy. For example, Anders Hayden of the Department of Political Science is the author of When Green Growth is Not Enough: Climate Change, Ecological Modernization, and Sufficiency.

"I was noticing that Britain was so much further ahead in acting on climate change than Canada," he explains. "But I could also see that there were some limits to how far even they were able to go." These thoughts led Dr. Hayden to explore three main perspectives on climate change policy and the battle between them in Canadian and UK contexts.

Dalhousie's own expert in Irish Literature, Julia Wright, organized the book launch event in her capacity as the Faculty's Associate Dean of Research. She also had her own recently published book on display.

"My book [Representing the National Landscape in Irish Romanticism] is interested in the ways that Irish writers thought about Ireland in the 19th century," she says. "A lot of work on Ireland in the 19th century focuses on local concerns," she adds, but notes that the authors actually thought about their country as being "globally connected."
A tangible reward

"It is wonderful to get an actual book and see it," Dr. Wright enthuses. "You're so used to seeing blinking lights on a computer screen; to actually get that book and know it's going to sit on library shelves for centuries is a really wonderful feeling!"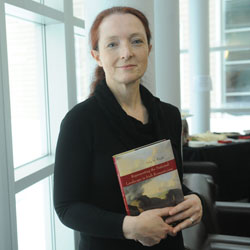 For Dr. Wright and many others in the Faculty of Arts and Social Sciences, the book launch is an opportunity for colleagues to come together and share their work with each other.

"One of the things that happens in arts and social sciences is that we end up sitting alone at our computers a lot, reading books and doing things elsewhere," she says. "This kind of event highlights the way that books are a part of the way that we exchange information. Books are still very much a part of how we talk with each other."
Check out the full list of works from the event.