Have a hankering for haddock? Are you salivating for shrimp? You're in luck.

On Tuesday, February 24, Dalhousie Food Services received its first shipment of sustainable seafood bought through the Ecology Action Centre's "Off the Hook" program. Dalhousie is the first university to partner in the program, which will see about 180 kg of haddock, shrimp, pollock and other ground fish delivered to Dal's kitchens every two weeks over an initial six-week trial period.

A community-supported fishery cooperative, Off the Hook provides fresh, local, high-quality fish caught by fishermen right here in Nova Scotia. Its members use bottom hook-and-line and other small-scale fishing methods, thereby minimizing bycatch and seafloor damage.
 
It's what Angela Emmerson, dietitian with Aramark, Dal's main food services provider on the Halifax campuses, calls a "sea to table" program. Last Tuesday, Dalhousie's Office of Sustainability and Aramark hosted an information session and sampling event at Howe Hall, which Rochelle Owen, director of sustainability at Dal, called "a celebration of innovative partnerships with sustainable seafood purchasing."
A new certification

Partnering with Dal and its main food services provider in their efforts to bring more sustainable seafood to campus are not only the Ecology Action Centre, but also the Marine Stewardship Council (MSC). In October, Aramark was granted MSC Chain of Custody certification in its four Halifax campus dining halls, giving Dalhousie the distinction of being only the second university in Canada to receive such a certification. This ensures that all seafood in the dining halls — not just locally supplied seafood — can be traced back through the entire supply chain.

The Marine Stewardship Council is the leading global certification and eco-labelling program for sustainable seafood. Its mission is to ensure sustainable seafood through the recognition and reward to sustainable fishing practices in order to influence sustainable choices. Seafood is considered sustainable under MSC certification through 28 performance indicators spread across three main principles: sustainable fish stocks, minimization of environment impacts and effective management.

Owen explains that sustainable seafood purchasing is complex, and there isn't really a single ideal or perfect solution. That's why taking a multifaceted approach — like working with both MSC certification and the Off the Hook program — makes sense. Her office has also created seafood purchasing guidelines, in consultation with Dal faculty, students and local experts, to help Dalhousie's food services operators navigate through the available seafood options.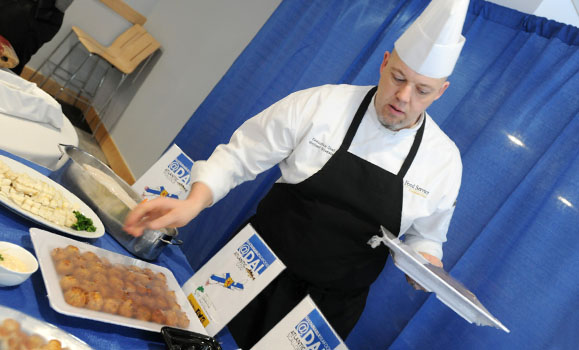 A focus on sustainability

Aramark's implementation of its sustainable seafood programs adds to the list of programs the company has pioneered at Dal to ensure higher efficiency and sustainability. In 2003, Aramark removed Styrofoam from all residence dining halls and retail locations, and in 2008 removed the trays as well, which saves about 3,000 litres of water a day (for tray cleaning) while reducing food waste.

So will students notice any changes in the dining halls as a result of these initiatives? In some ways, they already have.

"We have been serving sustainable, MSC-certified fish for quite some time, but we just received the certification and confirmed proper chain of custody so now we can start to use the Eco label," says Emmerson.

Because of how much fish Dalhousie goes through — 700-900 kg of seafood each month — the amount of fish that is locally sourced, through Off the Hook or otherwise, depends a great deal on the season and the volume required. But between Off the Hook, MSC certification and other efforts to improve purchasing, students can know that the seafood they eat on campus is not only tastier, but more sustainable than ever before.