Paging Shelly Moran: The doctor will see you now.

Only "Shelley Moran" doesn't exist: she's a fictional patient. And, just like in the real health-care system, her care isn't the work of a single clinician: it requires a team, working across disciplines, to ensure her health needs are met.

On January 29, the Faculty of Health Professions partnered with the IWK Health Centre to host the first Dalhousie Health Care Team Challenge (HCTC). This competition provided the opportunity for students from different health professions to team up and create a best practice plan for a fictional patient.

The 36 participating students came from two universities, three Faculties (Dal Health Professions, Medicine and Dentistry) and 15 programs spanning the health sector from Pharmacy to Nuclear Medicine Technology to Physiotherapy.  Each team of six was comprised of students from different professions, providing them valuable experience working collaboratively in an interprofessional environment.

"This is our first competition," explains Anne Godden-Webster, interprofessional experience coordinator in Dal's Faculty of Health Professions and a member of the HCTC planning committee. "We didn't know how many students to expect but we are delighted at the interest and enthusiasm."

Although deemed a competition, the HCTC was primarily an opportunity for students from a variety of health backgrounds to practice working interprofessionally and have a bit of fun in the process. The competition model has grown in international popularity since being introduced at the University of British Columbia, the HCTC has gained recognition internationally. Schools from Canada, Japan, Australia and the U.S have adopted the event as part of interprofessional education.   
The competition

Teams were given their first challenge about 10 days before the event: background on Shelly, the fictional patient, along with three questions to get the team started.

The initial challenge asked participants to analyze and rank Shelly's potential health issues and explain their rationale, list their professions and identify management strategies they would suggest for her. This portion was prepared in advance and submitted at the beginning of the event.  

On January 29, students were asked to complete additional case planning during which judges assessed how members of each team worked together and communicated with each other. Teams were also given an unrelated on-site challenge aimed at assessing how they collaborated in unexpected situations. For this activity, participants were asked to build a structure out of noodles and marshmallows.

The fourth and final component of the challenge was a public presentation addressing four case-related questions that had been provided earlier as well as an additional question focused on their collaboration.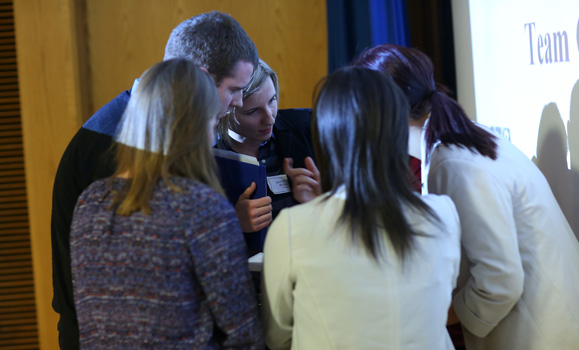 The teams were judged on their ability to work together cohesively and their demonstration of their best practice plan. Judges included Faculty of Health Professions' Dean William Webster; Margaret Champion, director of Children's Health and Interprofessional Practice at the IWK; and Doreen Campbell, professional development coordinator at the IWK.

Overall, judges were impressed by how well the teams worked together, considering many had just met for the first time. One judge commented that the teams, "worked better then some of the committees we've been a part [of]." Most of all, the judges were pleased that the patient, Shelly, was treated as a whole person.
Lessons learned and valuable experiences

Akila Whiley, a medical student who participated in the HCTC, initially heard about the event in a Health Mentors meeting. She hesitated at first because she didn't have a team to enter with, but decided last minute to enter as an individual and paired with a team at the event itself.

"I suppose the grand prize of a trip to Ontario enticed me, but I was also drawn in by the idea that a group of people with all different backgrounds would be working on the same problem," says Whiley.  

"I really enjoy working with other students in Medicine, but there are definitely limitations when everyone is expected to approach the same problem from a physician's perspective. In interprofessional scenarios, you are constantly enlightened by other people's approaches and concerns."

Nursing student Eric Newson concurs. "Although each of us had very different educations and were taught to address case studies in very different ways, this challenge allowed us to collaborate and create a versatile care plan for our patient."

"I learned that my contribution to any case is only a small part of the puzzle; it is so easy to get caught up in your own profession and your responsibility to the patient while in that role," adds Whiley "I think I speak for most people when I say that the event gave me a great deal of insight into other professions and their perspectives."

Respiratory Therapy student Meghan Beals summed up the experience: "Having the opportunity to work closely with other future health care colleagues in an interprofessional setting will be a huge advantage in the future. It was also a very fun time!"   

Although each team did an amazing job demonstrating interprofessionalism and teamwork, only one team will represent Dalhousie at the National Health Care Team challenge in March at Queen's University in Kingston, Ont. The team will be comprised of Eric Newson, Rachel Graham, Meghan Beals, Connie Yu, Madeleine Bohrer and Sepideh Behroozan.