For the second year in a row, Dal's Engineering students were big winners at the Institute of Industrial Engineers' National Student Conference.

And they're pretty happy about it.

Dal's students successfully defended their title as "Golden I" champions at the conference, hosted by École de Technologie Supérieure (ETS) in Montreal. To win the Golden I, the team has to not only place well in the conference's various competitions, but showcase their student spirit.

This year's spirit showdown required a video submission. Industrial Engineering student Colin Liu used his videographer talents to help his classmates create a high-energy video set to the tune of Pharrell Williams' song "Happy." The resulting clip, "Happy from Halifax," was filmed throughout the city and showcases the delegation's incredible spirit and pride for Dal and Halifax.  

The video not only helped the delegation win the Golden I, but has proved a Halifax video hit, racking up more than 12,000 views and earning local media coverage from Metro and the Cape Breton Post.



At the conference, student Kaitlin Miles took first place in the technical paper competition.

"I was overwhelmed and surprised when I found out that I won," she says. "I was excited just being at the conference and having the opportunity to represent Dalhousie and Halifax nationally. It felt great to have won, and now I get to go on to the international event in Nashville in May."

Over 50 industrial engineering students attended the conference last weekend (January 23-25), which gathers over 400 industrial engineering students from 12 universities across Eastern North America. It's a great opportunity for students to enrich their knowledge of their field.

Industrial Engineering professor, John Blake was exceptionally proud of his students' success. "We believe our engineering students are amongst the brightest, most capable, and most accomplished in Canada," he says. "It's rewarding to see our opinions confirmed through the results of a national competition."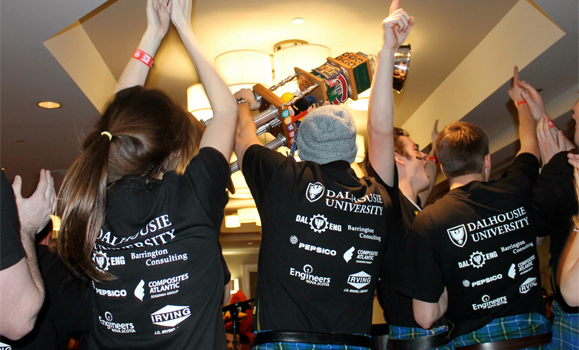 Other Dalhousie winners at the conference included:

1st place winners, Theoretical Competition: Jessica Lockhart, Brett McNeill, Clifford Beaton, and Kristyn Reid

3rd place winners, Simulation Competition: John-Thomas McKenna, Ross MacDonald, and Samer Bolous.

Also taking part were the Case Competition team: Ben Rans, Josh Coyle, Grant Fraser, and Kaitlin Miles.