Two students of the Rowe School of Business's Starting Lean course will be part of the 2015 class of The Next 36.

The elite, not-for-profit program pairs young entrepreneurs with successful businesspeople as mentors and provides them with academic instruction, business advice and seed capital for their start-up companies. The program, whose goal is to contribute to Canada's success and prosperity, is extremely competitive: this year, over 600 students competed for a coveted spot.

Much of Dalhousie's recent success in student entrepreneurship is due to the efforts of the Norman Newman Centre for Entrepreneurship in the Faculty of Management. The Newman Centre, connected with the Rowe School of Business, works to foster students' entrepreneurial ideas and ambitions. In particular, the Starting Lean course, taught by Mary Kilfoil, sees students working in groups to test a start-up idea and turn it into a viable business.

Taylor Quinn and Jeremy Tupper, the two students now embarking on The Next 36 program, were students in Starting Lean. Jeremy comments on his LinkedIn page that he "basically lived in the Starting Lean room" during the final year of his undergraduate degree. They have both earned the Entrepreneurial Skills Program Certificate, awarded jointly by the Rowe School of Business and the Centre for Entrepreneurship Education and Development.

Ed Leach, director of the Newman Centre, describes Taylor as a social entrepreneur with a strong track record. Taylor is the co-founder of CompCamp, which teaches children about technology, and also works on entrepreneurship training in rural Aboriginal communities. He has received impressive honours for his social enterprise work, including the Queen's Diamond Jubilee Medal.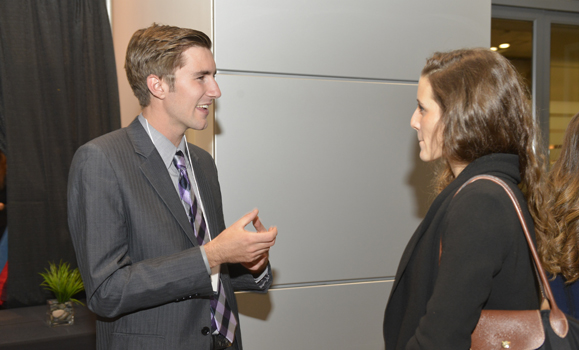 Taylor Quinn networking at the Selection Weekend reception.

Jeremy Tupper, combining his entrepreneurial energies and computer science skills, has developed of a variety of apps. He was a member of Peanut, the team that developed a gaming app and was accepted into the Newman Centre's Summ'erup! accelerator program. He has won multiple awards for his app development.

Dr. Leach points out that Dr. Kilfoil's Starting Lean and Innovation in Practice courses push students to develop the skills that The Next 36 looks for in their recruits: understanding problems, validating a "repeatable and scalable business model" and working in teams with others from various disciplines.

The university's connection with The Next 36 was strengthened in October of 2014, when Dal President Richard Florizone and Jon French, director of marketing and events for The Next 36, announced an academic partnership. Dalhousie is only the ninth school in Canada to partner with the program in their recruitment of top student entrepreneurs and innovators.