Many people are no stranger to stress, but some are much better at handling it than others. The ability to handle stress, as well as health outcomes that can develop from exposure to stress, are often passed down through generations.

By looking at genes and their relation to maternal stress during pregnancy and maternal care after birth, Dr. Ian Weaver is hoping to learn more about why some individuals develop more stress-related health conditions and how those conditions can be prevented.

The effect on fetal brain development

It's not uncommon for mothers-to-be to feel stressed during their pregnancy. However, severe maternal stress can increase the risk of a child developing a range of altered psychological and neurodevelopmental outcomes, such as learning and behavioural disorders (e.g. ADHD), anxiety and depression, and impaired cognitive development. These health outcomes are some of the most burdensome for individuals, families and society due to their long duration, disabling nature and limited forms of treatment—and they significantly impact how one handles stress.

"Our bodies respond to stress using the glucocorticoid (GC) hormone, which is often used to treat a number of conditions in obstetrics and perinatal medicine," explains Dr. Weaver, an assistant professor with the Faculties of Science and Medicine. "GCs also play an important role during fetal development, but the biology underlying their affect on genes and early brain development in the fetus is complex and we are only beginning to understand these processes."

Dr. Weaver and his research team will examine and manipulate cells from mice that have been exposed to increased levels of GCs to see how they function at several stages of cell development, including in vitro, in vivo and adulthood stages, explains Weaver.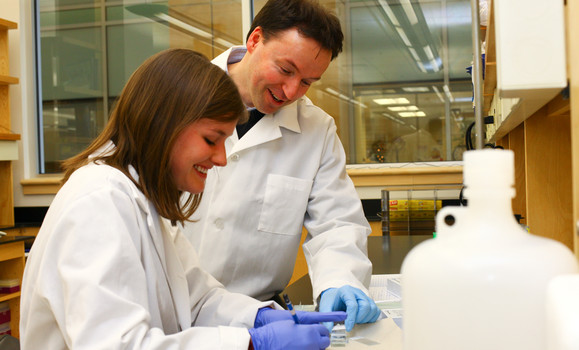 Findings from this research will help determine how exposure to GCs affects psychological and neurodevelopmental outcomes, and how these outcomes can be treated.
Stress during pregnancy & maternal care after birth

Existing research has shown that some mothers who suffer from high levels of stress during pregnancy do not provide as much physical and emotional care to their child after birth. This low level of care often translates to the child's ability to manage stress once older.

To further this research, the team in Dr. Weaver's lab is studying mice to see how low levels of care (e.g., the amount of licking offspring receive from their mother after birth) impacts the offspring's ability to handle stress.

"Research shows that mice who received low levels of licking after birth due to stress experienced by the mothers during pregnancy were less able to cope with stressful situations later in life," explains Dr. Weaver, "while mice who received high levels of licking when young showed higher levels of GCs and were more likely to manage stress later in life."

How one manages stress and health outcomes of stress can be passed down from generation to generation through gene mutations and the inheritance of other (epi-genetic) factors that act as switches to turn genes off and on.

"We will be looking at how gene mutations and epigenetic mechanisms allow stress genetics and behaviours to be passed down and how they could be reversed," says Dr. Weaver. "There are a few possibilities to how this could be done, such as continuing our research of GCs, diets (more greens) and the level of care given by mothers directly after birth."
Support from Canada Foundation for Innovation (CFI)

Dr. Weaver is among eight researchers at Dal to receive a Canada Foundation for Innovation (CFI) John R. Evans Leadership Fund award, which were announced today. This funding supports the infrastructure necessary for researchers like Weaver to explore and discover.

By translating the results from mice to humans, research findings from Dr. Weaver and his team could lead to effective therapies for chronic stress-related illnesses, resulting in a higher quality of life for Canadians.