For 61 years, the Dalhousie Art Gallery's Student, Staff, Faculty and Alumni Exhibition has been a rousing success — and this year's incarnation is no different.

With representation from each of the above groups the exhibition, which runs until December 21, features a variety of art in various forms and media. Attendees at last Thursday's opening reception were able to explore the works and hear many of the community artists speak about their work and where they draw their inspiration from.

A few pieces stood out in particular, like staff member Jim Neale's untitled work featuring a black and white photo of a young boy with blue eyes. The photo is so incredibly expressive; you feel real emotion coming from the small face in the frame. This is a theme reflected throughout the show: how the art of the Dal community not only surprises, but inspires.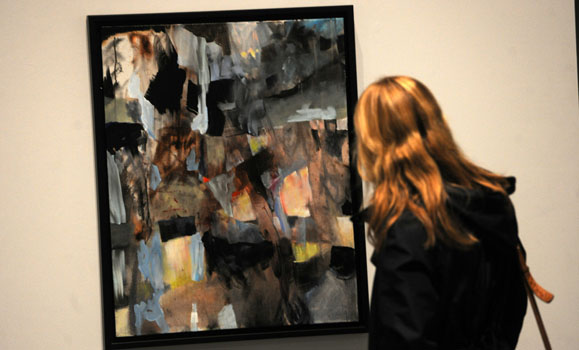 Another example of this was a painting from Jock Murray, former dean of Dalhousie Medical School. The painting featured a train shown through white birch with snow blanketing the surrounding landscape. The painting depicted a scene familiar to many Canadians, evoking Christmas travels to see family or cross-country trips with friends.

Dr. Murray says that this is the painting he most often receives comments on, as it tends to remind people of their childhoods: "No one really takes train trips anymore, but we remember the train going by, and waving to the engineer as kids." He says he's actually done many paintings of trains, and that they are something that particularly appeals to him.

Despite this, Dr. Murray's pieces featured in the show are actually quite varied. They include the train, but also a scenic painting and a painting of surgeons in the operating room. "I've tended to get an idea and ruminate a lot, and then I do it," he says. "Many artists have a kind of work they do, but mine is just based on a moment that I want to capture."

Circulating through the gallery, there were many captured moments to be seen — indeed, something for everyone.