Last year, nearly six in 10 Dalhousie undergraduates starting their studies received an entrance scholarship, bursary, award or prize.

Much of that support thanks in no small part to Dal's donors, whose gifts often enable students to attend university when they might otherwise not be able to.

That generosity was celebrated at Dal's annual donor reception, held last Thursday evening (December 4) in the main atrium of the Steele Ocean Sciences Building.

Chancellor Fred Fountain — substituting for President Florizone, who sent his regrets after being unexpectedly called away to Ottawa for a funding announcement with the Prime Minister — saluted the large crowd of Dal supporters in attendance.

"We're here to celebrate you, our generous and inspiring donors," said Dr. Fountain. "All of you give so much to Dalhousie. Through your contributions, financial and otherwise, every one of you plays an important role in where we are today and in our future. Dalhousie is a better place because of your generosity."

He described the ways in which donations allow Dalhousie to offer more scholarships, applied learning opportunities, academic chairs and resources for teaching and research.

"We believe our students will solve the problems of tomorrow," said Dr. Fountain. "It's up to us to provide the environment to nurture and support their learning."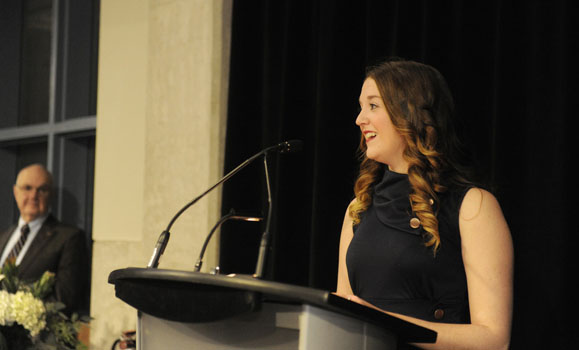 Julie Hovey, a Masters in Marine Management student, hopes to be one of those problem solvers. She spoke at the event as one of the beneficiaries of donor generosity: her studies at Dal are supported by the Sobey Fund for Oceans, based on a gift from the Donald R. Sobey Foundation that supports a conservation legacy for oceans.

"It is the generous contribution made from donors like yourselves that have enabled my success and my future successes," she said. "I want to make you proud."

She described how, even in the initial weeks of her degree, her studies at Dal have shifted her ambitions in her field, moving towards an education and advocacy role for the oceans and ocean management.

"This program, in the past three months alone, has challenged me each day, forced me outside of my comfort zone and pushed me beyond what I thought my limits were," she said.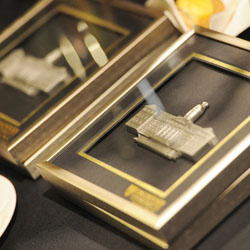 In addition to celebrating Dal philanthropy in general, last week's event also welcomed five new inductees into the university's Heritage Society, which recognizes alumni and friends who plan to include Dalhousie in their estate planning. They were:
Robert Ripley (MED'94), who is donating to the Dalhousie Art Gallery and establishing a scholarship for students entering Arts and Social Sciences
Cherry Ferguson (LLB'72), who is establishing a bursary in health law.
Rory McLean (DDS'80) and Lois McLean (DDH'79), who met at Dal as students in the the Faculty of Dentistry and plan on giving back in their estates.
Gaye Wishart, recently retired from the university, directing a gift to establish a bursary for students in financial need.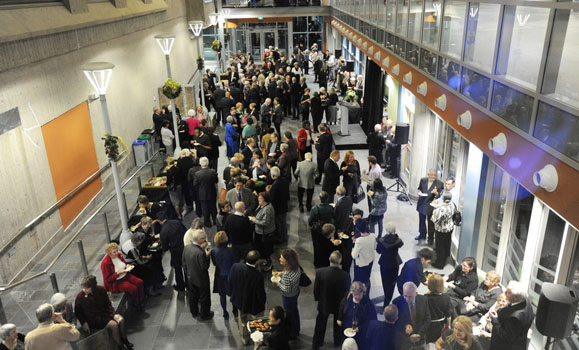 Editor's note: The initial version of this story had an error in describing scholarships awarded to first-year students. It has now been updated with a more correct number.