A big, colourful Halifax Transit bus isn't Santa's usual form of transport, but for special deliveries to Feed Nova Scotia it more than does the trick.

For the eighth year in a row, Dalplex took park in Feed Nova Scotia's "Stuff-a-Bus" campaign, in which local organizations collect non-perishable food items to be collected in early December and delivered right to Feed Nova Scotia. Started in 1991 by Amalgamated Transit Union Local 508, the event expanded to the point where last year over 24 tonnes of food were collected from organizations across HRM.

Dalplex patrons, as well as students, faculty/staff and community members, dropped off food items all through the month of November, with Dalplex offering a free t-shirt for donations of five items or more. In addition, to mark Small Business Saturday at the Dalplex Christmas Craft Market, attendees were able to get $1 off their admission with a food item and were entered in a draw for a free Dalplex membership if they brought more than one.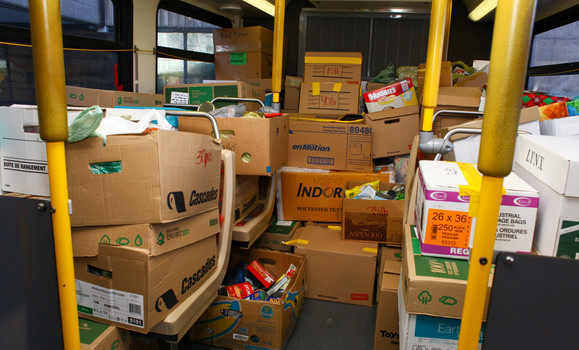 "It's something that's really accessible to most people," said Amanda Kirby-Sheppard, manager of recreation marketing, communications & membership sales, when asked why Dalplex chooses to take part in the campaign each year.

"It's a way to give back that doesn't involve a lot of money out of people's pockets, and it's an issue people really connect with, especially students. We have a diverse community and we all know people who've experienced hunger. With Feed Nova Scotia, they know that their donations are going to support a family in their community at a time when they might be really struggling."

In total, nearly 500 lbs of food were collected this year, and Dalplex plans to take part in the campaign against next fall.